Doctorate in Fine Art
About the course
The Doctorate in Fine Art (DFA) is aimed at practicing artists and art educators working in various Art & Design disciplines, including but not limited to:
Painting
Photography, film and video art
Performance art
Sculpture
Applied arts
Digital media art
The DFA is a structured doctorate that can be undertaken part-time using a combination of online and on-campus research activities and supervision. This allows candidates to study in their home countries and to attend at the University only once per year. Candidates can also choose to attend for blocks of full-time study at the University, thereby shortening the overall duration of their studies, and playing an active role in the university's research community.
The course philosophy is that practice and research cannot be separated. Candidates will be expected to continue with their art practice and to bring this to bear upon the research questions in the professional doctorate. The research output will include a written thesis alongside an exhibited body of art practice.
The programme offers expert supervision for your personal projects, and leads to high level innovative practice and a sound understanding of the artist as researcher. Students will have access to fully equipped workshops and technical support, and will have opportunities to engage with established research communities while they are on campus.
Why choose this course?
Outcomes include both written thesis and artworks.
Part-time doctorate that can be undertaken by candidates based overseas via a virtual research environment, with attendance on campus once a year.
Directly addresses the international debate concerning the nature of research in creative areas.
Equips candidates with a range of conceptual and practical skills.
Structured assignments providing a thorough grounding in practice-led research and the relationship between academic and professional values individual supervised research in the candidate's own area of professional expertise.
Individual supervised research in the candidate's own area of professional expertise.
Leads to an internationally recognised UK doctorate in Fine Art.
Key staff
Dr Barbara Brownie
Programme Tutor: b.k.1.brownie@herts.ac.uk
Find out more about Dr Barbara Brownie
Careers
After successfully completing the doctorate the candidate will have the knowledge and skills necessary to pursue research and to contribute to the development of commercial, institutional and national structures for research in creative areas in their home countries. Research in the Creative Arts is an emerging area and we expect graduates from our programme will take leading roles in its international development.
Teaching methods
The course begins with a series of online study and research skills, which provide a thorough grounding in the philosophical and theoretical issues surrounding notions of so-called practice-based research and the relationship between academic and professional values. At the end of Year 1 when this Phase has been successfully completed, the candidate then undertakes an individual supervised research project in his or her own professional discipline. During this second Phase there are online study materials and structured learning experiences that guide the candidate towards the presentation of a comprehensive outline of the doctoral research. Once the second Phase has been successfully completed (normally during Year 3), the candidate focuses on the production of a written thesis and accompanying artefacts that communicate the content of the research project. Throughout the whole programme we expect both practice and theoretical research to be completely integrated.
Work Placement
This course does not offer work placement. The concept of the professional doctorate (in contrast to the PhD) is that students are already professionally engaged in the workplace, and use this experience as the basis of their doctoral study. Research questions that are grounded in the workplace form the focus of the inquiry, and solutions are implemented through the workplace.
Fees & funding
*Tuition fees are charged annually. The fees quoted above are for the specified year(s) only. Fees may be higher in future years, for both new and continuing students. Please see the University's Fees and Finance Policy (and in particular the section headed "When tuition fees change"), for further information about when and by how much the University may increase its fees for future years.
View detailed information about tuition fees
Other financial support
Find out more about other financial support available to UK and EU students
Living costs / accommodation
The University of Hertfordshire offers a great choice of student accommodation, on campus or nearby in the local area, to suit every student budget.
Entry requirements...
Normally a postgraduate degree in a relevant subject, IELTS 6.5 minimum for non-native English speakers.
To apply, we ask you to develop a project proposal of 1000 words which outlines your research. This should demonstrate knowledge of existing practice and literature related to your field of interest, an indication of research questions, some thought about research methods and how your own project will make an original contribution to the wider field of practice and research. You will need to identify the broad subject area of your research, and the professional context in which your questions or issues arise and describe who is interested in these questions and who may benefit from your research.
For advice on writing your proposal for entry, please refer to our latest proposal writing guidelines.
How to apply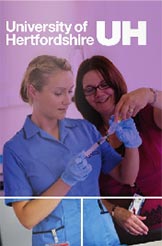 Download the Prospectus