MSc Physician Associate Studies
About the course
Are you a recent graduate or mature student with a science or healthcare background or experience? Do you want to develop the "cognitive dimension" of clinical decision making and directly contribute to people's health? If so, this course may be for you.
If you successfully complete the course and pass the national exam, you will be able to start a career in healthcare and medicine that will provide you with the opportunity to deliver person-centred, quality, patient care.
This course is a two-year intensive, clinically-focused course designed to emulate medical training at basic foundation level and is unlike any other Masters course in the mode of delivery.
Why choose this course?
The current major healthcare workforce challenges have led to the emergence of Physician Associates as the new rapidly evolving role within the NHS. Physician Associates support the workforce in the delivery of quality holistic care and treatment for patients, and the role is high on the agenda for commissioners and healthcare organisations. Therefore, opportunities for employment and development in the future is immense and far-reaching in breadth and scope.
As a Physician Associate, you will work autonomously under a supervising doctor or surgeon to deliver medical care to patients. The versatility of this role is such that the PA can deliver care in almost all settings within the healthcare environment, and is able to pursue and develop their area of passion and interest further upon qualification.
Why University of Hertfordshire?
Our Trainee Physician Associates (TPA) have access to a whole range of benefits by studying with us. This includes:
An engaging blended learning environment including:
Problem-based learning opportunities
Practical, clinical and procedural skills training equivalent to medical students
Variety of lectures delivered by senior level clinicians and consultants
Utilisation of a nationally recognised state-of-the-art simulation centre
Exposure to local healthcare environment providing hands-on practical training and experience through placements to maximise the chances of local employment opportunities on qualification
A programme led by an experienced faculty team with a combined knowledge and experience of Physician Associate training and implementation of over 25 years.
Excellent teaching and learning at a university with a strong record of training quality health and social care students for the local system
Interest from both local hospitals and GP practices, who are committed to recruiting graduates from our Physician Associate course
A strong, positive student experience and bespoke support to diverse range of students to ensure they can achieve their best
A two-year course, unlike some other universities, to minimise the cost to the student and support those who are unable to commit to a lengthier programme
Alumni discount on course fees
Careers
On successful completion of the course, you will need to pass an additional national professional exam, to practice as a Physician Associate.
Healthcare courses at the University of Hertfordshire have a very strong record of producing students who are quickly successful in gaining relevant work. Undertaking placements will mean you will have plenty of links into potential sources of local work when you finish. Both local hospitals and GP practices have expressed an interest and are committed to recruit from the our physician associate graduates.
Teaching methods
This is a clinically-focused course, delivered through a variety of taught lectures, small group sessions, problem-based learning, practical clinical skills, and simulated learning in our state-of-the art simulation centre which is the biggest in the UK. The underpinning clinical practice element runs throughout the two years in both primary and secondary care.
Work Placement
The course takes place for 45 weeks a year over two years, with 50% of students' time spent on theory and the other 50% on clinical practice.
The University will secure all student placements.
Structure
Level 7
Core Modules
Core Clinical Competencies and Conditions 1 - 45 Credits
Core Clinical Competencies and Conditions 2 - 45 Credits
Medicines and Patient Safety - 15 Credits
Professional Development, Communication and Clinical Skills - 15 Credits
Service Development Project - 30 Credits
Optional
Fees & funding
Fees 2018
UK/EU Students
Full time
£9250 for the 2018/2019 academic year. The funding from Health Education England is £5000 for the total course (£2500 a year). There are only 20 partially funded places on the course. The other 10 successful candidates will be self-funding. This include the registration fees as well as the placement fee for primary and secondary care in line with NHS tariff. Self-funded students may be eligible for postgraduate students' loan.
*Tuition fees are charged annually. The fees quoted above are for the specified year(s) only. Fees may be higher in future years, for both new and continuing students. Please see the University's Fees and Finance Policy (and in particular the section headed "When tuition fees change"), for further information about when and by how much the University may increase its fees for future years.
View detailed information about tuition fees
Other financial support
Find out more about other financial support available to UK and EU students
Living costs / accommodation
The University of Hertfordshire offers a great choice of student accommodation, on campus or nearby in the local area, to suit every student budget.
Entry requirements...
Applicants must hold a minimum of a second-class honours degree in a relevant subject. Suitable subjects include (but not limited to) life sciences (biomedical sciences, biochemistry, anatomy, physiology, healthcare sciences etc.). Being an Allied Health professional, nurse, midwife or pharmacist is also an acceptable route onto the course.
Applicants with equivalent or non-standard qualifications will be considered on an individual basis.
A robust recruitment process is in place and includes:
Consideration of ability to work within teams
Demonstration of NHS Values
Commitment to holistic patient care
Course length
The course duration is 90 weeks over two years with a balance between theory and clinical practice demonstrated throughout which will meet the requirements of the National Curriculum Framework.
How to apply
Online applications are open. The deadline for this is 30th April.
The funding from Health Education England is £5000 for the total course (£2500 a year). There are only 20 partially funded places on the course. The other 10 successful candidates will be self-funding. This include the registration fees as well as the placement fee for primary and secondary care in line with NHS tariff. Self-funded students will be eligible for postgraduate students' loan.
How to apply
2018
| Start Date | End Date | Link |
| --- | --- | --- |
| 17/09/2018 | 30/09/2019 | Apply online (Full Time) |
2019
| Start Date | End Date | Link |
| --- | --- | --- |
| 23/09/2019 | 30/09/2020 | Apply online (Full Time) |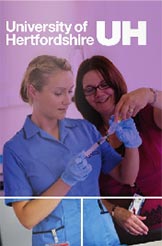 Download the Prospectus