MSc Physician Associate Studies
Available to non EU students
About the course
Are you a biomedical, science or health care graduate who wishes to engage with people's lives and use the application of science and medicine to directly contribute to people's health? If so, this course may be for you.
If you successfully complete the course and pass the national exam and you will be able to start a career in healthcare and medicine in an accelerated manner and with a 'real world' focus.
The two-year course is intensive and clinically focussed. You will learn to perform a number of roles including taking medical histories, performing examinations, diagnosing illnesses, analysing test results and developing management plans.
Why choose this course?
The MSc in Physicians Associate Studies offers you the opportunity to train as a Physicians Associate (PA), a new, rapidly-evolving role within the NHS that opens up a diverse range of health-based work opportunities.
As a PA, you will work under a supervising doctor or surgeon, and be equipped to provide holistic care and treatment within the medical model. This a versatile role that can cover the primary care setting such as general practice or the acute settings.
How to apply
The details on how to apply for the academic year 2018/19 will be published in March 2018.
Fees and funding
This overall cost of this course is £9250 per year, however the student contribution is £2,750 per year. The placement element is being funded by Health Education England, making this course excellent value for students.
Careers
On successful completion of the course, you will need to pass an additional national professional exam, to practice as a Physician Associate.
Healthcare courses at the University of Hertfordshire have a very strong record of producing students who are quickly successful in gaining relevant work. Undertaking placements will mean you will have plenty of links into potential sources of local work when you finish. Both local hospitals and GP practices have expressed an interest and are committed to recruit from the our physician associate graduates.
Teaching methods
This is a clinically-focused course, delivered through a variety of taught lectures, small group sessions, problem-based learning, practical clinical skills, and simulated learning in our state-of-the art simulation centre which is the biggest in the UK. The underpinning clinical practice element runs throughout the two years in both primary and secondary care.
Work Placement
The course takes place for 45 weeks a year over two years, with 50% of students' time spent on theory and the other 50% on clinical practice.
The University will secure all student placements.
Structure
Level 7
Core Modules
Core Clinical Competencies and Conditions 2 - 45 Credits
Medicines and Patient Safety - 15 Credits
Service Development Project - 30 Credits
Optional
Entry requirements...
Applicants should hold a minimum of a second class honours degree in a relevant subject.
Suitable subjects include (but are not limited to) the life sciences (Biomedical Science, Biochemistry, Anatomy, Physiology, Healthcare Science etc.) or allied health professions (e.g. Pharmacy, Audiology, Nursing, Midwifery, Physiotherapy etc.).
Applicants with equivalent or non-standard qualifications will be considered on an individual basis.
Please note we are unable to accept applications from international students for the September 2017 intake.
How to apply
2018
| Start Date | End Date | Link |
| --- | --- | --- |
| 17/09/2018 | 30/09/2019 | Apply online (Full Time) |
2019
| Start Date | End Date | Link |
| --- | --- | --- |
| 23/09/2019 | 30/09/2020 | Apply online (Full Time) |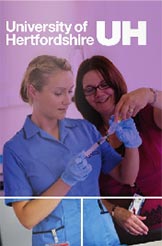 Download the Prospectus