Amr Bakkar
Meet Amr Bakkar, Student of the Year 2020 and our first refugee scholarship recipient, as he talks about his passion for journalism.
| | |
| --- | --- |
| Current job role | Broadcast Journalist |
| Year of graduation | 2020 |
| Course of study | BA(Hons) Journalism and Media |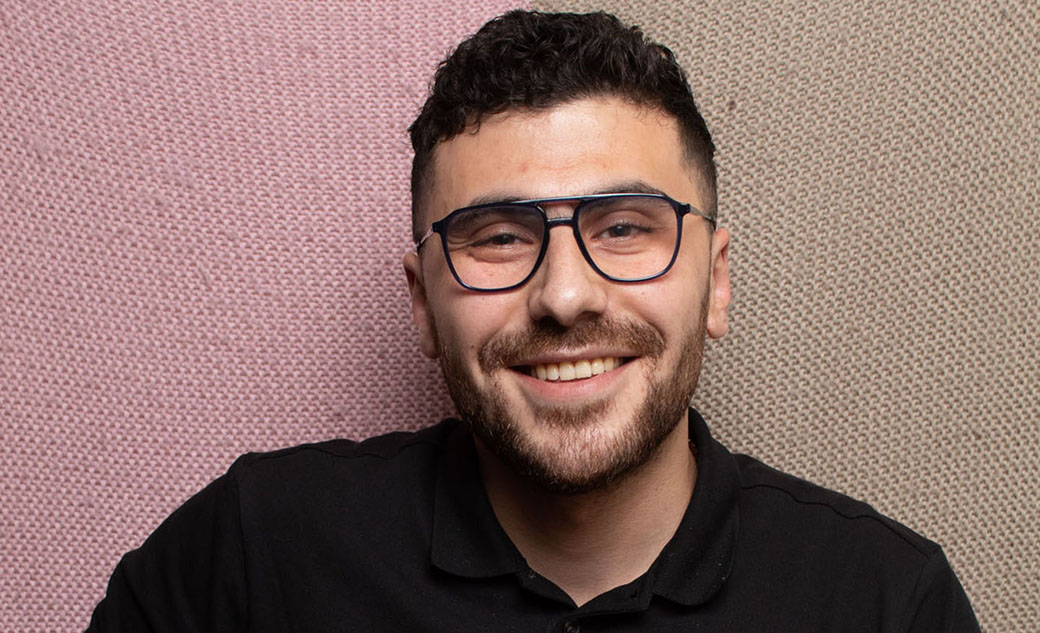 Amr Bakkar won the University of Hertfordshire's Student of the Year award in 2020 and was the first recipient of the University's refugee scholarship. We chatted to Amr about what he's been up to since graduation and his plans for the future.
What did you study at Herts and why?
I studied Journalism and Media at the University. I love this field and I love chasing news, telling people's stories and conveying their voice.
What was the best part of your studies?
The friends I made during my time at the University. Furthermore, listening to my journalism and media tutors who had great experience and profound and wide knowledge in their speciality. I also enjoyed the practical learning during my course.
What was it like finishing university during the pandemic?
It was challenging. I applied for roughly a hundred roles. Most of them I got rejections from and the rest never even got back to me. I know it's hard for graduates to get a job soon after they finish uni in normal times, not to mention graduating during a pandemic. But the hard work will pay off.
Where do you currently work and how did you get the job?
I work as a Broadcast Journalist at Alaraby TV Network in London. I was applying for jobs and receiving rejections in the middle of the pandemic. I felt depressed and disappointed as the BBC had cancelled their Journalism Trainee Scheme last year when I was already in the second stage of the application process.
After that, I contacted the Channel Director of Alaraby TV via LinkedIn and explained to him what I do, who I am and what I wanted to do after I graduated.
He responded in the same week, saying, "Apply for a traineeship at Alaraby TV and we'll see what we can do." So I applied and luckily I was successful! I signed a contract and when I finished the traineeship, I started a full-time role with them. It's worth noting that I messaged him on Twitter but he didn't respond, so LinkedIn is very important!
What plans do you have for the future?
I'm planning to stay in the broadcast journalism sector. I would like to be a political editor at the BBC, and to be part of this entity which is feeding the world with news and content.
Do you have any advice for your fellow 2020 graduates?
I would say that your network is crucial. Use it and see what your contacts can offer or help you with. LinkedIn is important and as you have seen in my case, the Director didn't reply on Twitter but did on LinkedIn.
If you know someone that might be able to help you, ask them. Don't be shy as there's no shame in asking. Moreover, widen your knowledge further and sell yourself to employers.
Find out more about how our scholarships have been helping students power their potential.
I would like to be a political editor at the BBC, and to be part of this entity which is feeding the world with news and content.