Herts alumna nominated for prestigious national award
We are delighted to announce that University of Hertfordshire alumna Attia Hussain has been nominated for a prestigious Asian Legal Award: The Women in Law, 100 Years Award.
About the Women in Law, 100 Years Award
This award marks the centenary of the 1919 Sex Disqualification Act, which allowed women to enter the legal profession. This award celebrates a female legal professional who has achieved excellence in their chosen field, a leader who demonstrates their commitment to promoting, developing and supporting the progression of women in law from BAME communities, and the drive to champion other women to pursue a career in law.
I am incredibly humbled and proud to have been shortlisted in a category of such inspirational women.
Attia Hussain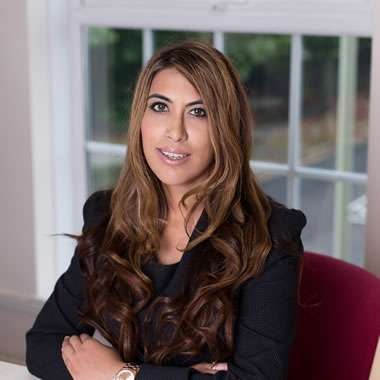 About Attia
Attia studied her LLM at the University of Hertfordshire, graduating in 2007, and qualified as a Lawyer in 2011. Attia is a devoted Children Law Specialist and acts in particularly complex and sensitive children matters, including sexual and physical abuse cases, non-accidental injuries, death, and adoption matters outside of care proceedings.
She is passionate about social justice, charity, equality and encouraging diversity in the profession.
In 2018, Attia was elected as President of the Hertfordshire Law Society, becoming the first Asian, and youngest female, to hold the position since its inception in 1883. She has strong links with the Hertfordshire University Law School and the Hertfordshire Junior Lawyers Division, and as part of her presidency she organised networking and training events to bring all members together.
Her empowering speech at the annual Hertfordshire Law Society dinner highlighted the importance of diversity in the legal community, not only for BAME practitioners but also women and those from disadvantaged backgrounds.
The speech did not shy away from important issues regarding diversity in the profession, and was regarded as a significant moment in the Society's history, highly praised by attendees and receiving a standing ovation, which was unheard of for a HLS President in living memory.
We are extremely proud of the achievements of Attia and here at the University of Hertfordshire, we wish her all the best for the Awards Ceremony taking place in London on Saturday 28 September.
About the Asian Legal Awards
The Asian Legal Awards came into existence in 1994 and this year they celebrate their 25th anniversary. It is the only awards ceremony dedicated to, and is renowned for, promoting and celebrating the achievements of Asian lawyers in the legal profession.
Previous winners of the Asian Legal Awards include Ayesha Vardag (high profile celebrity divorce lawyer) and Imran Khan QC (who represented the family of Stephen Lawrence).
Please note that some of the images and videos on our news pages may have been taken before social distancing rules in the UK came into force.