Children's nursing courses
Undergraduate courses
What is children's nursing?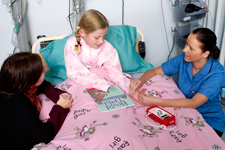 Children's nursing is a challenging but rewarding profession. Responsibilities include caring for sick children and their families; in addition, emphasis is placed upon the promotion of the health and well-being of children and young people.
There are numerous situations a children's nurse may encounter such as:
Caring for a very premature baby who weighs less than 1Kg (a bag of sugar).
Assessing the needs of a child having an asthma attack.
Supporting a family who is caring for their child with complex needs.
The opportunities and situations are endless...
What does it involve?
Children's nurses work closely with the child's family and members of the inter-professional team in order to facilitate high quality care. Children and young people are cared for in a variety of settings, including their own homes, schools and NHS trusts; this provides a range of clinical placements for those studying this field of nursing.
What personal attributes does a children's nurse require?
Excellent communication skills.
An ability to respond to the needs of children, young people and families from different cultural backgrounds.
An ability to remain calm in difficult situations.
Empathy with children and their families and the ability to build therapeutic relationships.
An ability to appreciate the developmental needs of children and young people.