Film and TV facilities
The Mike Newell Soundstage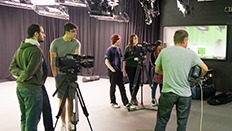 The Film and Television Studio has four 1080i broadcast quality cameras on pedestals, a composite studio floor and full lighting rig enclosed by drapes. The studio has a control suite with vision, sound and lighting mixers, Prompt facilities and a live SD to HD converter.
The work is supported by the Loan Store with a range of microphones, booms, dollies, tracks, cranes and stabilisers to enable production students to create professional programme materials. The fixed facilities are supplemented by a variety of bookable location equipment that includes HDV cameras, location monitors, disc recorders and lighting kits.
The Walter Murch Post-production Suite
The film and television post-production suite is an ample suite of 45 Apple Mac computers (30 Apple Mac Pros and 15 iMacs), all with dual widescreen displays.
A range of industry standard non-linear editing and post-production software is available, including Avid Media Composer, Final Cut Pro, Adobe Premiere and DaVinci Resolve.
The suite also offers motion graphics, sound post-production and DVD authoring software. A colour correction control console is also available for high-end digital intermediate adjustments and finishing. Several computers are connected to our multi-camera HD television studio and offer access to our 10TB storage array over high speed fibre.
The suite is both Apple and Avid certified for professional training, and facilitates both individual and group work within a quiet environment.
Editing and dubbing suites
Each computer in the suites has a range of industry standard non-linear editing software, including Avid Media Composer, Adobe Premiere and Final Cut Pro. Professional-level colour correction and motion graphics work can also be undertaken, and over a terabyte of audio sound effects are available to students making film and television productions.
In addition to film editing software, Pro Tools and Logic Pro X are available in these spaces. The rooms include Genelec monitoring so can be a great place to monitor work when some of the more music oriented spaces are fully booked.
The dubbing suite has a monitoring suite incorporating a mixing desk, video and audio playback (surround sound) as well as foley materials, microphones, players and peripherals. The dedicated dubbing studio offers 5.1 surround sound capability using a Genelec speaker system, has both control and live rooms, and supports multi headphone monitoring and TV playback.
In keeping with the standard of the industry, each room has Apple Mac Pro computers running software packages such as the Full Adobe Creative Suite, Final Cut Pro, Avid Media Composer and Avid Pro tools, Logic Pro x, and Propellerhead Reason, as well as various third party software plug ins and utilities.