TVAD Talks
TVAD - Our research in our communities
Our regular series of talks are available on YouTube
We host an annual international symposium.

Papers from previous symposia and conferences are available though our double-blind peer-reviewed journal, Writing Visual Culture

We have a blog of past achievements including contributions from our collaborators
TVAD Talks
The Research Seminars are an opportunity to hear about the current research at the School of Creative Arts in art history, design history, art theory, design theory and much in between as well as the relationship between theory and practice.
All welcome
Whether you are doing research yourself, whether you're an artist, designer or historian, or not, we always aim to make it interesting and inclusive.
The TVAD approach to our regular talks is to support and disseminate the excellent research being conducted by scholars at University of Hertfordshire's School of Creative Arts.
Across the School we have numerous scholars who have had their books recently published and we our DFA, DDes and PhD candidates with cutting-edge research to share.
To sign up for TVAD alerts, please contact Alana Jelinek
Talks - past and future
9 Oct 2019 Dr Steven Adams - Some Thoughts on Writing about the Past: Deleuze and Uncertainty
13 Nov 2019 Stephen Hunt (UH Designer and UH DEd candidate) - On Creativity
15 Jan 2020 Prof Dr Grace Lees-Maffei - Signifying Orientalism, Chinoiserie and Japonisme: Fashion Photography in UK Vogue
19 Feb 2020 Dr Silvio Carta - Larger, anonymous and machine-driven collectives: How algorithms transcend private into the public life of individuals
1 Apr 2020 Dr Alana Jelinek - Between Discipline and a Hard Place: The Value of Contemporary Art
14 Oct 2020 Mikayla J Laird (UH PhD candidate) - Travelling Through Time in the Comic Book Medium (online)
18 Nov 2020 Prof Dr Grace Lees-Maffei - Getting a Handle on It: Embodied Research using Touch in Design History (online)
Our talks are often filmed and available through YouTube. Some examples are below.
TVAD on YouTube
TVAD Talks are available on the University of Hertfordshire's YouTube channel, in the Creative Arts Research playlist and on the TVAD Talks YouTube channel.
Signifying Orientalism, Chinoiserie and Japonisme (2020)
Prof Grace Lees-Maffei (University of Hertfordshire)
Deep Simplicity of Zero (2019)
Prof Ljubomir Jankovic (University of Hertfordshire)
Corporate Censorship (2018)
Alana Jelinek (University of Hertfordshire)
TVAD International Symposium 2020/21
What the world needs now is artists and designers engaging with science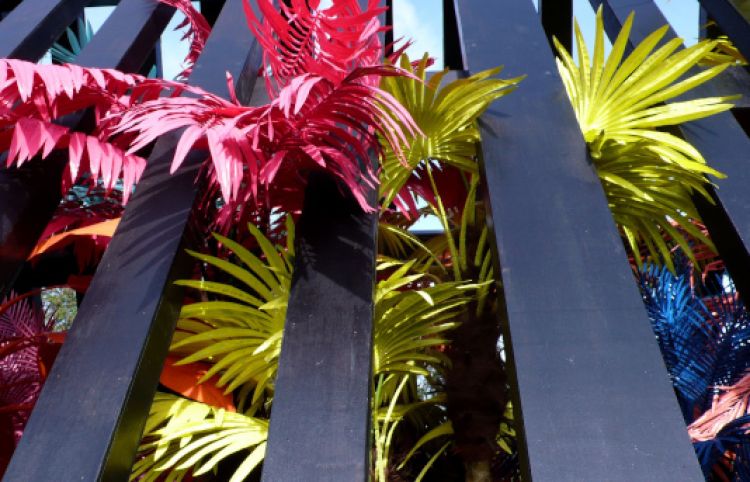 Fiona Curran, Your Sweetest Empire is To Please, (detail) 2018.
Commission for National Trust Gibside and Newcastle University, with funding support from the AHRC.
Photo: Colin Davison

Keynote speakers:
Artist, Fiona Curran (PhD)
Dr Katy Barrett (PhD) Curator, Science Museum
8, 9 January 2021
School of Creative Arts
University of Hertfordshire
Since the 1960s we have seen numerous art-science experiments, often initiated by artists. Inter- and multi-disciplinary collaboration has never been a simple process. Some argue this is due to disciplinary boundaries emphasized in our educational system. For others, the issue is a lack of attention to real differences in thinking and approach. From the point of view of science, art is useful when it illustrates already established scientific theories. For many scientists, art provides a useful gateway to the general public, employing aesthetics to seduce audiences into engaging with scientific ideas. It seems that many scientists labour under the idea that art is simply the equivalent of beauty, despite the fact that for more than 100 years, and at least since Dada, artists have challenged this idea.
Questions this conference asks include:
What is the best that art-science collaborations can offer?
What can be achieved by artists working with scientists that cannot be achieved by artists alone, or scientists alone?
On the one hand, we ask what can scientists learn from artists? On the other, is it the role of art to illustrate important scientific truths, such as, climate science? In other words, what is the point of sci-art collaboration?
The 2020/21 symposium will be online. Details on how to join will be announced closer to the time.