TVAD symposium
Annual International TVAD symposium 2020/21
What the World Needs Now is Artists Engaged with Science
8 January 2021 online (postponed from June 2020)
Image credit: Conoid string surface model, made by Fabre de Lagrange, France, 1872. Science Museum Group © The Board of Trustees of the Science Museum, London.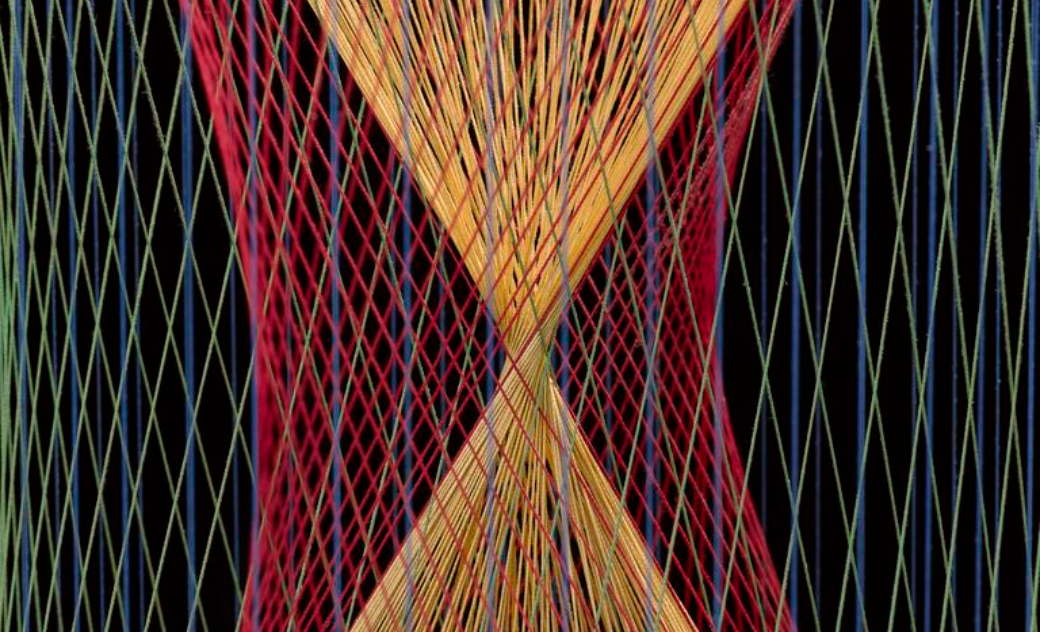 Provocation:
Since the 1960s we have seen numerous art-science experiments, often initiated by artists. Inter- and multi-disciplinary collaboration has never been a simple process. Some argue this is due to disciplinary boundaries emphasized in our educational system. For others, the issue is a lack of attention to real differences in thinking and approach. From the point of view of science, art is useful when it illustrates already established scientific theories. For many scientists, art provides a useful gateway to the general public, employing aesthetics to seduce audiences into engaging with scientific ideas. It seems that many scientists labour under the idea that art is simply the equivalent of beauty, despite the fact that for more than 100 years, and at least since Dada, artists have challenged this idea.
Questions this conference asks include:
What is the best that art-science collaborations can offer?
What can be achieved by artists working with scientists that cannot be achieved by artists alone, or scientists alone?
On the one hand, we ask what can scientists learn from artists? On the other, is it the role of art to illustrate important scientific truths, such as, climate science? In other words, what is the point of sci-art collaboration?
Image credit: Conoid string surface model, made by Fabre de Lagrange, France, 1872. Science Museum Group © The Board of Trustees of the Science Museum, London.
Symposium Timetable
Friday 8 January 2021 in GMT / London time
9:15 - Alana Jelinek Introduction
9:30 - Katy Barrett Keynote
10:00 - Q&A
10:10 - Pat Simpson
10:25 - Q&A
---
BREAK 10:35
---
10:50 - Ariane Koek
11:05 - Q&A
11:15 - Sam Jury
11:35 - Q&A
11:45 - Ilgim Gokturk and Esin Aykanat Avci
12:00 - Q&A
---
BREAK 12:10*
*opportunity to view Cecilia Oliveira's Amazon Urihi
---
12:45 - Barbara Brownie
13:00 - Q&A
13:10 - Stuart Nolan
13:25 - Q&A
13:35 - Ulrike Kuchner
13:50 - Q&A
---
BREAK 14:00
---
14:15 - Stephanie Owens
14:30 - Q&A
14:40 - Lisa Taliano and Maria Patricia Tinajero
15:00 - Q&A
---
BREAK 15:10
---
15:25 - Fiona Crisp
15:40 - Q&A
15:50 - Jessica Hough
16:05 - Q&A
---
BREAK 16:15
---
16:30 Discussion with all speakers and presenters
---
END 17:00
---
Keynote Speaker
Katy Barrett
Curator of Art Collections, Science Museum, London
Bio: Dr Katy Barrett is Curator of Art Collections at the Science Museum, London. She has held various previous posts in national and university museums, and has higher degrees in History of Art and History of Science. She is co-author of The Sun: One Thousand Years of Scientific Imagery (Scala, 2018) and co-curated 'The Art of Innovation: from enlightenment to dark matter at the Science Museum' (2019-20). She is active on social media as @SpoonsonTrays.
Title: Has the world always had artists engaging with science?
I will look at the long history of art and science in dialogue, considering the many ways in which artists and scientists have inspired, criticised and informed one another, using the same tools and asking the same questions. Rooted in the collections and histories of the Science Museum, I will consider a series of moments at which art and science interacted to change the course of both. Painting, sculpture, drawing, photography, and digital media all feature as shared visual approaches that have also had a broader public impact in disseminating changing ideas. We will see how a series of disciplinary shifts from the 17th to the 20th century have served to shape how we see art and science as engaged or otherwise. Art has always been at the heart of the Science Museum. I ask what we can continue to learn from collecting and interpreting art in this context.
---
Speakers and Presenters (in alphabetical order) :
Esin Aykanat Avcı & Ilgım Göktürk Başal (Turkey)
A Laboratory or an Art Studio
Abstract:
We, Ilgım Göktürk Başal and Esin Aykanat Avcı, are an artist and a scientist who have been working together on bio-art projects since early 2019. What brought us together was, as an artist who has been reflecting on and working with nature for many years, my coming up with bio-art project ideas containing procedures that require scientific knowledge. Although I applied to articles to solve these procedures, it was impossible for me to learn and understand all the terms and techniques and perform them in my art studio by myself. At this point, I applied to Ilgım, my long time friend and a Research Assistant in the Department of Biochemistry. The technical part of the project was easy for her, but the crucial point was the dialogues developed between us about the context of the art project from two different perspectives. This project has led us both to start seeing the lab as an art studio as both science and art require originality and therefore creative thinking. They both feed each other very efficiently, as they are both about understanding the meaning of life and life on earth.
Our production processes, which are based on our dialogues and reflecting on the essence of the material, have led us to explore the essence of biological beings. This paper includes our working practices, experiences, challenges we have faced, the benefits of our mutual talents and different points of view during the processes, how we transformed the laboratory and the results of the processes based on our first project in 2019, The Essence of Life, Cross Transformation and our ongoing new project based on DNA isolation from living tissues .
Bios:
Esin Aykanat Avcı
Esin was born in 1986 in Ankara, Turkey. She graduated from Hacettepe University, Department of American Culture and Literature in 2009 and then pursued fine arts at the Graduate Program of Hacettepe University Faculty of Fine Arts, Department of Ceramics. She conducted her Master's thesis research in Cardiff School of Art and Design in Cardiff, U.K. in 2012-3. In 2017-8, on a Fulbright Visiting Student Researcher Scholarship, she conducted her dissertation research in Newark, Delaware, USA. Esin continues to exhibit her work on human-nature interaction and the possibility of being physically one with nature, with a focus on process in the forms of installation, sculpture, video, land art and bio-art, some of which have been included in national art collections. She is currently working on her Ph.D. dissertation at Hacettepe University and works at her studio at the Artist Residency Program in Cer Modern, Ankara.
Ilgım Göktürk Başal
Ilgım was born in 1986 in Ankara, Turkey. She received her Master's degree in 2011 and Ph.D. in 2016 from Hacettepe University Nanotechnology and Nano Medicine Dept. In 2015, she was a guest researcher at Linköping University, Sweden, in the Dept. of Physics, Chemistry and Biology. She has many publications in national and international refereed journals on subjects such as affinity-based nanomaterials and biosensors. She still continues her academic studies as a research assistant in Hacettepe University Department of Chemistry, Biochemistry.
---
Barbara Brownie (University of Hertfordshire, UK)
The Final Frontier of Fashion
Abstract:
Interdisciplinary projects for the commercial space age are dominated by collaborations involving engineers and biologists. Where designers collaborate with scientists in production of work for space travel, their goal is often to advance digital or mechanical technology. While there has been substantial research into wearable technology and textile technology for space travel, the field of fashion has not yet explored opportunities to collaborate with, or to take inspiration from, the field of physics. Microgravity is one of the most dramatically unfamiliar features of the spaceflight environment, and weightlessness is identified by potential space tourists that one of the most appealing factors influencing their desire to engage in commercial space travel. There is scope, therefore, to consider how designed objects, including clothes, behave in microgravity. This research must be distinguished from existing investigations into wearable technology, in part to recognise that not all engagement with space travel must be high-tech. The condition of weightlessness forces fashion designers to revisit many of the assumptions that have long been fundamental to fashion design, in particular those related to the weight and drape of fabric, and the prioritization of the silhouette. Weightlessness causes clothes to be malformed and reoriented in ways that require entirely new approaches to shape and form, and to the relationship between clothes and the body. These new approaches to design make it possible to develop garments that visibly evidence the effects of weightlessness.
Bio:
Dr Barbara Brownie is Principal Lecturer in Visual Communication at the University of Hertfordshire, where her research investigates the relationship between clothes and the body. Her recent books have included Acts of Undressing: Politics, Eroticism, and Discarded Clothing (Bloomsbury, 2016) and Spacewear: Weightlessness and the Final Frontier of Fashion (Bloomsbury, 2019).
---
Fiona Crisp (Professor of Fine Art, Northumbria University, UK)
The Cultural Negotiation of Radically Remote Science
Abstract:
Historically, the cognitive and imaginative dislocation of lay-publics from the extreme abstraction of fundamental science has been understood as an issue to be addressed via public outreach initiatives; within this paradigm, the science itself is understood as essentially 'complete' and the task of communicators (sometimes with the added cultural advocacy of art) is to make the science more publicly accessible. Recent shifts in critical theory within the realm of New Materialism (Haraway, Barad), as well as questions regarding how empirical data can be reconciled with lived experience (Dowker), break down this rigid dichotomy of nature and culture; within this new paradigm, all fields are relational and contingent - but how do we negotiate this new landscape?
Fundamental is a project that approaches these questions by bringing together a broad constituency of scientists, artists, philosophers, curators and publics. Premised on practice-led research that combines critical rigour with performative methodologies, the project challenges existing, instrumentalised models of collaborative practice between the cultures of arts and science that too often rely on a mutual exchange of services where access and content are traded for impact and outreach. Instead, the research approaches knowledge-making practices as "social-material enactments that contribute to, and are part of, the phenomena we describe" ;in this respect artist, scientist and publics are placed inside of, and indivisible from, the knowledge-making process itself – a fundamental re-positioning with profound implications.
Bio:
Fiona Crisp is Professor of Fine Art at Northumbria University, Newcastle, UK where she is a founder member of The Cultural Negotiation of Science, a research group that brings together artists, academics and research students whose practices engage with expert cultures across a broad spectrum of science and technology. Crisp's practice resides at the intersection of photography, sculpture and architecture where the limits and capabilities of both photography and video are explored through the making of large-scale installations. For the past decade she has been working with institutions and individuals involved in fundamental science, most recently via the research project Material Sight.
Crisp's work is represented by Matt's Gallery London and is held in several national permanent collections in the UK including Tate, the British Council, Arts Council and the Government Art Collection.
---
Jessica Hough (Andrew W. Mellon COSI Curatorial Fellow in Photography at the Art Institute of Chicago, USA)
"A Good Scout" in Art and Life: Generative Systems' & Collaborative Techno-Art-Activism
Abstract:
In 1973, School of the Art Institute of Chicago student Marsha Sokol photocopied her nude body in sections, producing a fragmented mirror image of herself, pressed against the picture plane, eyes shut to protect her retina from the copier's light. Sokol was a part of Generative Systems, an academic program at SAIC founded in 1970 by Sonia Sheridan, which introduced students to the artistic potential of emerging technologies such as the photocopier and pre-networked computer. Between 1970 and 1980, Sheridan and Generative Systems students collaborated with scientists and engineers to create works of art that reconfigured artists' relationships to technology. Simultaneously—and paradoxically—they used the machines to produce political posters for Anti-War and Women's Liberation rallies at unprecedented speeds.
From the 1960s to the 1980s, various scientific and consumer goods corporations established artist residency programs across the United States, leading to developments in both art and technology for companies like 3M, IBM, and Bell Labs. Collaboration flourished as a primary creative method, both among artists and between artists and scientists. This paper traces this history, taking on Generative Systems as a case study. I focus on Sheridan and her students' photocopier-based work, viewed through three sites of collaboration: collaboration between individuals, between artists and corporations, and between humans and machines. Considering Generative Systems' photocopier-based work through this set of relational interfaces, I argue first for the machine's centrality as a tool for negotiating and visualizing collaborative entanglements in the 1970s. Second, I suggest that, because of its ties to corporate office space and gendered secretarial work, the photocopier as artistic medium uniquely addressed the gendered body's role as a site for political discourse in the mid-1970s.
Bio:
Jessica Hough is a doctoral student at Northwestern University in the Department of Art History and a Mellon Fellow in Gender and Sexuality Studies. Her research focuses on late-20th-century art, with an emphasis on video and "new" media, performance, activist art, feminist historiography, and queer theoretical approaches to art history. She received a Master's in Film Studies from Columbia University, and a Master's in Art History from the University of Pennsylvania. Currently, she is the Andrew W. Mellon COSI Curatorial Fellow in Photography at the Art Institute of Chicago. Previously, she worked at Electronic Arts Intermix, Artists Space, and the Museum of Contemporary Art, Chicago.
---
Alana Jelinek (Vice Chancellor's Research Fellow, University of Hertfordshire, UK)
Bio:
Alana Jelinek was awarded her PhD from Oxford Brookes University in 2008 in the fields of art history and fine art practice investigating art as a democratic act, the interplay of content and context in contemporary art. From 2009 until 2017, she was with the University of Cambridge in the Museum of Archaeology and Anthropology. The first of her two post-doctoral research positions with the museum was an Arts and Humanities Research Council Fellowship, investigating the relationship between collectors, collections and the collected, where the collected are both people and things. Her second post-doc was as a senior researcher on a European Research Council international and multi-disciplinary research project with Nicholas Thomas as the Principal Investigator, researching Oceanic art in European museums. Alana Jelinek came to the University of Hertfordshire for her third post-doctoral research project in Dec 2017. She is the group leader for Theorising Visual Art and Design research group and her most recent monograph is called, Between Discipline and a Art Place: The Value of Contemporary Art (Bloomsbury 2020) which argues for a new way of understanding the role and value of art in society.
---
Sam Jury (Researcher, University of Hertfordshire, UK)
Are You Thinking What I'm Thinking?
Abstract:
Where is the line between compromise and collaboration? When do issues of language and social conventions create environments for 'contagious agreement'? When do the requirements of funders create a tension between fulfilment and integrity. When we collaborate how do we know what we don't know? How can we say we don't know and when do we ask the most obvious questions?
Climart (2012 - 2017) was a highly visible and widely published five-year cross-disciplinary research project that bought together artists, psychologist and natural sciences to collaborate on ways in which visual art could communicate climate change. A key tenet, was that the psychologists would be a kind of 'glue' between the creative arts and the natural scientists, especially when it came to issues of language and communication. That was the proposition, yet the process of testing it proved to throw open a whole new set of observations on, not just how disciplines work together, but also how internal and external forces can come into play and shape the body that is the collaborative team.

Bio:
Sam Jury is a visual artist, Senior Lecturer in Fine Art and Research Group Leader of Contemporary Arts Practice at the University of Hertfordshire. Her practice-led research, often collaborative and cross-disciplinary, in artist filmmaking, investigates the psychological impact of moving image and societal narratives of loss and trauma. In 2018 her films screened at the Ann Arbor Film Festival, USA, the Whitechapel Art Gallery, UK and of Bienal de la Imagen en Movimiento, Argentina. In the same year she was nominated for the Jarman Award and won the Research in Film (RIFA) Award, presented by the Arts Humanities Research Council. She is currently working on a major film project exploring memories of place and event in the de facto state of Abkhazia in the Southern Caucuses.
---
Ariane Koek (Initiator and Founding Director of Arts at Cern)
Entangling Matters: How and Why Science and Arts Collaborations Count
Abstract:
From painting, large scale installations and fashion, to architecture, sculpture, film, digital art and photography, physics is one of the key sciences which captivates and continues to inspire the imagination of artists and designers. Fashion designers Hussein Chalayan and Iris van Herpen, architects like Jacques Herzog and Sou Fujimoto, and contemporary artists like Mariele Neudecker and Olafur Eliasson collaborate with physicists regularly.
So what is it particularly about physics which is so attractive to artists and designers? And how and why do the best collaborations between them happen?
Using the example of Arts at CERN, which I initiated in 2009, and then went on to design, develop and direct for 5 years, I will make the case that arts/science collaborations are even more important than ever during and after the Corona Pandemic. I will outline how they will now be increasingly transformative, building on one aspect of their past in the 1960s to create a new future.
Drawing on over 11 years working directly in the arts/science field, I will discuss and show examples of how the arts' and sciences' different modes of seeing, describing and discovering the world around us leads to innovations and new creativity. I will also show how at the centre of both disciplines is the imagination, and how in the 21st century we are finally acknowledging more openly its role to play in the sciences. The imagination is the critical factor in enabling balanced and fruitful collaborations between the disciplines. By sharing examples of everything I am outlining we can discuss and share best practice and models for our collective arts/science future.
Bio:
Ariane Koek is an independent international arts/science, transdisciplinary strategic consultant, creative producer, curator and writer in the fields of arts, sciences, technology and artists residency programmes. She is the author of Entangle: Physics and the Artistic Imagination (Hatje Cantz 2019 ) and is internationally known for initiating in 2009 the arts/physics Arts At CERN – based at the world's largest particle physics public research laboratory outside Geneva, Switzerland. Today as an independent, she is senior arts advisor and associate for the the Museum for the arts and science of perception known as The Exploratorium, San Francisco USA, creative partner of the new Cavendish Arts Science Programme at Cambridge University UK, and the founder and producer/curator of Earth Water Sky environmental arts and science residency programme at Science Gallery Venice, Italy. She is also co-curator of Backlight – the Finnish Photography Triennale 2020 and Real Feelings: Emotion and Technology which opens at HEK, Basel Autumn 2020 and MU, Eindhoven, Spring 2021. Previous exhibitions in 2019 include -'Entangle: Physics and the Artistic Imagination' Bildmuseet, Sweden and 'Keith Tyson: The Matter of Painting' Claude Monet Museum, Paris, France.
---
Ulrike Kuchner (Research Fellow, Faculty of Science, University of Nottingham, UK)
The value of ArtScience: what lies at the intersection of art and science?
Abstract:
In a time in which scientific knowledge is in danger of being discredited, we return to revelling in the responsibility of art and science. Each community has their own ways of communicating, ways of expressions, levels of sharing and exchange of material — but despite the disparities of their profiles, artists and scientists have a common ground: the fundamental desire to understand and describe the world around us and therefore to produce knowledge and uncertainty.
As a creative crossroad, the contemporary field of ArtScience as an independent artistic practice has been gaining momentum. The art is based on interdisciplinary collaborations or uses scientific methods and tools or is based on scientific research. Though ArtScience is often used for scientific outreach, its main intention is not to explain the science, nor is it science visualisation. Rather, it allows people to sense the awe and emotions that we feel when we think about outer space, about the tools of technology, about climate change, about exploration and discovery. It investigates, shapes and rejects, merging the objective and the subjective with equal voices.
In my contribution, I will discuss the role of emotions and aesthetics in scientific paradigms, raise questions related to the freedom of art and science in uncertain times, the role of the public in scientific exploration, and how art can add individual value and personal meaning to science. Will art and science converge in their identities, their institutions and evaluations? If so, how can we facilitate spaces of mutual experimentation and share knowledge collectively and accessible to everyone?
Bio:
I was born and grew up in Vienna, Austria. After school, I followed both of my passions: I (simultaneously) studied astrophysics at the University of Vienna, as well as fine arts (paintings) at the University of Applied Arts Vienna, and I continue to pursue both. I am a scientist and an artist.
After obtaining my PhD in astronomy, I moved to U.K., where I now work as a post-doc research fellow in observational astronomy at the University of Nottingham. As an astronomer, I study how galaxies evolve and how matter in the Universe organises itself as a giant cosmic web. As an artist and curator, I create and support artistic work at the intersection of art and science. My artistic work is inspired by my research as an astronomer, and often highlights human and machine-made errors and mistakes, showcasing the humanity in scientific data. I organise and arrange exhibitions and support other artists and scientists that are curious to share and exchange their knowledge and inspiration. I believe that if we encourage STEAM thinking we are better equipped to tackle the complex, multi-dimensional problems we are all facing in the world right now.
---
Stuart Nolan (PhD candidate LICA Lancaster University, UK)
Touch, Telepathy, and Tango
Abstract:
This paper reports on the author's work as an artist engaging with scientists, technologists, and ethicists and argues that scientifically-literate artists can play a role in shaping ethical frameworks and informing technological futurities.
For One Thousand Mindreaders (2017), the author trained one thousand people in muscle reading, a 19th-century mentalism performance technique that enables the practitioner to determine what action someone is imagining by feeling the micro-muscle movements in that person's arm caused by ideomotor responses to their kinaesthetic imagination. Participants would learn to find objects other participants had hidden and duplicate drawings they were merely thinking about. Artists, designers, technologists, and scientists participated in 38 workshops, performances, and exhibitions throughout Europe and the US at 31 venues including GoogleX and Digital Science. This resulted in a series of collaborative works involving touch, drawing, and movement.
This kinaesthetic emulation/revision of a contested, non-traditional, institutionally excluded performance art practice made visible various novel perspectives on touch, embodied cognition, contagion, privacy, isolation, surveillance, neuroexistentialism, neurocentrism, and the telepathic sublime.
These perspectives contributed to a collaborative anticipatory ethics of neuroscientific futurity, directly informing the author's ongoing work on the IEEE Neuroethics Framework, developing guidelines to address ethical, legal, and social concerns for the research and use of neuroscience.
The paper argues that an artist's involvement with science can go beyond the making of artworks that respond to science and can directly influence the production of science itself through a novel, informed, and critical engagement with ethics and policy-making.
Bio:
Stuart Nolan is an AHRC-funded PhD researcher at LICA Lancaster University, developing performance and visual art approaches to the anticipatory ethics of neurotechnology. His work combines traditional disciplines of deception with innovative and questionable technologies that have recently included a mindreading robot bird, an AI that believes in magic, and a device that makes a person's arm invisible. He has been featured in BBC Click, The Guardian, and Wired. His show, Season of Sleeps, premiered at the Swiss Consulate for the 2015 Venice Biennale. Stuart is a co-founder of the Magic Research Group, Huddersfield and a co-editor of The Journal of Performance Magic. Formally a NESTA Fellow in Applied Magic and a Magician in Residence at Pervasive Media Studio. He has been a technology innovation consultant and assessor for Innovate UK for the past 10 years.
---
Cecilia Oliveira (Institute for Advanced Sustainability Studies, Potsdam, Germany)
Bio:
Cecilia Oliveira holds a Ph.D. in political science from the Catholic University of Sao Paulo and her research areas are international relations, development, climate and security studies. At the Institute for Advanced Sustainability Studies (Potsdam), she leads a research project for climate studies in the Amazon region and the research group Democratic Re-Configurations of Sustainability Transformations. She is originally from Brazil where she also developed research on dance, Brazilian traditional culture and performance.
---
Stephanie Owens (Head of School of the School of Arts + Media at Plymouth College of Art, UK)
The invisible co-created and the phenomenal aesthetics of polymers
Abstract:
My paper begins with a close examination of artist Kimsooja's ​Needle Woman: Galaxy was a memory, Earth is a souvenir (2015), ​a 46-foot sculpture made of an iridescent nano polymer created with materials scientists at Cornell University (US). I commissioned the project and worked closely with the artist and researchers in materials nanoscience for two years.
Answering one of the questions posed by your symposium, the sculpture was not a result of planned outcome of the collaboration, but emerged out of a shared, speculative process that openly explored the cultural and critical possibilities of molecular design as an artistic practice.
The idea that an artist might work at the molecular or nano scale of matter, while not unfamiliar, nonetheless means that an artist can now create form through a process not accessible to unaided sight, working through an physical and social interface that makes the humanly invisible registers of form visible. This goes largely against what all artists and designers normally do--which is to develop strategies for creating representative or expressive ​adjacencies​—colors, lines, textures that relate harmoniously or discordantly on a visible surface or volume. Working at a nanoscale, artists have to consider cause and effect, using the ​causal​ as a field within which to express ideas and novel morphologies.
In my paper, I use my work in realizing the ​Needle Woman ​project to demonstrate how a significant cultural project can emerge at the interface of art and science without an instrumental bias of known objectives. Instead, if there is a common experience (in our case a focus on the structure of light) and an intentionally open, co-creative process, collaborations between art and science can result in an expanded understanding of both disciplines and offer a new post-representational aesthetic that better expresses a world in flux.
Bio:
Stephanie Owens​ is an interdisciplinary artist, creative researcher, and curator interested in the influence of digital networks on contemporary aesthetics and the production of subjectivity. From 2011-2017 Owens was Director of the Cornell Council for the Arts (CCA) where she organized Cornell's first art biennial focused on intersections between art, design and nano science which was the subject of 'Collaboration on Campus: Nanotechnology and Contemporary Art​', a documentary by Art21. She is a founder of ​Mobile Geographies​, a locative-media initiative at Parsons The New School for Design (NYC) and co-founder of the storefront new media art space MediaNoche (NY), the first artist-run gallery for digital art in Upper Manhattan. Some of Owens's curatorial projects include Technologies of Place​, funded by New York Foundation for the Arts, ​SELF[n]: Art & Distributed Subjectivity,​ ​Intimate Cosmologies: The Aesthetics of Scale in an Age of Nanotechnology​ (Cornell University), and ​Abject/Object Empathies​ (Cornell University).
Owens exhibits her work internationally including recent exhibitions at the First Beijing International Media Arts Exhibition (Beijing, China), Dashanzi Art Festival (Beijing, China), 5th Ewha Media Art Exhibition, (Seoul, Korea) and the Machinista International Arts and Technology Festival. Frequently a speaker on art and technology, she recently presented papers at College Art Association (CAA), SIGGRAPH (Los Angeles) and Consciousness Reframed: Art, Identity and the Technology of Transformation (Lisbon) and was the artist-in-residence in 2018 at COPE in Brooklyn, NY. In 2019 Owens was appointed Head of School of the School of Arts + Media at Plymouth College of Art, Plymouth, UK.
---
Dr Pat Simpson (Reader, University of Hertfordshire, UK)
Revolutionary Evolution in Apes and Humans in the 1920s: Sculpture and Constructs of the "New Man" at the Moscow Darwin Museum
Abstract:
This chapter explores the contemporary contextual and ideological resonances of a pair of sculptures entitled Age of Life, commissioned by the Darwin Museum in Moscow from the sculptor Vasilii Vatagin in 1926, in relation to discourses relating to aspects of the historical and contemporary constructs of the "New Man". The sculptures, which now reside on the 2nd floor gallery of the Darwin Museum, represent the stages of life and modes of sociability in humankind and amongst orangutans. Overall, the argument suggests that in relation to their context of production, the representations projected by the sculptures can be argued to respond, in a self-interested way on the part of the Museum, to a complexly interwoven set of key contemporary discourses on: Lamarck, Darwinism, eugenics, "hygienic maternity", and competing bio-scientific possibilities of "evolutionising" anthropoid apes in the USSR. The chapter concludes that, by doing so, the sculptures also implicitly present images of both apes and human women as "docile bodies", a concept formulated by Michel Foucault regarding the exertion of institutional and political bio-power over citizens - and in this case also over creatures as well - which was implicitly essential to the evolution of the "New Man" in contemporary terms.
Bio:
Dr Pat Simpson is Reader in Social History of Art, and Research Tutor at the School of Creative Arts, University of Hertfordshire, UK.
---
Lisa Taliano and Maria Patricia Tinajero (NY, USA)
Porous Borders, Toxic Landscape: Mapping The Massena Critical Zone
Abstract:
How do we envision new ways to live within the altered world? In these unprecedented times of climate transformation and irreversible ecological alterations, the problems we face are so new and complex that only through our combined efforts in art, science, activism, and theory can we understand and bring about the changes needed to achieve an ecologically sound worldview and learn to live and prosper with the damage. Our transdisciplinary environmental health and justice eco-art project maps the activity and interactions of the living and non-living entities that make up a small town as they jointly create the critical zone. It is a way of engaging art in a new science that understands its entanglements within political, sociological and economic structures. In this presentation, we will discuss our methodology, fieldwork, and interactions with government officials, public health experts, and concerned citizens in a community in northern New York that has been home to three of the worst hazardous waste sites in the US. The goal in focusing on this microcosm is to understand and map the interchanges that have shaped the landscape and the people of Massena by extension in order to assess the damage and envision new ways forward.
Combined Bios:
We are practicing visual artists in painting and sculpture, currently working on a collaborative ecological research project on ecological imaging: Mapping the CZ in the City, which will culminate in a collaborative set of art events, October 2020 in NYC. We've published and presented in the field of ecological art and philosophy. Our papers were part of the Symposium 'Artists and the Philosophers We Love' (June 2019) at the University of Hertfordshire, UK. Taliano's "Disorientation Re-presentation" and Tinajero's "Ethical Grounds: The Aesthetic Action of Soil," published in the anthology Art, Theory and Practice in the Anthropocene, edited by Julie Reiss, at Vernon Press, 2019.
Taliano maintains an artistic practice in NYC. She received an MFA from Boston University and an MA in Philosophy from Indiana University. Her curatorial projects include: 2019-2020, exhibition and catalogue 10 X Relay, in NYC, UT Knoxville, and IU, Columbus; Eating Painting at Project:ARTspace NYC in 2015; and 2013 Sleepwalker in Brooklyn. Tinajero is a visual artist and a PHD candidate at IDSVA. Tinajero has received an affiliate fellowship from the American Academy in Rome (2010). Her work has been exhibited at Museo de las Américas, Denver (2013); Museum of Contemporary Art Valdivia, Chile (2012); Knoxville Museum of Art, TN (2009); Islip Art Museum, NY (2007).
---
---
8 January 2021 online
Booking via UHArts
Zoom link on booking
Image credit: Fiona Curran, Your Sweetest Empire is To Please (detail) 2018. Commission for National Trust Gibside and Newcastle University, with funding support from the AHRC. Photo: Colin Davison
Unfortunately, Fiona Curran is unable to join us due to illness. We wish her all the best in her recovery.