TVAD symposium
Annual International TVAD symposium 2020
What the World Needs Now is Artists and Designers Engaged with Science
8 and 9 January 2021 (postponed from June 2020)
Provocation:
Since the 1960s we have seen numerous art-science experiments, often initiated by artists. Inter- and multi-disciplinary collaboration has never been a simple process. Some argue this is due to disciplinary boundaries emphasized in our educational system. For others, the issue is a lack of attention to real differences in thinking and approach. From the point of view of science, art is useful when it illustrates already established scientific theories. For many scientists, art provides a useful gateway to the general public, employing aesthetics to seduce audiences into engaging with scientific ideas. It seems that many scientists labour under the idea that art is simply the equivalent of beauty, despite the fact that for more than 100 years, and at least since Dada, artists have challenged this idea.
Questions this conference asks include:
What is the best that art-science collaborations can offer?
What can be achieved by artists working with scientists that cannot be achieved by artists alone, or scientists alone?
On the one hand, we ask what can scientists learn from artists? On the other, is it the role of art to illustrate important scientific truths, such as, climate science? In other words, what is the point of sci-art collaboration?
Keynote Speakers
Dr Katy Barrett
Curator of Art Collections, Science Museum, London
Bio: Dr Katy Barrett is Curator of Art Collections at the Science Museum, London. She has held various previous posts in national and university museums, and has higher degrees in History of Art and History of Science. She is co-author of The Sun: One Thousand Years of Scientific Imagery (Scala, 2018) and co-curated 'The Art of Innovation: from enlightenment to dark matter at the Science Museum' (2019-20). She is active on social media as @SpoonsonTrays.
Title: Has the world always had artists engaging with science?
I will look at the long history of art and science in dialogue, considering the many ways in which artists and scientists have inspired, criticised and informed one another, using the same tools and asking the same questions. Rooted in the collections and histories of the Science Museum, I will consider a series of moments at which art and science interacted to change the course of both. Painting, sculpture, drawing, photography, and digital media all feature as shared visual approaches that have also had a broader public impact in disseminating changing ideas. We will see how a series of disciplinary shifts from the 17th to the 20th century have served to shape how we see art and science as engaged or otherwise. Art has always been at the heart of the Science Museum. I ask what we can continue to learn from collecting and interpreting art in this context.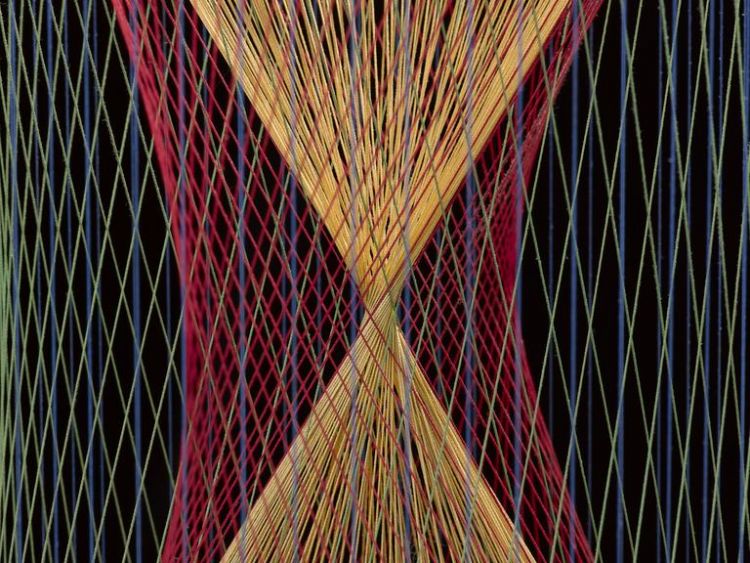 Image credit: Conoid string surface model, made by Fabre de Lagrange, France, 1872. Science Museum Group © The Board of Trustees of the Science Museum, London.
Fiona Curran
Artist
Bio: Fiona Curran is an artist and writer, she holds a PhD from the Slade School of Fine Art and teaches at the Royal College of Art, London. Her practice moves between studio and site exploring the poetics and politics of landscape space and notions of 'heritage' as an ongoing and contested project of inheritance. Fiona's research focuses on 'environmental art' as an expanded field of ecological thought, joining trans-disciplinary work in the Environmental Humanities that responds to climate change and speculative post-anthropocentric political thought. Recent publications include a contributing chapter in Mutating Ecologies in Contemporary Art, Ed.Christian Alonso (2018), and journal articles in Antennae, Kritische Berichte and OAR (Oxford Artistic and Practice Based Research Platform). Fiona has exhibited widely in the UK and internationally, recent public art commissions include projects for the National Trust and Newcastle University at Gibside, Gateshead; Kielder Forest, Northumberland and Tatton Park, Cheshire, which was awarded a RIBA small projects award.
Title: From the Stratosphere to the Soil: Conscious Cultivation in the Pluriverse
In an era increasingly defined by the uneven causes and effects of climate change and the power differentials of contemporary forms of capital the need to develop imaginative spatial, temporal and material relations takes on an increased critical urgency. In her keynote presentation artist Fiona Curran will trace an atmospheric politics from the post war era drawing from the writings and environmental pedagogy of scientist Rachel Carson who combined the anecdotal with the factual, wondering with wandering and a "conscious cultivation" of the senses towards greater ecological awareness. These speculative approaches to the creation of knowledge are highlighted as a model of scientific practice that can be seen to correspond to methods in contemporary art. Carson's encounters with the unseen (pesticides and pollution), the unheard (birdsong, wind, sea), the previously ignored and un-consulted (soil, insects and the cellular) gesture towards an environmental "cosmopolitics" (Stengers) that bring worlds within and beyond the human into formal representation. Responding to the provocation that what the world needs now is artist's engaging with science, Curran suggests that what may instead be 'needed' is a move beyond the singular designator 'world' towards a pluriverse that challenges the violence that has subtended universal claims to knowledge.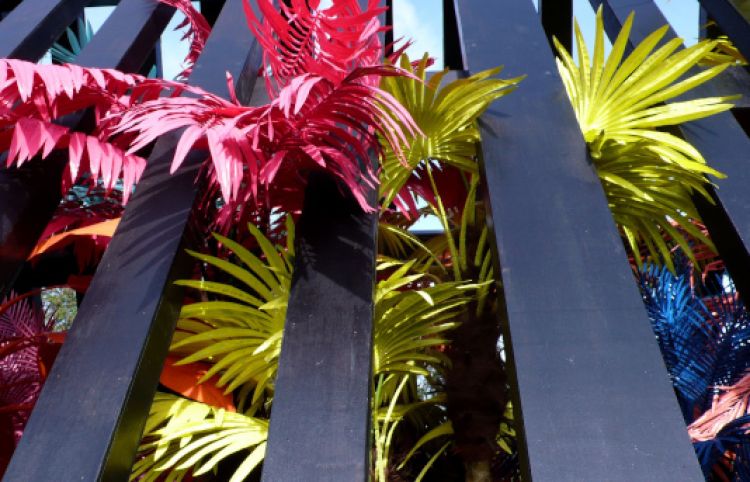 Image credit: Fiona Curran, Your Sweetest Empire is To Please (detail) 2018. Commission for National Trust Gibside and Newcastle University, with funding support from the AHRC. Photo: Colin Davison
Speakers and contributors:
Dr. des. Sebastian Mühl (Berlin and Klagenfurt, Germany) Realism reconsidered – in the light of artistic research
Cecilia Oliveira (Institute for Advanced Sustainability Studies, Germany) amazon urihi
Michal Krawczyk, (PhD candidate Griffith University, Australia) In the Natural Apiary
Esin Aykanat Avcı & Ilgım Göktürk Başal (Turkey) A Laboratory or an Art Studio
Taliano and Tinajero (NY, USA) the lost common root of our porous bodies: a working methodology for art and science
Dr Barbara Brownie (University of Hertfordshire, UK) The Final Frontier of Fashion
Prof Fiona Crisp (Northumbria University, UK) The Cultural Negotiation of Radically Remote Science
Jessica Hough (Andrew W. Mellon COSI Curatorial Fellow in Photography at the Art Institute of Chicago, USA) "A Good Scout" in Art and Life: Generative Systems' & Collaborative Techno-Art-Activism
Sam Jury (University of Hertfordshire, UK) Are You Thinking What I'm Thinking? Aka The Glitches and Bitches of Collaborations
Stephanie Owens (University of Plymouth, UK) the invisible co-created and the phenomenal aesthetics of polymers
Stuart Nolan (PhD candidate LICA Lancaster University, UK) Touch, Telepathy, and Tango
Dr Pat Simpson (University of Hertfordshire, UK) Revolutionary Evolution in Apes and Humans in the 1920s: Sculpture and Constructs of the "New Man" at the Moscow Darwin Museum
Ulrike Kuchner (University of Nottingham, UK) The value of ArtScience: what lies at the intersection of art and science?
Ariane Koek ENTANGLING MATTERS: HOW AND WHY SCIENCE AND ARTS COLLABORATIONS COUNT