Materials and Structures (MAST) Research Group
The Materials and Structures (MAST) Research Group develops fast and energy-efficient processes based on electropulsing and high magnetic field treatment to reduce residual stress and optimise mechanical properties in metallic materials. They have demonstrated beneficial effects on resistance to fatigue and cavitation erosion. Their research has also identified the mechanism of the catalytic effect of alkali and alkaline-earth carbonates on the oxidation of C-C composites.
They have proposed the use of alternative non-catalysing deicing chemicals to conduct research into advanced materials and structures for applications in extreme environments such as fuel cells, aerospace and the human body. MAST also do research in advanced composite materials for the design, repair, strengthening and reliability of concrete civil structures.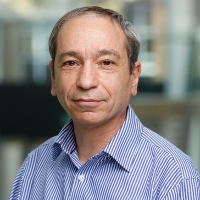 Professor Andreas Chrysanthou
Professor Chrysanthou's main research expertise lies in the processing of Materials. His early research established the thermodynamic and kinetic requirements for the production of silicon carbide whiskers from the carbothermic reduction of silicon dioxide. He has been working on in-situ processes for the production of metal-matrix composites and his work established the mechanism of reaction for the self-propagating high-temperature synthesis (SHS) using elemental powders for metal-carbide systems. This has led to collaborative work with industry on the reactive brazing of diamond tools.
He has served as Working Group coordinator in Intermetallics research within KMM-VIN and has served on its Board of Governors.
Leader of the Material and Structures (MAST ) Research Group
View profile
Meet the team
Get in touch
For enquiries and the opportunity to work with the Materials and Structures Research Group, please contact Prof Andreas Chrysanthou, MAST Research Group Leader.