Professional Doctorate in Engineering
About the course
The EngD is designed to integrate easily with your work and host organisation. It aims to:
provide a rigorous Doctorate level environment within which important current and future engineering issues are investigated;
develop your critical thinking skills and awareness of the application of technology into organisations
develop your research and management skills, such as leadership and change management, necessary to deal with the complex issues in today's and future engineering business activities
enable the effective management of innovation
provide a supervisory environment that helps give guidance, review and advice on the development of your portfolio, specialist technological skills and the research process
Study on the EngD will require periodic attendance at the University. There is no requirement to study any taught modules on this Professional Doctorate research degree. However, as part of the EngD, students are required to undertake a programme of professional development which may include attendance at conferences and other professional meetings or training in specific methods and technologies. The key unique feature of the EngD is that it is based on a portfolio of research work. This more flexible approach replaces the traditional 'single topic' focus of a PhD. Your portfolio will centre on a key theme and investigate areas such as technical, business and process concepts. These projects should be linked closely with your day to day work for maximum benefit to both you and your company.
Why choose this course?
This Engineering Doctorate programme aims to develop future technological leaders;
You undertake your studies on a key theme relating to your profession or professional practice;
Your project offers the opportunity to investigate different facts of a problem relating to your profession;
You may start the EngD in either September or January.
Careers
Successful completion of the EngD will offer graduates every opportunity to progress their management career either within their employment or in a new organisation in both the private and public sector.
Teaching methods
The EngD aims to develop future technological leaders and technical managers through improved specialist skills applied in an organisational setting. The EngD has been designed to help develop industry-based technical specialists for whom a PhD would be a natural next step, but who are looking for greater flexibility and enterprise-focus. In particular the EngD is based on a portfolio of research work, which enables students to study at doctorate level but move away from the traditional 'single topic' focus of a PhD to centre the contribution to knowledge around the organisation. The portfolio focuses on a key theme and then investigates different facets such as technical engineering improvements and enhanced business practices and processes. These projects are typically linked closely to the student's day-to-day work for maximum benefit.
Fees & funding
*Tuition fees are charged annually. The fees quoted above are for the specified year(s) only. Fees may be higher in future years, for both new and continuing students. Please see the University's Fees and Finance Policy (and in particular the section headed "When tuition fees change"), for further information about when and by how much the University may increase its fees for future years.
View detailed information about tuition fees
Other financial support
Find out more about other financial support available to UK and EU students
Living costs / accommodation
The University of Hertfordshire offers a great choice of student accommodation, on campus or nearby in the local area, to suit every student budget.
Entry requirements...
A first degree in engineering or science. Applicants with a Master's degree may move more rapidly into their research phase. A minimum IELTS score of 6.0. TOEFL 550 (213 CBT) or equivalent is required for those for whom English is not their first language.
How to apply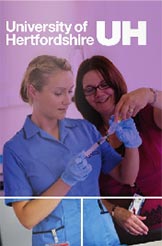 Download the Prospectus