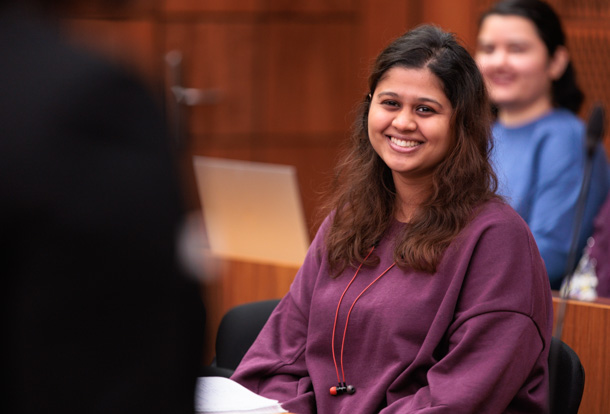 Prepare to enhance your legal career prospects and climb up the ladder through work-related learning at Hertfordshire Law School.
With a range of professional accreditations, invaluable industry connections and excellent networking opportunities, you will grow your existing toolkit of skills to become more of an expert in your area of interest.
Learn from a team of accomplished academics, including practising solicitors and barristers who will train you to work on real-life scenarios. In addition, you will have access to an outstanding £10m Law Building inclusive of a full-scale replica Crown Court Room to support your learning. We are one of the few providers of legal education in the country with a facility equipped with the latest technology to prepare you for professional practice.
Benefit from numerous opportunities to develop professional industry connections through our extensive employability programme. The Hertfordshire Law Clinic provides pro-bono legal services to the community, enabling you to gain real work experience during your studies. Our strong industry links, including leading law firms, barristers' chambers, international mediators, PCCs, Magistrates and Crown Courts, prisons and voluntary sectors further ensure an authentic learning experience.
Why choose Herts?
2nd in the UK
Overall – Postgraduate Taught Experience Survey (PTES, Advance HE, 2023)
Connected to industry
Links with leading law firms, barristers' chambers, international mediators, PCCs, Magistrates and Crown Courts, prisons and voluntary sectors
Inspiring spaces
Immersive learning experience in our impressive Law Court building – a dedicated site to supporting our world-class teaching and learning