PgDip Pharmacy Practice
About the course
The programme has been designed for Pharmacists who wish to develop their Clinical Pharmacy, Therapeutic Management and Professional Skills and is linked to the Foundation Pharmacy Framework.
Students undertake the certificate in year 1 with progression to the diploma in year 2. The modules within the programme develops core clinical pharmacy and therapeutic skills with a focus on the management of patients on acute and long-term conditions. Patient safety and leadership in practice are also core elements covered on the modules. Students undertake work-based learning that is supported by a recognised work-based tutor and attend monthly study days at the university of Hertfordshire.
Why choose this course?
The programme offers
2 year course for Diploma in Pharmacy Practice. Students are able to upgrade to an MSc in Pharmacy Practice post achievement of the PGDip Pharmacy Practice qualification.
Clinical and therapeutic focused study days supported by our internationally renowned simulation suite
Directed learning with progression to self-directed learning
Learning and sharing of experiences with colleagues from other hospitals
Programme linked to the Foundation Pharmacy Framework
An opportunity for transferring credits/qualifications between universities participating within the JPB collaboration (subject to approval)
Historically, funding has always been available from Health Education, England.
Additional Information
If you decide to study this course on a part time basis you will be charged £540 per 15 credits for the 2017 academic year. Please note that charges based on Health Contract funding may vary.
Structure
Level 7
Core Modules
Professional Development in the NHS (Work Based) - 30 Credits
Pharmaceutical Care (Work Based) - 30 Credits
Applied Therapeutics 1-long term disease states (work based) - 30 Credits
Applied Therapeutics 2-short term/acute disease states (work based) - 30 Credits
Optional
Fees & funding
Fees 2018
UK/EU Students
Part time
£665 per 15 credits for the 2018/2019 academic year
*Tuition fees are charged annually. The fees quoted above are for the specified year(s) only. Fees may be higher in future years, for both new and continuing students. Please see the University's Fees and Finance Policy (and in particular the section headed "When tuition fees change"), for further information about when and by how much the University may increase its fees for future years.
View detailed information about tuition fees
Other financial support
Find out more about other financial support available to UK and EU students
Living costs / accommodation
The University of Hertfordshire offers a great choice of student accommodation, on campus or nearby in the local area, to suit every student budget.
Entry requirements...
Applicants for the PGDip Pharmacy Practice should be registered Pharmacists in the UK with the General Pharmaceutical Council. Applicants must have a practice site and work-based tutor recognised by the University of Hertfordshire (transferrable within the JPB collaborative subject to approval)
How to apply
2018
| Start Date | End Date | Link |
| --- | --- | --- |
| 26/09/2018 | 30/09/2019 | Apply online (Part Time) |
2019
| Start Date | End Date | Link |
| --- | --- | --- |
| 26/09/2019 | 30/09/2020 | Apply online (Part Time) |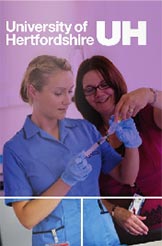 Download the Prospectus