Professional Doctorate in Education
About the course
A central feature of the work of professionals in education and training today is the evaluation and development of practice and the ability to bring about change within their institutions. The EdD is a research-based programme focused on the improvement of professional practice. You will work at doctorate level on issues or problems that are of direct relevance to your professional interests and institutional concerns, bringing significant benefit to the organisation in which you work.
You will undertake a programme of studies in the areas of professional development and impact on practice. You will investigate research approaches and methods appropriate to practice-based research; and leadership issues in promoting the learning of others. In consultation with tutors you will develop a programme of work which leads to the presentation of a thesis.
The programme is intended for professionals with an education or training function from public sector or commercial/business organisations. These include: people working in education settings such as schools, further education, higher education, and local education authorities; trainers and consultants; staff working in inter-agency settings; youth and social workers.
Study themes for Phase 1 (Years 1 and 2) are: issues in professional learning and development; approaches to research.
Study Themes for Phases 2 and 3 (Years 3 to 5) are: professional learning and development of practice-based research, with supervisory support leading to the production of a substantial thesis.
There is a programme of sessions relating to the themes provides opportunities for you to present and evaluate your own work.
How to apply
Before making your formal application, we recommend that you discuss your proposed research with Dr Jon Berry j.berry@herts.ac.uk, to establish that it is appropriate for this award.
Download our information pack on studying for a Doctorate in Education.
Applications should be returned to Dr Jon Berry at j.berry@herts.ac.uk
Why choose this course?
The Doctorate in Education (EdD) offers the opportunity for those with an enthusiasm for learning to gain the highest level of professional qualification available in the field.
Teaching methods
A series of bi-monthly study days are organised in two-day blocks and single days (including weekend days), supervision meetings, e-learning support and University Researcher Development Programme sessions. This research course has a strong cohort experience and attendance to the bi-monthly study days is compulsory. During the study days, which are led by the EdD team, students develop research skills and discuss their ongoing projects. Students are supervised by a principal and up to two second supervisors. The EdD core team includes professionals with a wide range of expertise at the forefront of education and social inquiry:
Jon Berry, PhD. Programme Tutor, Professional Doctorate in education (EdD). Areas of expertise: teachers' professional autonomy, education policy, the politics of education. Representative publication: Putting the test in its place. UCL/Trentham. 2017
Bushra Connors, PhD. Current research interests: critical realism, interdisciplinarity, structure and agency interactions, globalisation and Higher Education, pedagogy in a changing world, behaviour management in schools, science teaching pedagogy. Representative publication: Global mechanisms and Higher Education (presented at the Conference of the International Association for Critical Realism, Bologna, 2010).
Joy Jarvis, PhD, Associate Dean, Learning Teaching and Employability. Areas of expertise: professional learning and development including pedagogy in schools and HE, professional identity, professional development and leadership in learning and teaching. Research interests focus on narrative and arts-based forms of enquiry. Representative publication: Other ways of seeing; other ways of being: imagination as a tool for developing multiprofessional practice for children with communication needs (with Trodd, in Child Language Teaching and Therapy, Vol. 24, 2008).
Roger Levy, PhD, Associate Head of School, Research and Enterprise. Areas of expertise: professional learning and development, including mentoring, enquiry into work-based practice and the capacity of organisations to manage change; conceptions of teaching and learning; teacher development, professionalism; curriculum, programme evaluation; qualitative methodology. An active member and past Chair of the International Professional Development Association.
Helen Payne, PhD, Professor of Psychotherapy, specialises in mixed methodology research and qualitative research using participatory/collaborative approaches. Her research has focussed on embodied practice and social and emotional wellbeing for adults and children in educational and NHS settings as well as inquiry in HE. She has applied for numerous grants, written extensively and is founding editor of the international peer-reviewed journal Body, Movement and Dance in Psychotherapy (Taylor & Francis). She teaches and supervises nationally and internationally.
Karen Smith, PhD. Areas of expertise: the development of scholarly practitioners; enquiry into work-based practice and practitioner research; qualitative research methodologies (particularly in-depth interviewing and critical discourse analysis). Research interests focus on the language of higher education policy and practice; transnational education and internationalisation; partnership and collaborative working; and the role of research in policymaking. Representative publication: Using multi-dimensional methods to understand the development, interpretation and enactment of quality assurance policy within the educational development community (Higher Education Research and Development, 2017).
Philip Woods, PhD FRSA, Professor of Educational Policy, Democracy and Leadership. Areas of expertise: policy, leadership, democracy and education, enterprise and entrepreneurialism, alternative education, sociology, research and evaluation. Representative publication: Transforming education policy: Shaping a democratic future (Policy Press, 2011). Active links with US include University Council for Educational Administration and the New DEEL (Democratic Ethical Educational Leadership) network.
Contact Jon Berry for further details.
Fees & funding
*Tuition fees are charged annually. The fees quoted above are for the specified year(s) only. Fees may be higher in future years, for both new and continuing students. Please see the University's Fees and Finance Policy (and in particular the section headed "When tuition fees change"), for further information about when and by how much the University may increase its fees for future years.
View detailed information about tuition fees
Other financial support
Find out more about other financial support available to UK and EU students
Living costs / accommodation
The University of Hertfordshire offers a great choice of student accommodation, on campus or nearby in the local area, to suit every student budget.
Entry requirements...
A first degree or equivalent. Normally a Master's Degree and a minimum of five years professional experience.
Apply
To apply for the EdD, please contact Dr Jon Berry.
How to apply
2018
| Start Date | End Date | Link |
| --- | --- | --- |
| 16/09/2018 | 31/07/2019 | Apply online (Part Time) |
2019
| Start Date | End Date | Link |
| --- | --- | --- |
| 16/09/2019 | 31/07/2020 | Apply online (Part Time) |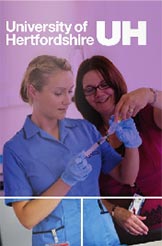 Download the Prospectus