Professional Doctorate in Business Administration
About the course
In the current business climate, it is increasingly important for business managers and leaders to update and advance their business knowledge and skills. The Doctor of Business Administration offers the opportunity for those with an enthusiasm for learning to gain a professional doctorate, the highest level of professional qualification available in business and management. Drawing on the work of international experts in our Business School you will learn about the latest management techniques and research methods. Whatever your subsequent career, the skills and knowledge you gain will be an asset to you and help you to improve the effectiveness of your organisation and those who work in it.
The DBA is undertaken on a part-time basis and typically takes five years to complete. It is organised around four 2-day learning workshops a year, facilitated by internationally renowned practitioners and researchers who offer contrasting perspectives on management philosophy, organisation development and methodology in management research. These structured workshops both underpin the individual programme of research that participants undertake as a key part of their studies whilst also allowing for continuous peer review and engagement.
The study route is part-time. There is no taught element to the DBA, however, the programme of study is organised around four weekend (Friday and Saturday) facilitated learning workshops per year which students are expected to attend.
How to apply
If you are interested in applying for the Doctorate in Business Administration (DBA), please contact the programme director, Dr. Moira Calveley m.d.calveley@herts.ac.uk
Please also include an outline of your research proposal with your application. Members of academic staff will advise on the length and scope of the proposal.
Applications should be returned to doctoralcollegeadmissions@herts.ac.uk
Why choose this course?
Gain a professional doctorate, the highest professional qualification in business management
Benefit from the knowledge of our international experts and renowned practitioners and researchers
Develop an in-depth knowledge within your area of professional expertise
Key staff
Dr Moira Calveley
Director, Doctor of Business Adminstration Programme
Find out more about Dr Moira Calveley
Careers
The DBA offers the opportunity to progress beyond Master's level to gain the highest level of professional qualification available in business and management. Participants will not only increase their effectiveness as managers, but bring added benefits to their organisations from their learning and research outputs.
Teaching methods
There are no taught modules on this programme, however, there are four 2-day facilitated learning weekends (Friday and Saturday) a year. In these workshops you will have the opportunity to engage with senior academics in order to consider differing perspectives on management philosophy, organisation development and methodology in management research. The workshops help underpin your individual programme of research and your final doctoral thesis and also allow for continuous peer review, engagement and support.
You are supported throughout your studies by a Doctoral supervisory team who will advise you from the time you enrol on the programme until you complete your Doctorate.
You will undergo two intermediate progression assessments on the programme to monitor and advise on the development of your research and a final assessment for the Doctorate.
The final submission for your DBA must contain a written document of up to 80,000 words that presents and defends a thesis. A thesis is an intellectual position capable of being maintained by argument. A submission may also contain other works on which the thesis and its defence are based.
Fees & funding
*Tuition fees are charged annually. The fees quoted above are for the specified year(s) only. Fees may be higher in future years, for both new and continuing students. Please see the University's Fees and Finance Policy (and in particular the section headed "When tuition fees change"), for further information about when and by how much the University may increase its fees for future years.
View detailed information about tuition fees
Other financial support
Find out more about other financial support available to UK and EU students
Living costs / accommodation
The University of Hertfordshire offers a great choice of student accommodation, on campus or nearby in the local area, to suit every student budget.
Entry requirements...
A first degree or equivalent plus a Master's degree (preferably in business or management) and at least five years relevant management, or management consulting, experience. Professional experience and achievement will be taken into account where the applicant does not have the ideal academic qualifications.
How to apply
2017
| Start Date | End Date | Link |
| --- | --- | --- |
| 01/07/2018 | 31/07/2018 | Apply online (Part Time) |
2018
| Start Date | End Date | Link |
| --- | --- | --- |
| 05/09/2018 | 31/07/2019 | Apply online (Part Time) |
2019
| Start Date | End Date | Link |
| --- | --- | --- |
| 05/09/2019 | 31/07/2020 | Apply online (Part Time) |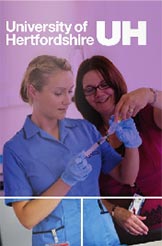 Download the Prospectus