Professional Doctorate in Management
About the course
This programme is group-based so will give you a thorough understanding of group dynamics, and the way in which they affect change in organisations. Staff and students work together as a learning community, participating together in their research enquiries, in a way which reflects an understanding of organisational life as fundamentally conversational in nature. You will be encouraged to link your experience in the research community directly to your research question, so your work on the programme will be of immediate benefit, both to you and your organisation.
This programme is designed for leaders, managers, internal and external consultants in organisations who want to articulate what is being ignored in the dominant theoretical approaches to organisational life. Orthodox management literature stresses the predictable and rational aspects of managing, while on the programme you will be encouraged to pay attention to the ways in which leaders and managers are required continuously to act into the unknown.
During your time on the programme you will work with your own experience of change in your organisation, or in your consultancy practice. You will develop insights into your practice following an iterative cycle of reading, writing, thinking, rewriting and rethinking, all brought together through your active participation in the programme. You will develop a series of projects that relate to your work in your organisation and you will be encouraged to pay attention to how your practice is changing in your role as leader, manager or consultant and as a direct result of your research. Over a minimum of three years, your projects will develop into a thesis in which you will also be required to identify and evaluate your contribution to knowledge and to your area of practice.
How to apply
If you are interested in applying for the Doctorate in Management (DMan) please contact the programme's director, Prof. Chris Mowles c.mowles@herts.ac.uk.
Please also include an outline of your research proposal with your application. Members of academic staff will advise on the length and scope of the proposal.
Applications should be returned to doctoralcollegeadmissions@herts.ac.uk
Why choose this course?
As a participant on the programme, you will be expected to:
Reflect upon and make sense of personal experience of change and continuity in organisations in the interests of many persons acting simultaneously into unfolding organisational life
Develop your understanding of group dynamics, power relations and their underpinning ideologies and role formation in organisations
Explore the consequences of uncertainty and not knowing in organisations
Develop insight into the nature and cause of anxiety in organisations and the nature of relationships that might help people to live with it
Key staff
Prof. Christopher Mowles
Director Doctor of Management Programme
Find out more about Prof. Christopher Mowles
Prof. Ralph Stacey
Professor of Management
Find out more about Prof. Ralph Stacey
Careers
This programme encourages you to explore alternative ways of thinking about organisations and how stability and change arise in complex, predictably unpredictable ways. The aim is to make you more skilful in your practice and therefore more useful to your organisations and clients.
Teaching methods
Within the larger research community you will be a member of a smaller learning set convened by your primary supervisor. You will also be assigned a second supervisor. We have an expectation that from the beginning you will read and critique the work of your colleagues in the learning set as they develop their portfolio of projects, just as they will be reading and responding to yours. Members of faculty and students both give theoretical inputs and/or discuss their work in the broader research community. We also provide sessions by visiting staff, practitioners and consultants to give a varied perspective of the topics covered.
Fees & funding
*Tuition fees are charged annually. The fees quoted above are for the specified year(s) only. Fees may be higher in future years, for both new and continuing students. Please see the University's Fees and Finance Policy (and in particular the section headed "When tuition fees change"), for further information about when and by how much the University may increase its fees for future years.
View detailed information about tuition fees
Other financial support
Find out more about other financial support available to UK and EU students
Living costs / accommodation
The University of Hertfordshire offers a great choice of student accommodation, on campus or nearby in the local area, to suit every student budget.
Entry requirements...
Applicants should have a minimum of 5 years' relevant management or management consulting experience.
An honours degree (at least 2:2 or above) and a relevant Master's degree such as an MBA or MA (Management Studies) would be preferred.
However, professional experience and achievement are exceptionally valuable for this programme, and so will be taken into account where the applicant does not have the ideal academic qualifications.
How to apply
2017
| Start Date | End Date | Link |
| --- | --- | --- |
| 01/07/2018 | 31/07/2018 | Apply online (Part Time) |
2018
2019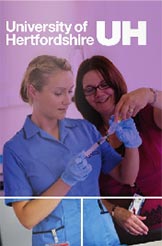 Download the Prospectus