Sarmila Varatharaj
Meet Sarmila, the Deputy Mayor for the London Borough of Wandsworth and the youngest councillor in the borough, representing Wandle ward. Sarmila also works for Residently, a start-up company in the property technology industry.
| | |
| --- | --- |
| Current job role | Deputy Mayor of London Borough of Wandsworth & Community Associate at Residently |
| Year of graduation | 2019 |
| Course of study | BA (Hons) International Business |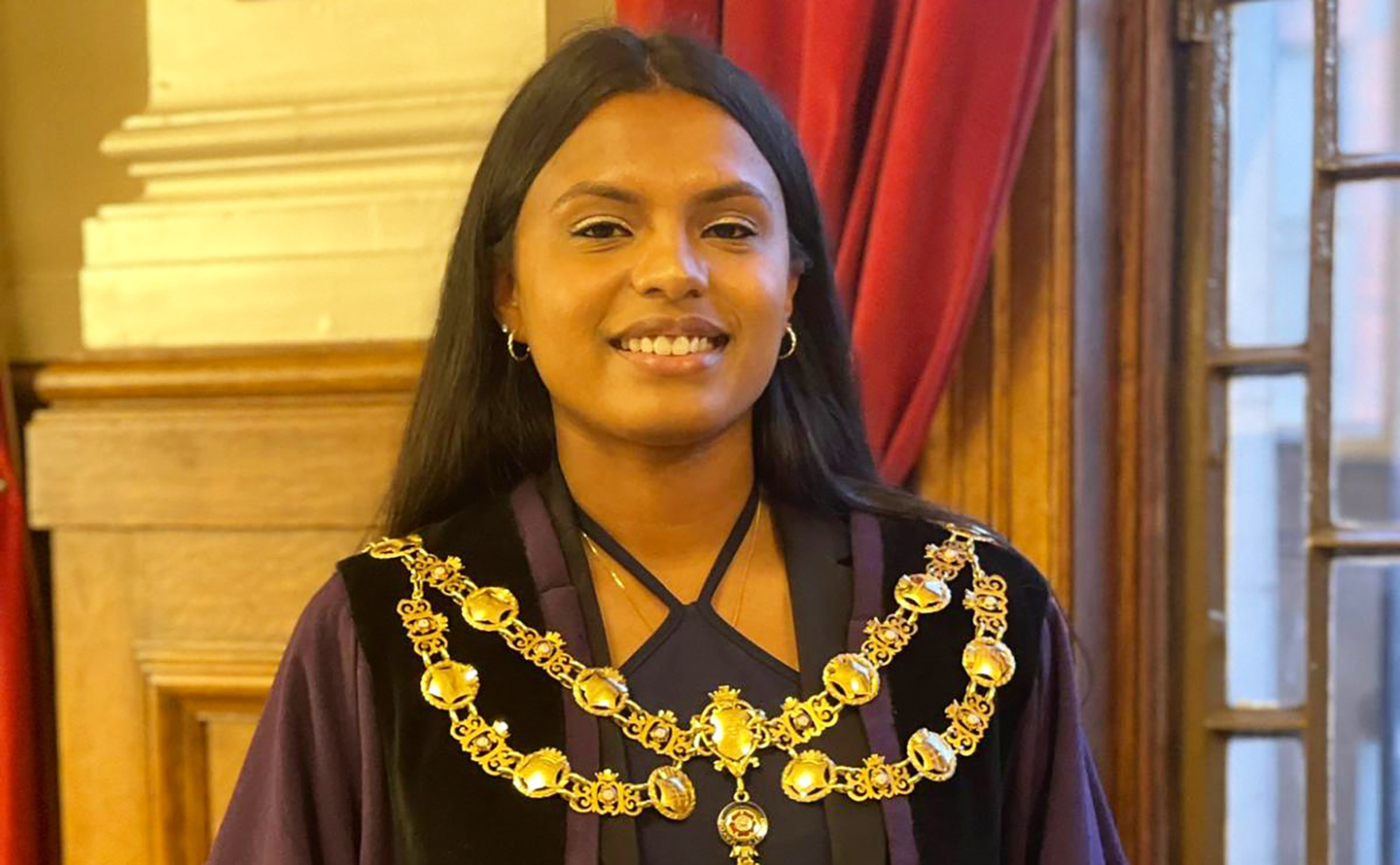 A community champion
Sarmila graduated from Herts in 2019 with a first-class degree in BA (Hons) International Business. She says, 'After graduating from Herts, I was determined more than ever to be successful. My degree helped me become a truly global individual, with the ability to connect and build long-term relationships with others, and my experiences at Herts have given me the confidence and skills to be one of London's youngest Deputy Mayors.'
In her role as Deputy Mayor, Sarmila chairs Citizenship Ceremonies, engaging with groups, communities, and local institutions that includes attending openings, award ceremonies, fundraisers, and various other events. As well as this, Sarmila leads on refugee support in the area. She says, 'I am the Council's Refugee Champion and lead on making the council a Borough of Sanctuary, offering a culture of welcome and hospitality to all. I am working with council officers, and the voluntary sector to develop a Refugee Support Strategy. As a Councillor, I work with residents to help resolve their issues relating to housing, environment, education, and health.'
Sarmila also works as a Community Associate for property tech company Residently. She works with institutional landlords to draw up contracts and assist renters with their referencing process.
Studying abroad
Sarmila chose to take part in the University's dynamic and wide-ranging study abroad programme, which offers student exchange opportunities to more than 40 different countries all around the world.
'I chose to study at Herts because of the unique study abroad programme. As part of my degree, I completed two years abroad including a placement year in four different countries. I spent my second year at the University of North Florida and during my second semester, I became the first student from the UK to complete a short-term study abroad opportunity to Chile, South America for an economics module. In my third year I studied in Switzerland for the first semester and in my second semester I completed a placement in Thailand for Oman Air, the national carrier of Oman.
Life at Herts
Sarmila has fond memories of studying at Herts and has remained in close contact with some of the staff that influenced her and shaped her career path. She says, 'The quality of teaching at Herts prepared me for day-to-day life as a councillor. Modules always included coursework, exams, and presentations, and I fell in love with public speaking during class activities. I can now read local government committee papers with ease, and research and write my own strategies for local government. These are all skills I developed whilst studying at Herts and partner institutions.
'I have so many amazing memories at Hertfordshire. I absolutely loved living on campus, and the people I met on my first day in halls are now my lifelong friends. The campus itself is the perfect place to study, get fit at the gym and for a night out! The teaching staff at Hertfordshire are extremely supportive and encourage you to pursue your dreams from the get-go. The confidence they had in me was encouraging and always motivated me to go on to achieve my next goal.
'My proudest moments at uni will always be receiving my two Hertfordshire Business School Dean's Awards and giving the student speech at my graduation ceremony. I achieved this with the support of my programme leader, professors, and the study abroad team, who were there every step of the way to guide me.'
Future plans
Sarmila says, 'My future plans are to continue working on my political and business careers. My future goal is to become a Member of Parliament, and my passion for business and entrepreneurialism runs alongside politics. I would like to use my time as a councillor to help local businesses and charities to grow in my Borough.'