Louise Donohue
Meet scholarship recipient Louise Donohue, the first female team member at Watford FC's sport and exercise science department, who wants to help women improve their health and wellbeing.
| | |
| --- | --- |
| Current job role | Healthy Lifestyle Specialist at Active Luton |
| Year of graduation | 2021 |
| Course of study | |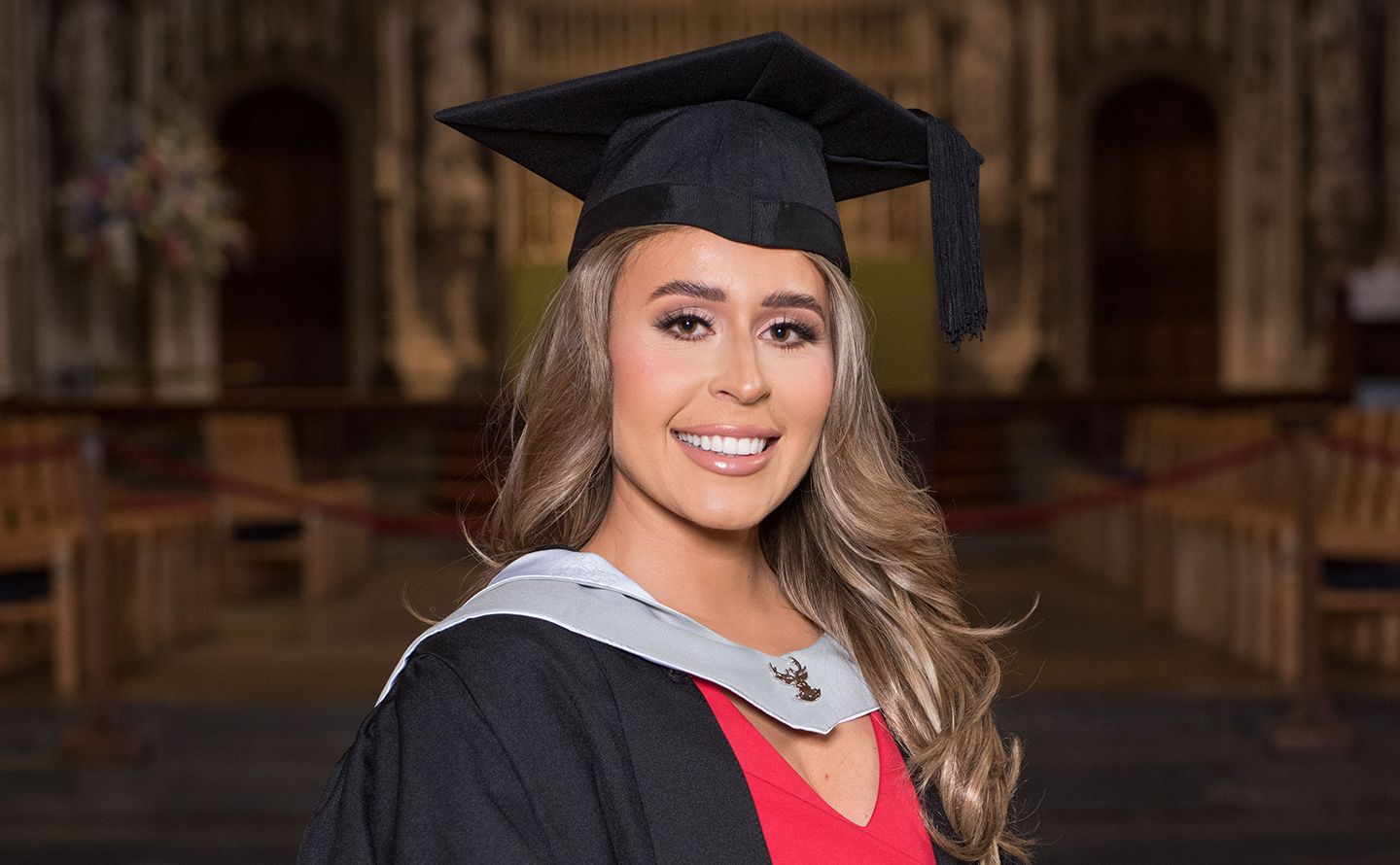 University opportunities and experiences
To kick start her career in sport and exercise science, Louise undertook internships and volunteering opportunities whilst studying at the University of Hertfordshire to gain real-world experience outside of the classroom.
She says, 'I threw myself into everything I could, and I did things that I never thought I would. One of them was interning with Saracens Mavericks netball team (formerly Benecos Mavericks) in the Performance Analysis team and I got this opportunity through volunteering with the elite teams at Herts. I also volunteered as a coach at the British Universities & Colleges Sport competition (BUCS) with the University's Boxing Team, and we came away with silver and bronze medals, both earned by female competitors. As a boxer myself I also competed in the BUCS Boxing competition'.
Louise also had a fantastic placement experience with Watford FC. She says, 'What a year, I cannot believe I did it! My placement was with the first team at Watford FC in the sport and exercise science department. I was the first female to work in this team, and the first female intern. It was full of challenges, and I had to break the barriers of previously common 'norms' of females in football and the traditional views of the many different managers, as well as trying to learn in a high-stress and fast-paced environment.
This placement helped me develop as a person as well as professionally and I met some incredible people. It sadly came to a premature end, due to the COVID-19 pandemic however I was incredibly pleased to hear that the year after they also took on another female intern. I like to think I paved the way for other women and helped to break down barriers which has led to more equal opportunities and an increased respect for women working in this industry.'.
Louise was also the recipient of the Jarvis Centenary Scholarship, generously funded by the Jarvis Group Ltd. The aim of this scholarship is to provide financial assistance for the student with the highest UCAS points on admission, from the Harpenden/Luton area entering the University every year.
Louise says, 'Being awarded this scholarship felt like I'd won the lottery! I went to university later than usual and I was quite worried that I would be behind because of this. Winning the Jarvis Scholarship taught me otherwise. It showed me that all the extra work I did to earn a place at university was all worth it. It felt incredible to be rewarded in such a generous way for my conscientiousness. It meant the world to me and is something I still feel proud of.'.
'From the moment I stepped into the lecture hall, I knew Herts was the place for me and the course was the right choice and what I wanted to do. I found the staff very professional but also down-to-earth and helpful. Dr Lindsy Kass, Dr Luke Oates and Dr Terun Desai really stand out for facilitating my learning and helping to shape me into the person I am now. I learnt so much from studying at Herts. I have accumulated a wealth of knowledge, was encouraged to pursue my curiosities, and now believe that I can achieve anything I set my mind to.'.
Aspirations for the future
Louise went from elite sport to a graduate job at the other end of the scale in public health. 'I now work for a charity in partnership with Luton Borough Council, called Active Luton. My job role is a Healthy Lifestyle Specialist, which I would describe as a health consultant. I have worked with adults and children who are overweight or have health issues and need to change their daily habits to live healthier, happier, and longer lives. I specialise in maternal care. It is incredibly rewarding working with a woman and then seeing her have a healthy baby.'.
'I have recently gained my Level 3 qualification in Personal Training and Level 3 Pre and Postnatal exercise, so I would like to offer my services to women around the Beds, Bucks and Herts area. My dream is to have my own business which can offer these services as well as services to help perimenopausal/menopausal women. Science and helping people are at the heart of everything I do and hope to continue in the future.'.
'When I started University, I thought I wanted to be a PE teacher, then I wanted to work in elite sport. However, whilst working for Watford FC, one day something just clicked, and I realised that my true passion is women's health. I then wrote my dissertation and through my research into this area, found how underrepresented women are in scientific research, and even more so in elite sport. I will forever be grateful to Herts for facilitating my passion for this area.'.
To find out more about supporting Herts students through scholarships and prizes please contact the Development team.