Jackson Cyprian
Meet Jackson, whose passion for digital marketing led him to the UK to study an MBA.
| | |
| --- | --- |
| Current job role | Freelance digital marketer and blogger |
| Year of graduation | 2022 |
| Course of study | MBA Digital Marketing |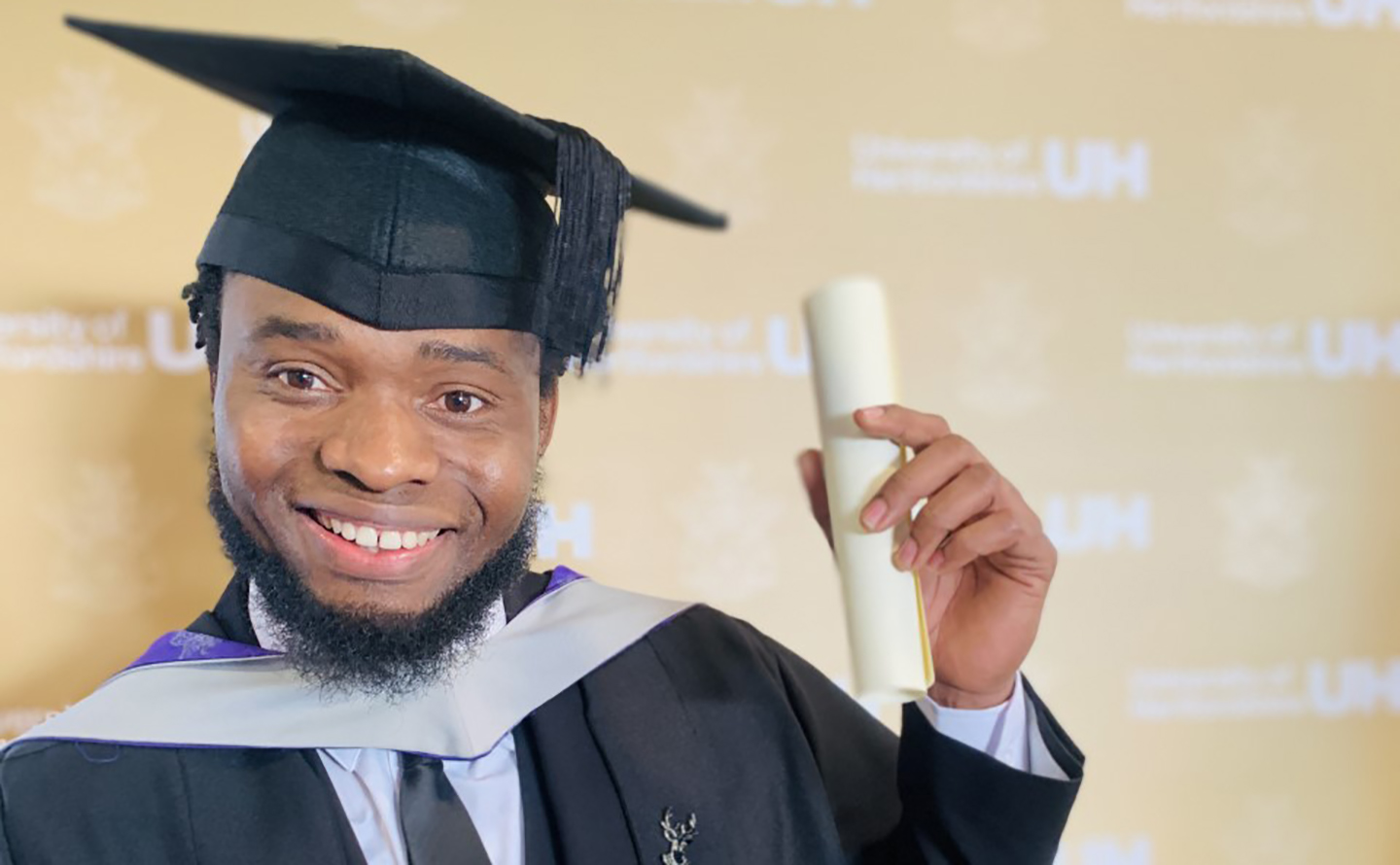 Challenged beyond my expectations
International student Jackson travelled from Nigeria to study the MBA in Digital Marketing. Jackson says, 'I love marketing, especially the digital aspect. My marketing blog Elitescontent provides industry news and insights to help businesses grow online. The MBA Digital Marketing course provided me with industry-focused knowledge that will help develop my career. I really enjoyed the blend of real-world case studies and thought-provoking assignments as they challenged me to stretch my thinking beyond my expectations.'
'I have loads of favourite memories from my studies at Herts, including interacting with my lecturers, especially after class. I enjoyed the fact that staff encouraged debate, allowing me to tell them my thoughts and then discuss other ideas in a way that provided new insights.'
'In addition, the Academic English for Business programme staff were amazing and gave me good advice when tackling assignments.'
'At Herts I have made friends and built good relationships with people that turned from strangers to partners. I became a student representative and got involved with student life and activities on campus. The party times, the groupwork meetings and collaboration with lots of people from diverse backgrounds and cultures has taught me some great lessons. I also liked living in London while studying.'
Thinking about undertaking an MBA?
'My advice for others who are thinking of doing an MBA is to stop thinking about it and start doing it! The MBA, especially at Herts, is a journey that is set to change your perspective and create huge opportunities for career advancement. Be open-minded when starting an MBA and choose a university like Herts that has a good support system to aid your personal learning and development.'
'To achieve my goals and keep abreast of current trends in the digital marketing space, I am always consuming new materials and ideas through videos, articles and by attending professional conferences and courses. I also make sure I keep active on social media, especially LinkedIn, where I can network with others.'