Harry Woodgate
Meet Harry, an award-winning freelance illustrator and author who creates stories with a focus on diversity, inclusivity, compassion and adventure.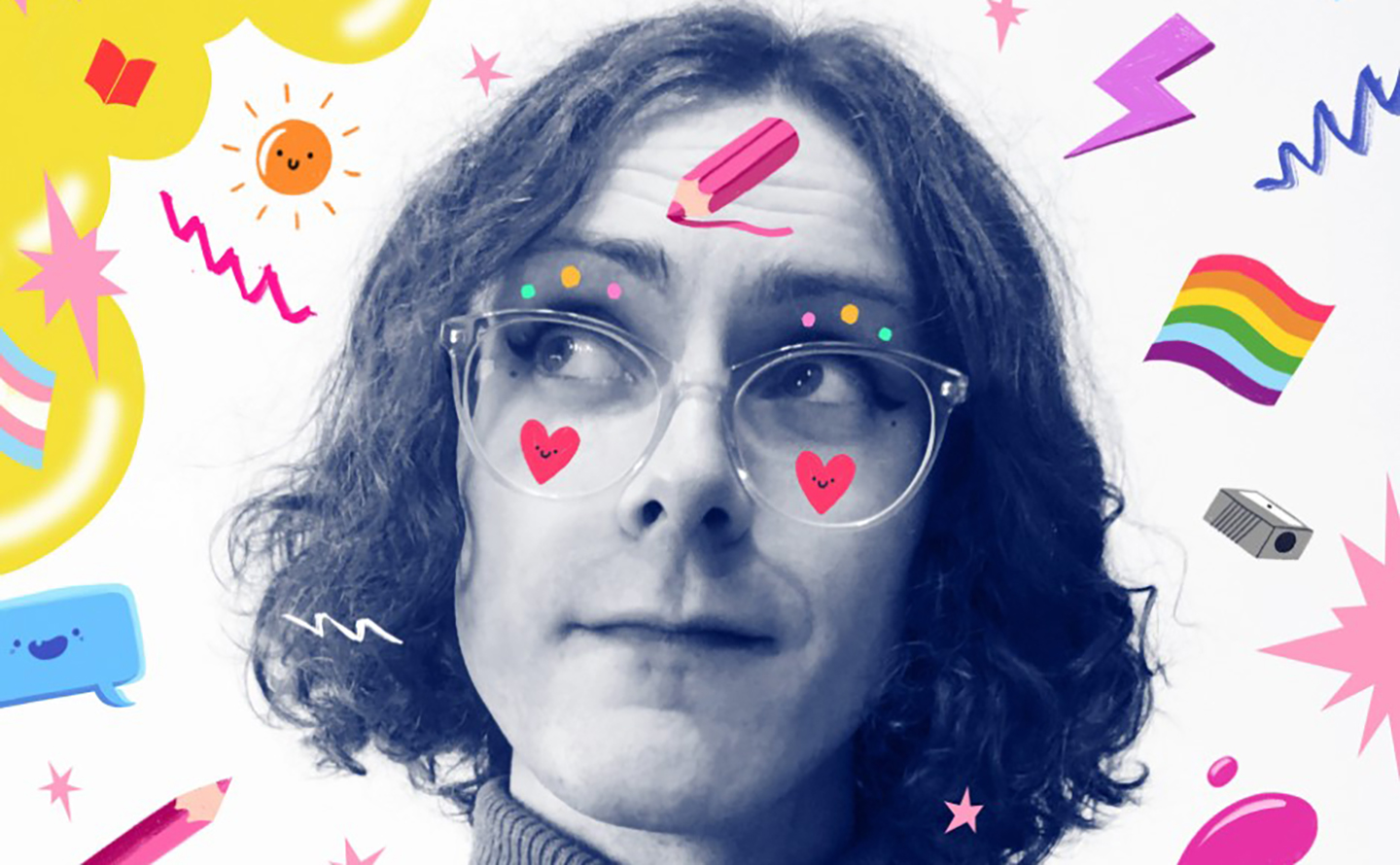 Life at Herts
Harry has fond memories of days spent in the illustration studios on our College Lane campus. Harry describes them as having 'lovely creative atmospheres'. Reflecting on their student experience Harry says, 'Those studio days where we'd have a tutorial or lecture in the morning and then spend the rest of the afternoon working between the studio, 2D print room and visiting the gallery cafe downstairs for a constant stream of coffee and pastries, sum up some of my favourite experiences at Herts.'
Harry studied Illustration, a creative genre that has always been a powerful vehicle to explore topics like identity, sexuality, gender and politics. Harry says that the School of Creative Arts tutors really encouraged everyone to think critically about how their work interacts with these things, and how to contextualise practice within wider social and cultural frameworks.
As a result, Harry was able to use their time at Herts not just to learn about illustration, but also queer theory, LGBT history, and the various political and social movements that intersect those two topics. All of this inspired Harry's artistic practice. In the final year, Harry wrote a dissertation on LGBT representation in children's books.
They looked at not only the characters and storylines in the books, but also the authors and illustrators making those stories. They also looked at the publishing industry as a whole and how it deals with representation and diversity. Harry's dissertation was the inspiration for their debut picture book, called Grandad's Camper, which was published with Andersen Press in the UK in spring 2021. Grandad's Camper was selected as a Stonewall Honour Book in the 2022 American Library Association Youth Media Awards, and a Waterstones Children's Book Prize 2022 for best illustrated book.
Away from the classroom Harry found like-minded people within the LGBT+ Society and says, 'I was pretty nervous when I first joined, but it was actually such a wonderful thing to meet so many lovely people and be surrounded by queer and LGBT folk going through similar experiences.
'I have some great memories of some of the events and nights out that we did, and I think it was so important having that space to explore what being part of the LGBT community meant to me, as it was a space I hadn't had in the same way before I started university.
Their advice to other students thinking of joining the LGBT+ Society is that, 'Everyone's experience is different and everybody is starting their time at university from a different place, but I would suggest making it your priority to seek out the existing LGBT networks and drop into a few of the social events, if only so you know they're there if you ever need them.
'Your LGBT identity might be a big part of your life or almost inconsequential. It might be a source of great pride or something that you're still figuring out. For me at least, university offered an opportunity to explore that part of myself on my own terms, away from any expectations of school or home or work. As such, I think letting yourself be open to the prospect of opportunity and discovery is important and can lead to wonderful experiences.'
What I'm most proud of in my life after Herts
Harry Woodgate is an award-winning freelance illustrator and author. They work with clients across editorial, publishing and advertising sectors, including top publishing houses such as Penguin Random House, magazines like the Sunday Times Magazine and corporate companies like National Book Tokens. In 2019 Harry was shortlisted for the V&A Illustration Awards. In the work they produce you will see fun, bright colours and quirky characters with interesting shapes and exaggerated perspectives. Harry particularly enjoys making work about psychology, LGBT and queer identities, and how we can protect our natural world.
Harry's children's books include Grandad's Camper, How to Build a City, Little Glow and The Very Merry Murder Club. They love creating stories with a focus on diversity, inclusivity, compassion and adventure. Their next book called TIMID, is a picture book about friendship and overcoming anxiety and will be published in June 2022 with Little Bee Books.
Advice for fellow creatives
For other LGBT+ people at the start of their creative careers Harry offers some advice. 'Don't quit, don't apologise, don't back down, don't settle for less. Stay in command of your own narrative and make good, meaningful work. Don't feel like you have to explain yourself or incorporate any part your identity into your working practice if you don't want to. You and your work are separate and that is an important distinction! Take lots of breaks, drink more water than coffee, and if in doubt, make it gay.'