Emily Kinton
Meet Emily, a Go Herts award recipient who set up the Herts SU Disney Society and landed her dream job at the Walt Disney World Resort in Florida.
| | |
| --- | --- |
| Current job role | Working in hospitality |
| Year of graduation | 2022 |
| Course of study | BA (Hons) Event Management with French |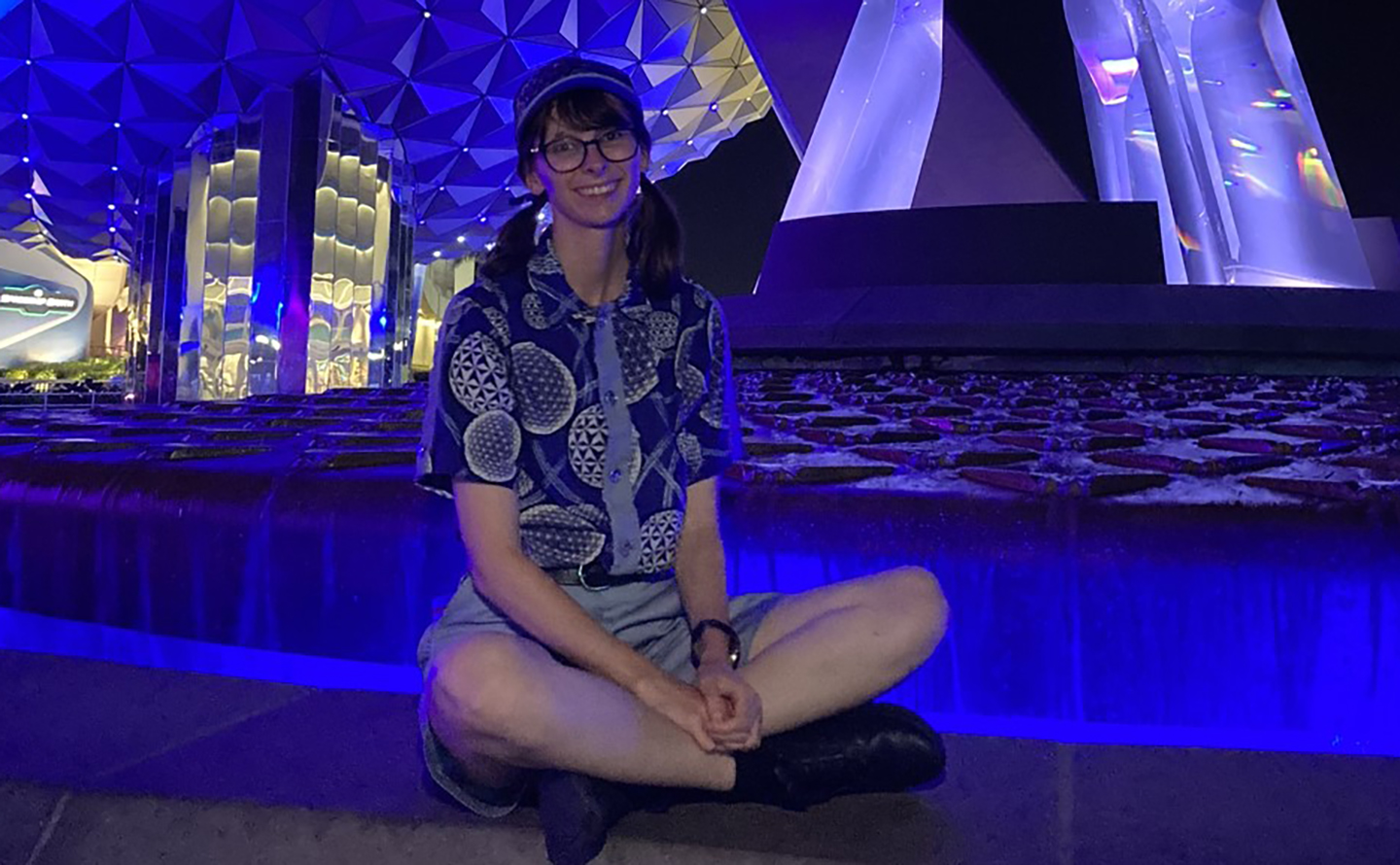 Life at Herts
Disney fan Emily achieved a Go Herts Award for her work with the Herts Students' Union.
Emily says, 'from the moment I started at Herts I knew I wanted to start a society. When I heard that I could get a Go Herts Award for my work with the Disney society committee, I started gathering evidence of all the activities I had been involved with. As Society Chair, I organised weekly events, held meetings, planned trips and ran a stand at Freshers Fair. Other activities towards my Go Herts award included work shadowing, volunteering at events in the local area, working for the Students' Union, as well as being a student rep for my course.
'The award is such a nice way to showcase the time and effort that I put into hosting events for fellow students, creating a welcoming society for students to enjoy. It also helps my CV stand out -it shows I can be organised and manage my time well.'
'My favourite memories at Herts all revolve around meeting people and the time spent with my friends. During the COVID lockdown I really got to know my flatmates and we spent so much time together in our kitchen, sharing the challenging experience and supporting each other. I also loved my late-night study sessions in the library with my friends from my course, there was nothing more fun than finishing an assignment and ordering waffles to treat ourselves at 1am!'
'The thing I loved most about my course was the opportunity to study French alongside Event Management, and this was one of the reasons I chose Herts. My French class was small and personal, which was different to the larger lecturers and classes, and it was another opportunity to meet different people. Learning a new language was also so beneficial and Hatfield is a very convenient location to take the Eurostar to Paris.'
Dream job at Disney
Emily landed a three-month summer internship at Walt Disney World Resort in Florida with the Cultural Exchange program.
'My summer at Disney was amazing, it has been my dream job as long as I can remember. My role involved queue management and customer service, and I was able to use my event management skills. It was the job of a lifetime and opened my eyes to global opportunities. As a Disney fan I had visited parks before, so to be able to see the logistics and operations of Disney World was so interesting. Sitting on my break and seeing Mary Poppins, Alice and Daisy Duck walking around was so fun!
'I have now moved back home to Devon and work in hospitality, but in the future I would love to work for Disney Destinations International at their London headquarters, or in Disneyland Paris.'
Advice for other students and new graduates
'My advice is to cherish the friends you make at uni, they will get you through good times and hard times. If it wasn't for my friends, I wouldn't have persevered and made it on to the Cultural Exchange program. Also, be creative, take time for yourself and reach out for help if you need it.
'Apply for any job that sparks your interest, especially while you live in Hertfordshire, which is so close to London. This great location is one of the reasons I chose to study at Herts. You might make connections that will help you out further down the line.
'I learnt about the Cultural Exchange Program by attending a virtual job fair with Yummy Jobs on Handshake and I would recommend that other students check this out too. There are also other exchange and study abroad opportunities on offer.'