Dr Grace Ononiwu CBE
Meet Dr Grace Ononiwu CBE who has gone from Herts law graduate to Director of Legal Services at the Crown Prosecution Service (CPS)
Current job role
Director of Legal Services at the Crown Prosecution Service (CPS)
Year of graduation
1988
Course of study
BA(Hons) Law
Honorary Doctorate of Laws, 2017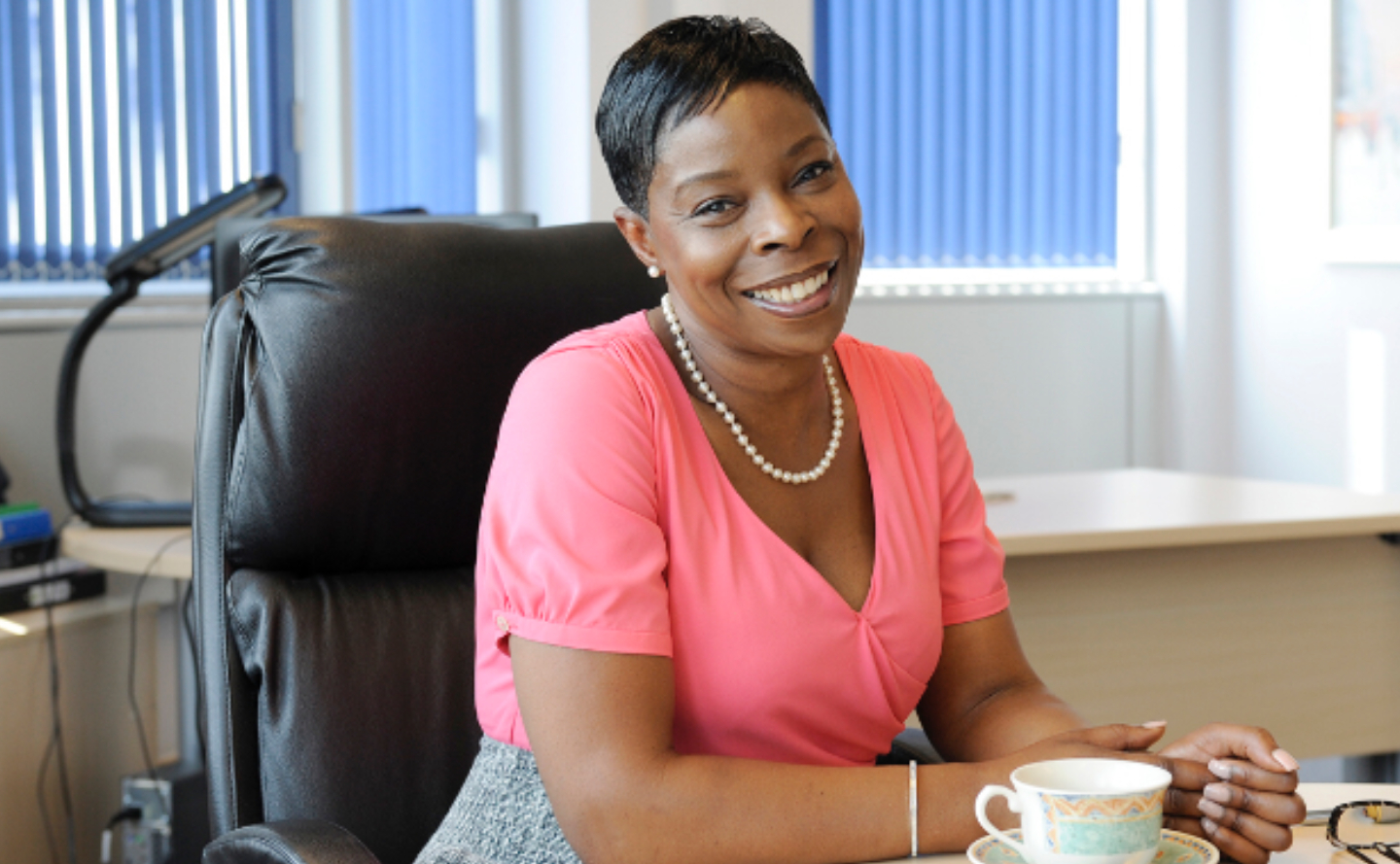 University of Hertfordshire Alumna Dr Grace Ononiwu CBE had her sights set on pursuing a career in law at just eight years old. Her passion and determination has played a pivotal role in her progression, from trainee solicitor shortly after graduation, to becoming the first Afro Caribbean person to hold the post of Chief Crown Prosecutor in the history of the Crown Prosecution Service (CPS), and the first woman to hold the position in Northamptonshire County, the East of England and West Midlands regions.
Ambition to follow a legal career
Despite having clear ambitions from a very young age, Grace recalls being discouraged by her Careers Officer at school, who told her there was no way she could become a lawyer, and urged her to consider becoming a legal secretary. Of the experience, Grace says, "I was fourteen/fifteen years old at the time and this knocked my confidence and destroyed the dream I had at an early age. My parents always told me to listen to the teachers and I did. I totally rebelled and failed all my 'O' Levels as I thought there was no point in trying. When I failed though, it was the longest walk home to my mum. I promised myself, probably unrealistically, that I will never fail again I hated how failure made me feel and that was a turning point in my life. I worked in a shoe shop throughout my studies, I was determined to qualify."
Following the Solicitor's Finals at the Guildford College of Law, Grace joined a private firm of solicitors in High Wycombe practising criminal law. It was there she was advised by her supervisor/ mentor that to be a more rounded criminal lawyer she was to learn to prosecute. She was to spend two years training with the CPS, and then return to the firm, she never went back. "I found my passion," she says, protecting the vulnerable, protecting victims and witnesses and playing a key role in keeping the public safe, gave me a strong sense of purpose.
Grace rose quickly through the ranks of the CPS, being appointed Chief Crown Prosecutor for Northamptonshire in 2005, Deputy Chief Crown Prosecutor, CPS London 2009, Chief Crown Prosecutor for the East of England region in 2012, and Chief Crown Prosecutor for the West Midlands region in 2014. In that time, she has made a significant contribution to the CPS Equality and Diversity agenda and was previously the Chair of the National Black Crown Prosecution Association (NBCPA). She has a national profile within the CPS, which includes membership of various strategic boards dealing with issues affecting the service across England and Wales. She has been chosen as the CPS's first Community Engagement and Inclusion Champion.
In 2021 Grace was appointed to Director of Legal Services for the CPS. In this role she will provide legal leadership across the CPS and ensure that high standards and CPS values are met across the organisation.
Recognition and Honours
Grace was awarded the OBE in 2008 in recognition for her work within the CPS and received an Honorary Doctorate of Laws from the University of Hertfordshire in 2017, for her contribution to justice and the legal system, including her ongoing work to promote legal education. She also holds an Honorary Doctorate from Birmingham City University.
In the 2019 Birthday Honours, Grace was awarded the Commander of the Order of the British Empire (CBE) for services to Law and Order.
Grace has been included in the 2017, 2018, 2019 and 2020 Power list, which features 100 of the UK's most influential men and women of African, African Caribbean and African American heritage.
Working with Herts
Grace is patron of the University of Hertfordshire's Law Clinic and active supporter of the Hertfordshire Law School. She was also a member of the University Board of Governors from March 2020 to May 2021.