University wins £400,000 to fund research into detection of airborne pathogens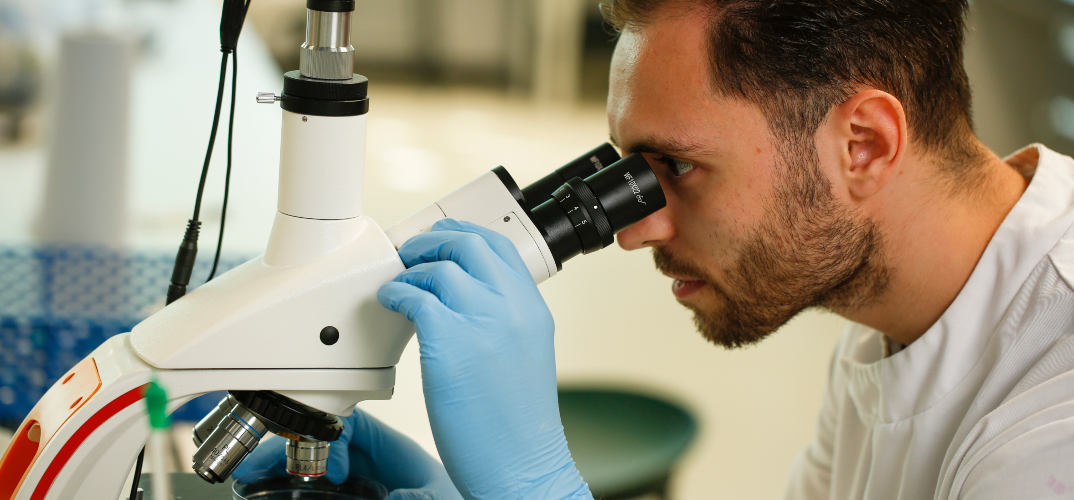 31 March 2023
Two University of Hertfordshire biotech projects that aim to create on-the-spot testing for pathogens, such as anthrax and TB, have been awarded prestigious EPSRC New Horizons grants totalling £400,000.
The two studies both combine biodetection with practical engineering to investigate quick-capture mechanisms for detection of airborne pathogens, which could have significant implications for disease and chemical weapon detection in hospitals and airports.
The first study, led by Dr Dan McCluskey, Associate Professor in Research at the Centre for Research in Biodetection Technologies, will look at how surfactant films could make it easier to capture and identify airborne pathogens. The second grant is for an 18-month study led by Dr Loic Coudron, Reader in Digital Microfluidics, which will explore new interactions of liquid with surfaces for capture and analysis of pathogens. These two projects will run side by side and share data towards mutual understanding and results.
By focusing on engineering solutions for detection and handling, their research could potentially be used to protect human, animal and plant health from diseases (eg, TB, legionella, foot and mouth, crop disease) or even detect the presence of noxious substances used in biowarfare (eg, anthrax). Currently there is no system that can provide real-time testing of environments to determine the presence or risk level of these pathogens, so the outcomes of these studies could create a new paradigm for testing in the biodetection and threat analysis fields.
Dr Dan McCluskey said: "We've just come through two-plus years of a worldwide airborne pandemic. The type of instrumentation that we develop has applicability in protection from that kind of scenario, but it can also be used much more broadly. This grant will be crucial in helping us to conduct a wider range of work.
Professor Rodney Day, Dean of the School of Physics, Engineering and Computer Science, said: "This is a sizeable and prestigious research award for the University. To have these two grants bestowed at the same time is a real achievement, and is recognition of the outstanding research in the fields of microfluids and biodetection being conducted at the University."
New Horizons funding is typically awarded to high-risk, high-reward projects with potentially transformative impact. The awards come soon after the announcement of another £750,000 philanthropic grant towards the University's new, state-of-the-art biodetection centre, confirming the University's reputation as a leader in this field. Part of the University's new, multi-million-pound School of Physics, Engineering and Computer Sciences (SPECS) building, the Wolfson Centre for Biodetection and Instrumentation Research will turbo-charge research and development into biosecurity threats.