University's world-leading biodetection research receives £750,000 funding boost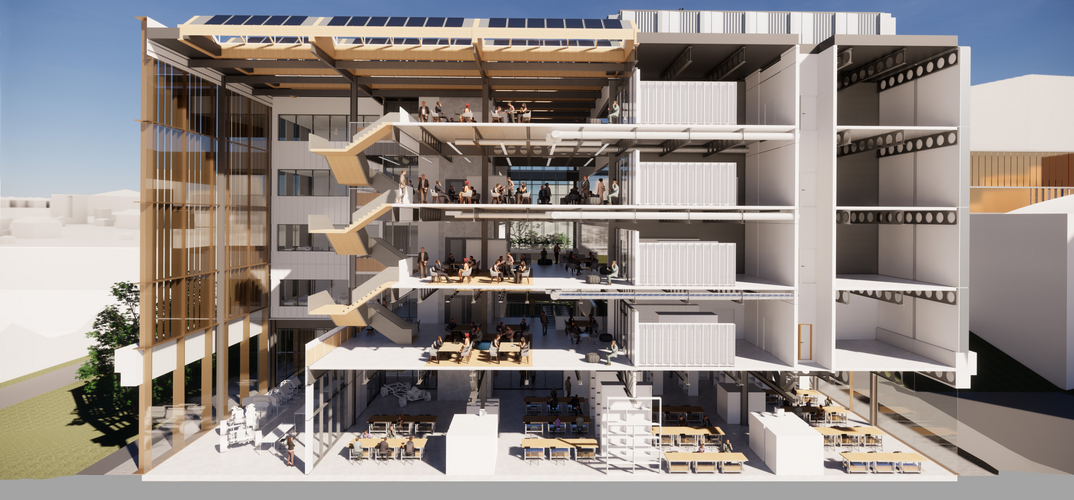 24 January 2023
The University of Hertfordshire's biodetection research will receive a huge boost following a £750,000 philanthropic grant towards their new, state-of-the-art biodetection centre.
Set to be located on the top floor of the University's new, multi-million-pound School of Physics, Engineering and Computer Sciences (SPECS) building, now a year into its three-year construction, the Wolfson Centre for Biodetection and Instrumentation Research will turbo-charge research and development into biosecurity threats including airborne pathogens, crop diseases and biowarfare.
The generous award from independent, grant-making charity the Wolfson Foundation - the largest ever philanthropic grant received by the university - will ensure the Wolfson Centre for Biodetection and Instrumentation Research will be equipped with top-of-the-range facilities able to advance the University's internationally-renowned biodetection work.
Announcing the decision today (Tuesday, 24 January), Wolfson Foundation Chief Executive Paul Ramsbottom said,
"The Foundation awards grants – following careful expert review – to research infrastructure, supporting science of the highest quality, and the importance of having robust biosecurity for the health and safety of the nation cannot be overstated. By supporting the University of Hertfordshire's experts in this field, alongside the next generation of biosecurity researchers, the new Centre will improve protection for the population as a whole. We are delighted to be supporting Hertfordshire in this way."
As the largest single building at the University, the new SPECS building has been designed to be a world-leading teaching, research and enterprise facility in key STEM (science, technology, engineering and mathematics) subjects, with industry mirroring equipment and cutting-edge learning centres and facilities. Working in close partnership with industry to support real-world needs, the major new education and training hub will focus on progressing the University's world-leading and internationally excellent research, as well as delivering a workforce equipped with technically advanced skills in much needed skills gaps.
Deputy Dean for the University's School of Physics, Engineering and Computer Sciences, Associate Professor Dan McCluskey, who co-leads on biodetection research, said:

"This grant from Wolfson will be utterly transformational for us. While the work we've been doing at the University spans over 40-odd years, we've always been limited by the resources we have and only able to target very specific projects.
"This funding will enable us to do a much greater range of activity as a precursor to expanding our capabilities and will allow us to apply that 40 years of knowledge into a wider range of applications tackling some major, real-world issues. We are very grateful to Wolfson for this opportunity and are humbled that they believe in and have chosen to support us in such a significant way."
The SPECS building is scheduled to be completed in Spring 2024. To follow its progress, or for more details about the University of Hertfordshire's SPECS Building Capital Campaign, visit School of Engineering, Physics and Computer Science (SPECS) Building | About us | Uni of Herts.
See Associate Professor McCluskey further explain why biodetection research is so important for the nation's health and safety.