University of Hertfordshire celebrates the third successful cohort of the Women in Sport High Performance Pathway (WISH) programme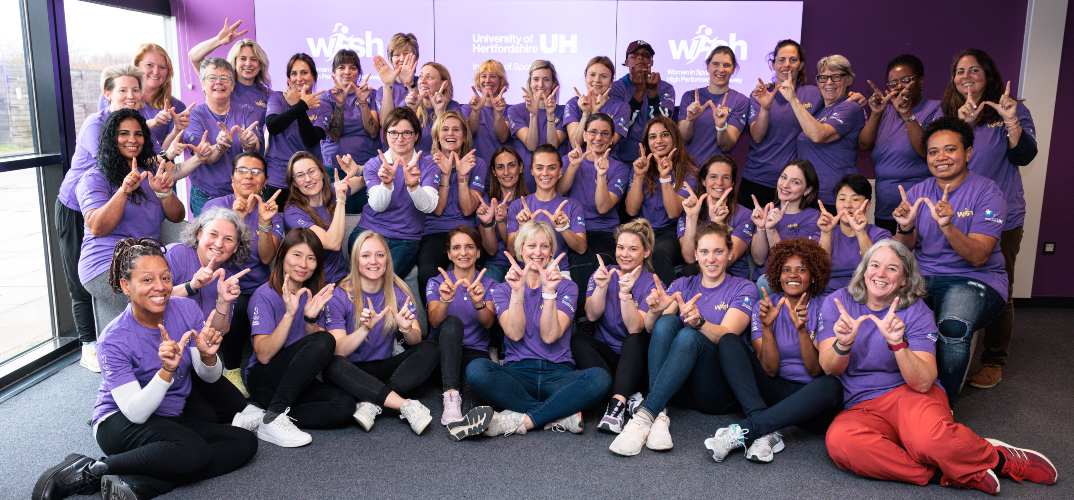 11 May 2023
The University of Hertfordshire has recently hosted the third successful cohort of the Women in Sport High Performance Pathway (WISH) programme, and has now helped to support nearly 100 women from over 50 countries on their elite coaching journey.
Professor Elizabeth Pike, Head of the University's Institute of Sport, co-developed the 21-month coaching programme to empower more women to achieve elite roles and global success in sport coaching, addressing the gender gap.
Although the balance of women to men at global sporting events has shifted significantly ‒ 47% of those who competed at Tokyo 2020 were women, for example ‒ this diversity is not reflected in their coaches. Just 13% of coaches at Tokyo were women ‒ up from 10% in Brazil 2016.
"Part of our work at WISH is to better understand why women from certain sports and certain groups are not coming through or not staying in coaching to an elite level," explains Pike. "There are some clear, consistent themes such as the lack of leadership role models, visibility, and portrayals of sportswomen in the media."
Developed in cooperation with the International Olympic Committee (IOC) and delivered with the help of a $1 million grant from the Olympic Solidarity fund, the WISH programme works with 100 coaches in total, particularly welcoming leaders of national teams who are looking to compete at regional, national and global levels. The course participants are coached not just in sport-specific skills but "softer" skills, such as developing leadership competencies, creative problem solving, confidence and stress resilience.
Although most of the 21-month-long course is delivered online, the coaches spend an immersive week at the Institute of Sport on the University campus. The third cohort recently completed their week on campus, bringing together coaches from around the world including Tunisia, Poland, Austria, USA and many more. "It is really important that we work with the women, not just give them the programme and leave them to it," says Professor Pike. "It's vital work to collaborate with participants – especially the next generation – to bring their views, experience and expectations for the future to the table."
"The idea is to give the coaches the tools, as a powerful network, to influence change on a broader scale. They will become role models and campaigners, championing themselves and others to make change not just in their own sport, but in their communities more widely.
The pilot programme launched in September 2019 with 23 National Olympic Committees represented and six sports represented including cycling, rowing, rugby, tennis, triathlon and wrestling. Nine months after the pilot programme, three participants had attended Tokyo 2020 in coaching, team or technical official capacity; 15 were in national coaching roles and eight were delivering coach education and mentoring to support the development of other women coaches.
Find out more about WISH here.