University of Hertfordshire alumna celebrated at the India UK Achievers Honours 2023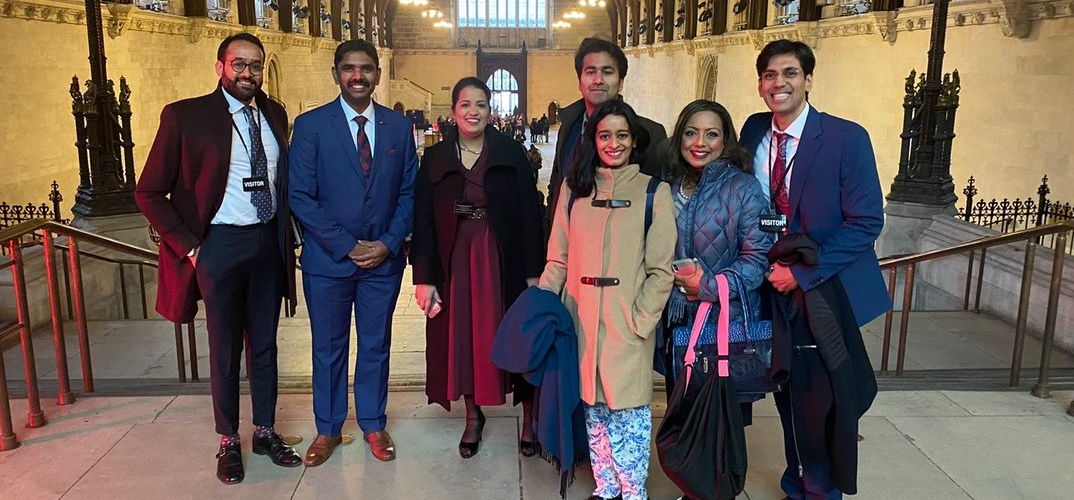 7 February 2023
University of Hertfordshire alumna Purva Aggarwal has been recognised at the India UK Achievers Honours 2023 awards ceremony that took place on Wednesday 25 January. From over 900 applicants, Purva was one of the 75 chosen to receive this recognition in celebration of the 75th anniversary of India's independence. She was honoured in the Business and Entrepreneurship category for her outstanding studies in the UK, and her significant contributions to her field and society through her business Good Good Piggy.
Purva studied two courses at Hertfordshire Business School, gaining her PgDip Finance and Investment Banking in 2020 and her MSc Finance and Investment Banking in 2011. She also founded her own ed-fintech start-up business Good Good Piggy. It is an app that makes financial education more fun for children and their parents, introducing children to the concept of money management early on. In setting up the business, Purva aims to help reverse the downward financial literacy trend and improve digital financial inclusion for children and future generations in India. Alongside Purva's business, she writes about global private equity for Private Equity Wire.
As well as being honoured at the India UK Achievers Honours, Purva was previously selected for the ImpactGen Talent community by Kairos Society Europe, now known as the Sigma Squared Society. This is an invite-only community of top young global leaders in entrepreneurship and innovation, with backing from Sir Richard Branson and Bill Clinton.
The India UK Achievers Honours are celebrating the 75th anniversary of India's independence and India-UK educational ties. They recognise and celebrate the work of 75 young Indian students and alumni who have made an important contribution to their field and society and have pursued a British programme of study across five categories: Business and Entrepreneurship; Education, Science and Innovation; Arts, Culture, Entertainment and Sports; Government, Politics, Law; and Society and Media and Journalism.
On being honoured at the India UK Achievers Honours, Purva commented about how her time at Herts has impacted her career: "Herts was the launchpad for my career in London. I not only refreshed my knowledge and skills, but also got the chance to work in the industry and see global finance on the placement programme. Overall, the experience shaped me to be a better individual and professional."
She explains her hopes for the future: "I'm ambitious to grow my company and solve financial literacy for kids in India. I see my coming year to be a rollercoaster ride, growing as a leader in this space".
Purva also gave her advice for any other budding entrepreneurs: "Numbers and narratives are both very strategic parts of a business. It is worth building up these pillars with meticulous management and dedication".
To read more about Purva Aggarwal, you can visit her website.