Elijah Beevor
Meet Elijah, LGBT+ Society President 2022-23 and PAM Outreach Ambassador at the University of Hertfordshire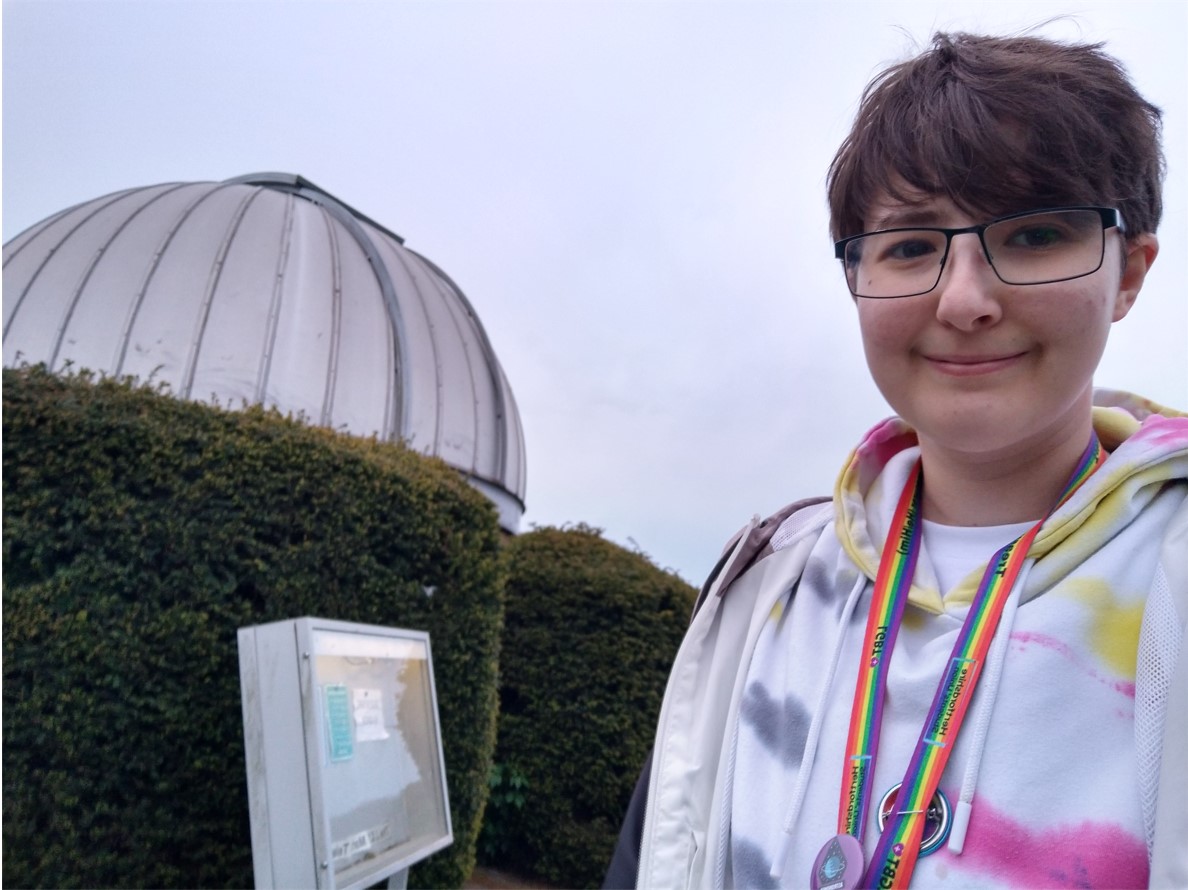 | | |
| --- | --- |
| Current role | LGBT+ Society President 2022-23 and PAM Outreach Ambassador |
| Year of graduation | 2023 |
| Course of study | MPhys Astrophysics |
Life at Herts
I began my studies at the University of Hertfordshire in September 2019. After going through my school and college years in the closet I was so grateful to arrive at a university where I could finally be myself. A gay, transgender man. I spent my first few months trying to keep under the radar, I thought that the LGBT+ Society was primarily for lesbians and bisexuals and I didn't want to be the only gay man there. Right before lockdown, in February 2020, I braved up and made myself go down to the LGBT+ Society's pride stalls for LGBT+ History Month, and to my surprise, I ended up making a few friends.
This signified a turning point in me, I hadn't come to university to just complete a degree, I wanted to reclaim the years I had missed stuck in the closet. When lockdown hit, I started attending the LGBT+ Society's Transgender and Non-Binary Support group. It was amazing to be able to talk (online) with other students who had undergone similar experiences to mine.
Over lockdown, I continued attending the LGBT+ society's online events, I was able to (virtually) meet new people and I became well known within our group chats. In spring 2021, the society president at the time Chloe, encouraged me to run for a committee role for the upcoming academic year. I went ahead and ran for Treasurer and was elected for the 2021-22 term. One year later and I have spent the third year of my degree assisting with the running of society events, including marking the celebration of the first Transgender awareness week on campus.
In April 2022, I decided to run for Society President for the upcoming academic year and I am proud to say that I was elected. I can't wait to spend my final year at university being loud and proud of my identity and encouraging others to do the same.
What I'm most proud of
I am most proud of everything I have done to increase LGBT+ awareness within my department. As a student rep I have been able to encourage members of staff to attend the Pronoun Workshops that have been delivered to the point that at one of them, Physics, Astronomy, and Mathematics was the department with the most attendance! Furthermore, as a PAM Outreach Ambassador I have been a visible LGBT+ student and staff member at our outreach and public engagement events, showing that there is actually a lot of diversity within STEM for the next generation of students.
What more can we do?
As a pre-HRT transgender man, I would say the one thing that can be done is to not assume a person's gender based upon their voice. Spending the past two years on online lectures has meant that many members of staff have assumed I am female based upon the fact that I have an unbroken voice when that is 100% not the case in reality. By taking the one small step of asking for a person's pronouns you treat them with the respect they deserve.