Sheetal Martine Joseph
Meet Sheetal, Herts Alumni, who found the welcoming community here at Herts allowed them to explore their gender and sexuality without judgement, only acceptance and support.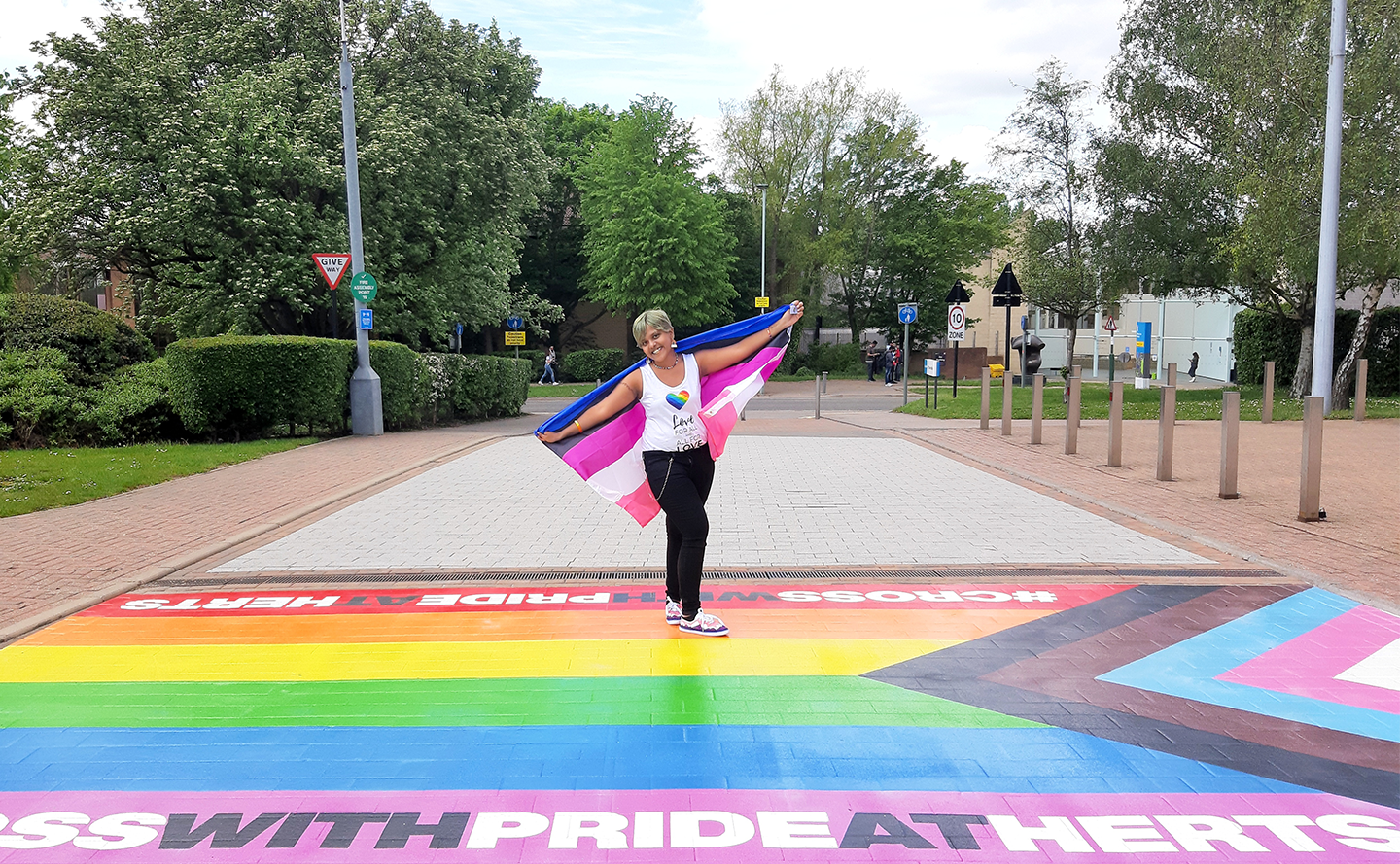 Life at Herts
When I first came to the University of Hertfordshire in 2019, I was still questioning my sexuality. I hadn't had enough time and space away from my family even to start thinking about gender. Being an international student from India, the climate around LGBT+ rights was very different where I grew up compared to the UK. It was to the extent where I only knew being gay was possible in 2018 when Section 377 was decriminalised back home, and everyone started talking about it.
I knew somewhere deep down that I was queer, and I had carried that thought with me to university.
I am so glad I chose to come here because the University of Hertfordshire is home to such a diverse and loving community of students and staff. From the beginning, the university had such a strong LGBT+ voice with its Student LGBT+ Society and Staff Network, supported by the EDI Office. I found friends and staff that encouraged me to not be afraid to be who I am or even go on a journey to discover myself no matter how long it takes. It was during my time at the university that I finally brought an end to my identity crisis that lasted for almost 20 years. In my second year, I embraced the fact that I am genderfluid and panromantic asexual and came out to everyone, despite feeling a year ago that I had to take this part of myself to the grave. These identities are still a huge minority even within the LGBT+ community, but my big family at Herts welcomed me with open arms full of love and support, and I was so grateful for that.
What I'm most proud of
I am honestly proud to have studied at Herts because I know what it took me to get to this point in my life where I am comfortable with myself. They say to spread love into the world, you need to first learn to love and accept yourself. Coming from a dysfunctional family and also being POC and queer, I know how isolating it can be to grow up not knowing whom to rely on. I didn't want anyone else to feel that way and through my roles in the LGBT+ Society, SCO community, National Student Pride committee, and now for PinkNews, I have worked to ensure all voices are heard and everyone feels like they belong within the wider community.
I know how daunting it was when I first came out to the staff about my gender and pronouns. I was still conflicted about being completely 'out' thinking of how it would affect me when I have to go back to India. Looking back now, that was the best thing I did for myself. I knew how important gender-neutral language and pronouns were to the trans community and I campaigned for them in my school and beyond. During the Welcome Fair 2021, a student came up to me and thanked me for stepping up and proudly being myself and spreading awareness because it encouraged them to come out as well. I thought that moment to be so meaningful and I was so glad that my story helped at least one person to know that they are not alone in their journey.
And my hope for the future is that I can keep proudly being myself and spread love and support to the people who need it the most.
What more can we do?
I still remember the days right after Section 377 was decriminalised in India and everyone was debating on if they were supportive of people being gay or not, even the friends that usually sat round me during classes and lunch breaks. Though I was still questioning my identity then, I was furious because I didn't want the right to be oneself and the right to love to be debated and challenged by others.
I think that stands true to this very day no matter where we are or how far we have come on the journey of liberation of LGBT+ rights. There are still identities, especially intersectional and trans and gender diverse identities that are debated and challenged about their validity. There are times where I have noticed even within the LGBT+ community where some question the legitimacy of other identities just because they don't understand it like pansexuality, romantic identities, or asexuality. The thing is you don't have to understand someone completely to accept them because no one person is the same or has had the same life experiences. Such erasures and isolation take such a huge toll on a person's mental health and sometimes they face unique barriers in accessing treatment because professionals aren't always well-versed on how it affects LGBT+ identities specifically.
Educational institutions form a person's foundation of knowledge and understanding and have a huge responsibility to encourage empathy and compassion towards people different from them. Decolonising curriculum and incorporating diverse representation in academic resources is very essential to encourage both students and staff to learn more and understand gender, sexuality, and intersectionality in depth.
I also believe allies and LGBT+ individuals should actively call out prejudice and bad behaviour and stand up for more marginalised minorities within the community when they are discriminated against.
LGBT+ lives are constantly debated by the media, government, etc. For instance, the transphobic articles by BBC and the current pollical climate around trans rights. During such times, I had realised more than ever how important it was to stand up for the community and to celebrate trans students and staff. I am glad I was able to organise the university's first Trans Pride with the LGBT+ Staff Network and EDI Office during Trans Awareness Week in 2021. Raising the trans flag on campus that week showed solidarity to the trans and gender diverse community in the University and ensured a space of belonging even during difficult times. We have been able to come so far as an institution to make this place inclusive for all, but the journey doesn't end here.
There is still a long way to go because there are still days when I hear of homophobic slurs going around online or the LGBT+ community misgendered. I also still get misgendered from time to time even though I have my pronouns literally everywhere. It shows that mindsets aren't always instantly swayed and that is why we still need to keep spreading awareness to move away from heteronormative ways of understanding the world.
My advice to new LGBT+ staff and students
I think the first thing I want to tell new LGBT+ students and staff is that you are not alone, no matter what journey you are on right now. Sometimes it's hard to believe because of the environment around which you grew up in or your mind telling you that, but I want you to know that you are not alone, at least not anymore. The Universities LGBT+ Society, LGBT+ Staff Network, and EDI Office are here to listen to you and provide you a space to be yourself in all your colours and vibrance, and a place to belong. Please reach out to these networks when you are ready and I promise that, when you do, you will find a family.