A universe for all
From inviting visitors to try the telescopes at the University's Bayfordbury Observatory, to taking our custom-made inflatable planetarium to science festivals, our astrophysicists are making the study of stars, planets and galaxies accessible to as many people as possible.
"We are committed to sharing our enthusiasm about all things space-related with as many people as possible. This desire has led us to give talks at schools, contribute to music and arts festivals, and put on numerous shows with the largest inflatable planetarium the UK has to offer."
Shaped by ground-breaking research at our Centre for Astrophysics Research, our wide-ranging outreach and public engagement programme is designed to draw in diverse and hard-to-reach groups.
At the monthly open evenings at our Bayfordbury Observatory, one of the largest and best-equipped teaching observatories for astronomy and astrophysics in the country, visitors can explore the planetarium or scan the skies through some of the seven optical telescopes. Researchers and students from the University's Science and Technology Research Institute are on hand to talk on various astronomy topic demonstrations and give expert demonstrations.
Whether it's a Scout group wanting to learn how the moon affects the tides, or a local school or group of amateur astronomers wanting to stargaze, bespoke community events and group visits are themed to reflect particular projects or interests.
Aiming to engage with harder-to-reach groups, the Observatory has hosted events on astrophysics research for children in care and their foster carers, and children who are themselves carers. Researcher Dr Carolyn Devereux has worked with Hertfordshire Virtual School, which brings together children who are looked after, to organise bespoke observatory open days.
Activities have included planetarium shows, lab experiments and telescope demonstrations aimed at visitors new to astronomy, from toddlers and teenagers to adults. A 'Mission to Mars' session helped motivate Year 10 children in care for their science GCSE, while other tailormade programmes allow for the possibility of challenging behaviour and respond to specific learning needs such as autism.
Working with the charity "Kool Carers", we continued our work with vulnerable children by taking a group of 'children who are carers' on a trip to Munich, Germany to visit the new European Southern Observatory (ESO) visitor centre called 'Supernova'. This was the first UK group to visit the centre. They also visited the Max Planck Institute and found out about nuclear fusion.
Tour of Bayfordbury Observatory
The Cosmodrome
"The 'Sensory Universe' project uses our portable inflatable planetarium to allow the audience to interactively 'explore' the history of the Universe – and give us new perspectives on our research."
The Observatory is home to the UK's largest mobile inflatable planetarium, specially designed for the University to offer better disabled access. At six metres high, the Cosmodrome is as big as a house when fully inflated and can seat 100 people. Our astrophysicists bring the Cosmodrome to schools, community centres and science festivals to encourage children to engage with science and learn about the cosmos.
In a unique collaboration with the University's School of Creative Arts, the Cosmodrome has also been converted into an immersive audio-visual space for music and arts festivals. By day it hosts planetarium shows, lectures, workshops and audio-visual art. By night, it offers full dome views of the cosmos, accompanied by music delivered through a cutting-edge sound diffusion system.
The portable planetarium has also been used to tell the story of astrophysics to children and young adults with special educational needs and disabilities. Using specialist techniques to create an interactive 'sensory universe', the Cosmodrome has been filled with a range of sensory equipment, including lighting, sound and tactile experiences, to represent galaxies.
Dr Jim Geach's project used the Cosmodrome as a safe, accessible and stimulating space to allow visitors to 'explore' the history of the Universe interactively, from the origin of the cosmic microwave background to the present day.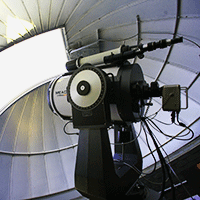 Bayfordbury Observatory
Bayfordbury Observatory is the University of Hertfordshire's teaching observatory for astronomy and astrophysics. It offers students a hands-on experience with some of the latest technology in the field.