Objective Control for Talker Verification (OCTAVE)
Consortium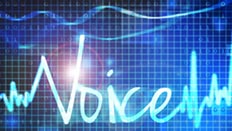 The OCTAVE Consortium consists of:
academic bodies (University of Hertfordshire, University of Aalborg, University of Eastern Finland)
research institutes (Fondazione Ugo Bordoni, Research and Education Laboratory in Information Technologies, EURECOM)
product vendors (Validsoft, APLcomp) and custom solution developers based on State of Art products (Advalia)
large-scale ICT integrators (ATOS)
large-scale Business users (SEA, Findomestic).
The OCTAVE project
The proliferation of smart services calls for unsupervised authentication at a distance. Being natural, non-intrusive and readily compatible with smart and mobile devices, automatic speaker verification (ASV) is considered an appealing solution.
However, today's state-of-the-art ASV systems typically lack robustness to variation in operating conditions and are potentially vulnerable to spoofing. This, together with challenges associated with their interoperability, scalability and privacy, form barriers to exploitation in real scenarios and applications.
While embracing standards, in addition to promoting a privacy and interoperability-by-design ethos, OCTAVE will integrate commercial-grade ASV engines, structured as hybrid systems, with effective environmental robustness and anti-spoofing components to deliver a scalable, trustworthy biometric authentication service (TBAS).
By relieving end-users from the inconvenience of dealing with textual passwords, the OCTAVE platform will reduce the economic and practical burdens associated with password loss and recovery.
The OCTAVE platform will be validated through end-user trials in two specific and challenging application scenarios. These involve online logical access to banking services and physical access control to critical infrastructures.
Banking service trials will be conducted by OCTAVE partner Findomestic, a consumer credit company and part of the BNP Paribas group.
Critical infrastructure trials will be conducted by OCTAVE partner SEA who manage Milano Linate Airport. OCTAVE will thus fuel new opportunities for commercial services through the provision of effective electronic identification and authentication.
How does it work?
The OCTAVE TBAS (illustrated below) builds upon a set of technical solutions that enhance the operational robustness of speaker verification to levels beyond that offered in current commercial systems.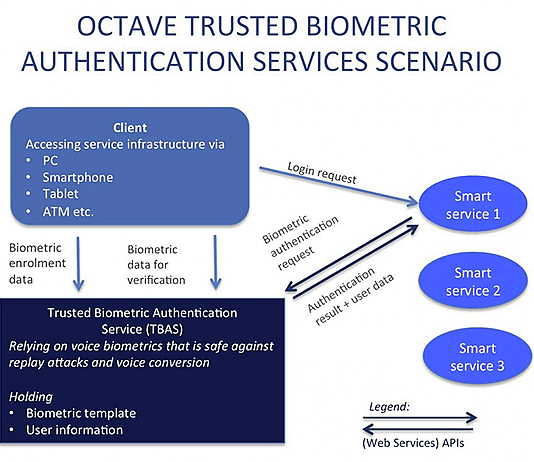 To facilitate exploitation in scenarios involving multiple applications and service providers, the OCTAVE TBAS will be implemented on a distributed cloud platform with advanced security and privacy preserving solutions. This architecture will increase trust, privacy and security while also avoiding single points of failure.
The OCTAVE TBAS is device independent and thus supports the 'bring-your-own-device' paradigm. User interface devices such as desktop computers, tablets and smartphones are all supported, as is text-dependent, text-prompted and text-independent speaker recognition modes, in addition to hybrid modes.
Challenges
To improve the level of confidence of both businesses and end-users towards authentication through voice biometrics.
To guarantee that personal biometric data are acquired and maintained with the highest degree of security and protection.
To provide a user authentication cloud-based platform, capable of communicating with application services in an open and standard fashion.
To provide capability for aligning the performance characteristics of voice biometrics to the requirements of a given access control application.
To deliver a language independent voice biometric system.
To achieve robustness against circumvention attempts as well as against channel variation and ambient noise.
Expected benefits
OCTAVE will deliver a competitive edge in access control to networks and systems by eliminating the need for specific tokens such as smartcards and OTP devices.
Secure and robust authentication is a prerequisite for virtually all ICT services, including those offered by small and fledgling providers, who may not be in a position to develop infrastructure of their own.
The OCTAVE TBAS will provide an independent, trustworthy authentication platform that will enable users to access secure services using their own devices.
More about OCTAVE
Visit the OCTAVE website to find out more about the project.