Advancing radio astronomy in developing economies
University of Hertfordshire researchers are playing a key role in training a first generation of radio astronomers in both sub-Saharan Africa and South East Asia.
In sub-Saharan Africa, the goal is to help prepare eight countries for their participation in an international project to build the world's largest radio telescope, the Square Kilometre Array (SKA), by 2026, starting in the Karoo desert in South Africa.
"We will be training a new and diverse generation of young people in [these] skills that are transferable to many aspects of a developing economy. Some will go on to work within the SKA, but others will naturally use these skills to benefit their countries in other ways."
Radio telescopes are used to study objects in space by detecting the radio signals they emit. Linking thousands of dishes together to create a telescope array, the SKA's huge size will enable astronomers to monitor the sky in greater detail and at faster speeds than is currently possible, tackling questions such as how stars and galaxies are formed, and how they evolve over time.
By 2030 the SKA will have extended to include eight partner countries - Ghana, Kenya, Zambia, Namibia, Botswana, Madagascar, Mozambique and Mauritius. Each will host a single radio telescope, linked to provide very high spatial resolution radio images.
Currently, these eight countries have little or no radio astronomy research community to support and enable the SKA vision. Basic scientific research is not yet a strategic priority in many sub-Saharan countries – most physics graduates go into high school teaching – and radio astronomy is not taught at university.
The University of Hertfordshire is working to fill this gap through the Development in Africa with Radio Astronomy (DARA) project. Led by the University of Leeds and funded by the UK's Newton Fund, DARA aims to train the first generation of radio astronomers in each of the partner countries.
Inspiring new generations
Through DARA, the Hertfordshire experts are providing a grounding in radio astronomy, covering physics, maths, chemistry and computing, as well as the engineering and technology needed to develop, maintain and run the telescopes and instrumentation.
Hertfordshire is playing a leading role within the DARA network…to develop the human capital needed for the African SKA partners to take full advantage of the … SKA facilities.
Dr Mark Thompson,
School of Physics, Astronomy and Mathematics, University of Hertfordshire
The University is the main UK lead for development in Zambia and Madagascar, to date training 30 Zambian students, with five from the first cohort now going on to further international postgraduate study.
At the same time, the University's radio astronomers are extending their expertise to south east Asia, to lead a similar programme of technology development in Thailand.
"Being involved in the doctoral college at University of Hertfordshire enhances my research performance and prepares me well for a potential future role at the National Astronomical Research Institute of Thailand where I can contribute to the national goal of developing our first world-class telescope."
The country is planning a major investment in radio astronomy, aiming to build its own world-class national radio telescope facility and gain access to the SKA, as well as benefit its wider economy by inspiring new generations of students to take up science and technology.
Hertfordshire scientists are partnering the Thai astronomical and technical community to transfer specific technical knowledge of radio astronomy instrumentation. Through its collaboration with the National Astronomical Research Institute of Thailand (NARIT), the University is also leading a UK group to deliver undergraduate and postgraduate training in electronics, information and communications technology, and advanced data processing.
The collaboration also encompasses upskilling Thai research staff through bilateral exchanges and outreach projects to inspire Thai school students to take up Science, Technology, Engineering and Medicine.
Construction of the Thai National Radio Telescope has begun and 20 Thai students have so far been trained in radio astronomy and image processing.
The University's contribution to the global development of radio astronomy, and to the training of future generations of radio astronomers across the world's continents, is paving the way for a greater shared understanding of the fundamental questions of the Universe, transforming our understanding of space.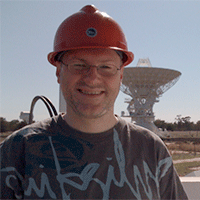 Dr Mark Thompson
As well as being Dean of the School of Physics, Astronomy and Mathematics, Marks's research expertise is radio astronomy. He is currently involved in projects relating to the world's next giant radio telescope, the Square Kilometre Array, which will be built in Africa and operated by locals. We will be training the first astronomers in those countries.
Dean of the School of Physics, Astronomy and Mathematics