Global Work and Employment
The Global Work and Employment research group at the Hertfordshire Business School draws on an inter-disciplinary perspective for critically examining contemporary developments in work and employment in the global economy.
Activities range from developing conceptual frameworks to enabling theoretical work to engaging with stakeholders and practitioners to generate impact.
Research, engagement and impact focus on three areas of expertise, which are well established and supported by ongoing and recent research grants as well as publications and consultancy.
Areas of expertise
Emerging global divisions of labour and their theoretical underpinnings
Emerging global divisions of labour and their theoretical underpinnings, such as changes in global production networks and processes of uneven development. This encompasses an examination of spatial changes and the (re)location of the production of goods and services reflected in dynamic trends in foreign direct investment and offshoring and outsourcing. In addition, at the level of the firm, multinational corporations (MNCs) are examined, as agents of internationalisation. Complex and contested organisational terrains are investigated to underpin issues raised with regard to staffing and strategy as they operate across borders.
The rise and emergence of new forms of labour
In particular, there is a body of cutting edge research on digital labour. This examines the social and economic impacts of virtual labour and the profound implications for work in the global economy. The theme also includes an established interest and reputation in the notion of creative workers, and the film industry in particular. A developing strand of research looks at the contested notion of precarity, which addresses increasing societal concerns about insecure work.
Inclusion and exclusion in the work place
It examines the wider impacts of global restructuring and the rise of new forms of work in terms of their outcomes for labour with regard to equality, diversity, ethnicity, gender and the role of trade unions in promoting workplace inclusion. A specific focus is associated with migrant workers and the challenges this presents for workplace cohesion. In particular, there is an interest in how trade unions and other organisations cooperate across boundaries to promote integration.
Building capability of the organisation's people at the individual, team and organisational levels.
This examines the role of psychology in organisations' functioning and decision-making processes and the alignment with the overall strategy. This includes a humanistic approach to the acquisition, deployment and retention of people in organisations; and the use of an evidence-based approach to addressing the inherent challenges for both the organisation and the individual.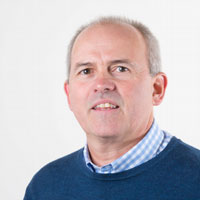 Michael Brookes
Michael Brookes is the Professor of Work and Employment with research interests in employment relations, comparative and international HRM and employability as well as the South African labour market and community wealth building.
He has published widely within all of these fields and in addition he is also a Research Associate at the Nelson Mandela University in South Africa as well as being a co-director of the Work4aLiving Programme an initiative supporting job seekers making the transition into permanent employment. This was originally in South Africa but more recently has expanded into other countries and currently has the capacity to support in excess of 30000 job seekers per year.
Meet the team
Professor Ursula Huws
Dr Michael Moran
Dr Anita Sharma
Ms Tracy Turner
Research students
| Student | Research project title | Qualification |
| --- | --- | --- |
| Shukurulai Abubakar | Innovation Management in Ghanaian Local Governments | PhD |
| Alex Ekow Asampong | Leadership of cross-cultural work teams. | PhD |
| Will Atkinson | Class and job roles in the film industry. | PhD |
| Olufunmilayo Babafemi | An Exploration into the Underrepresentation of Women Finance Directors in the United Kingdom: A Comparison of Three Sectors | PhD |
| Kevin Andrew Bartle | Leaderships in Schools | DMan |
| Rhoda Bennett | An exploration of recruitment and selection methods for the management positions in non-profit organizations in Tanzania. | DBA |
| Phillips Osarenren Emokpae | How and Why Some Microfinance Institutions Overcome Difficult Challenges and Why Others Do Not | DBA |
| David Allan Farley | Organisation Culture and the Actions and Values of Managers in a Financial Services Organisation | DBA |
| Dammon Ghanizadeh | Exploring and understanding the adoption and use of online social networks in organisations. | PhD |
| Monica Ann Holloway | Women-Only Formal Business Networks - Expectation of Members - What Are Their Perceptions of the Advantages of Joining Women-Only Networks, Are Their Needs and Expectations Being Realised, And What is the Role of Women-Only Formal Business Networks | DBA |
| Patricia Hunt | Recruitment & Retention in Chinese SME's; the Role of Strategic HRM in a Transitional Socio-Economic Context | DBA |
| Celeste Jones | An exploration of the perceptions & effects of (mis) management of performance in UK Higher Education. | DBA |
| Kerry Mckay | Well-Being in HRM Practice. The Role of the HR Practitioner | PhD |
| Mohieddine Messousi | The Role of Collaborative Partnership with Business to Business Clients in the Telecom Service Providers Sustainable Growth Strategy | DBA |
| Ray Millican | Inter-organisational emergent culture. | PhD |
| Farjana Mostofa | Role of HR practices in establishing the rights of garment workers in Bangladesh. | PhD |
| Akua Owusu-nyantakyiwaa | Informal Carers of People with Disabilities: Experiences at Work | PhD |
| Praja Pituwala | Influence of national culture on employee engagement. | PhD |
| Herminia (Min) Rodriguez | An Exploration of the Barriers to Achieving Race Equality in the UK Higher Education Workforce | DBA |
| Tracy Turner | An exploration of the worklife experiences of autistic women. | PhD |
| Julie Avis Welch | What are the Expectations of Frontline Leaders in the Police Service and How are They Supported to Meet Those Expectations? | DBA |
| David Wray | Occupational Culture, Trade Unionism and the Nature of Representation | PhD |
| Zhen Ye | Transforming Institutions and Locality in the Chinese Economy: The Case of Foreign Direct Investment in Xiamen | PhD |
| Shaolin Zhang | Internationalisation Strategies Adopted by Chinese Private Sector MNE's: A Case Study of Haier Group Corporation and Hisense Co., Ltd | PhD |
There is significant capacity for doctoral supervision within the group and approaches from potential doctoral students are generally welcomed. Discover what our Doctoral college offers.
Watch videos about Global Work and Employment
Get in touch
For more information, please contact Professor Michael Brookes, Professor of Work and Employment.