Physiotherapy research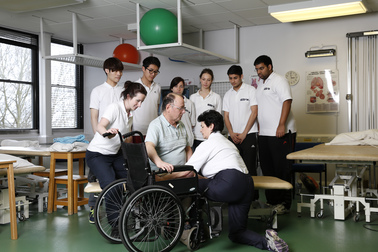 Research is an integral part of contemporary physiotherapy practice. We have a commitment to research activity by contributing to the evidence base which underpins physiotherapy practice and education. We provide our students with an environment that encourages them to engage with research and how it is translated into practice.
Our research falls into four broad themes:
Musculoskeletal problems involving the shoulder, neck and low back.
Qualitative research (as the focus of the MSc or PhD, or within the PhD).
Electrophysical modalities, tissue repair and physiological / clinical outcomes. Objective measurement of the tissue responses to intervention and how this translates into the clinical environment.
Clinically applied neurophysiology of persistent pain.
Undergraduate physiotherapy research
Students on the BSc (Hons) Physiotherapy are introduced to research during their first year to introduce the foundations of research. These skills are developed in the second year within the research methods module. Students develop their research skills by working in collaborative groups and undertake a module comprising of qualitative and quantitative research in year three.
Postgraduate physiotherapy research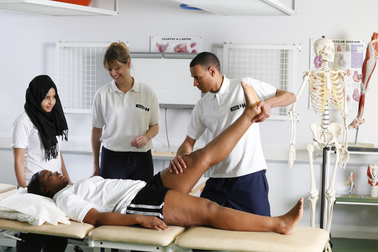 We support students undertaking research at both MSc and PhD level. The MSc requires students to undertake 2 research modules. Students are practicing clinicians who conduct their research on a part-time basis but, full-time students are also welcome.
Those interested in undertaking research at the University of Hertfordshire are encouraged to consider how their area of interest relates to our research themes and the specific research interests and expertise of our staff.
Many of the studies either completed or ongoing are collaborative ventures. We work with sites of clinical practice, other Higher Education Institutions' and other schools within the University of Hertfordshire. These collaborations allow mutual sharing of expertise and help us keep in touch with current practice.
Physiotherapy staff research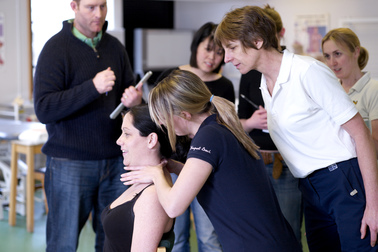 For additional information about physiotherapy staff research, please view web pages of staff who are actively engaged in research activity:
Dr Karen Atkinson
Jayne Bartholomew
Sheric Ellum
Bijal Ganatra
Dr Anthony Herbland
Dr Binoy Kumaran
Andrew McCarter
Dr Catherine Minns Lowe
Andrea Moulson
Danielle Ramsey
Dionne Ryder
Dr Mary Sexton
Dr Hubert Van Griensven
Professor Tim Watson
If you are interested in learning more about the research that we are involved with and/or have any queries related to undertaking research within physiotherapy at the University of Hertfordshire, please contact Professor Jeremy Lewis, Physiotherapy Research Lead.