Go Herts

What is Go Herts?
Created in 2016, Go Herts is an initiative by the University of Hertfordshire that aims to encapsulate our community spirit, both on and off campus, whilst celebrating our success.
From the amazing sporting victories of our Athletic Union, to the ground breaking discoveries made by our researchers, not to mention the outstanding achievements of our enterprising students, alumni and staff, Go Herts celebrates it all!
How can I get involved?
Represented by the iconic image of the hart, an adult male deer and the ancient symbol of the County of Hertfordshire, Go Herts is something everyone in our community is a part of. However here are a few things you can do to get celebrating: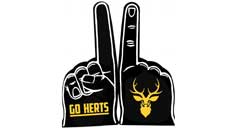 Get your Go Herts gear: Show you're part of Go Herts by purchasing some of our merchandise. Choose from stationery, sports accessories and clothing.
Support your teams: Come and cheer along our Athletic Union teams at one of their matches - and make sure you're wearing you Go Herts gear!
#GoHerts: Get social and tag your success posts with #GoHerts.
Go Herts Award
With the Go Herts Award, you can even get recognised for your participation in extra-curricular activities.
Got any questions? Just get in touch with us at internalcomms@herts.ac.uk.
#GoHerts
Share images of your Go Herts moments on social channels with #goherts and see the best ones here.