Syed Ali - Choosing a January start
January 1 2020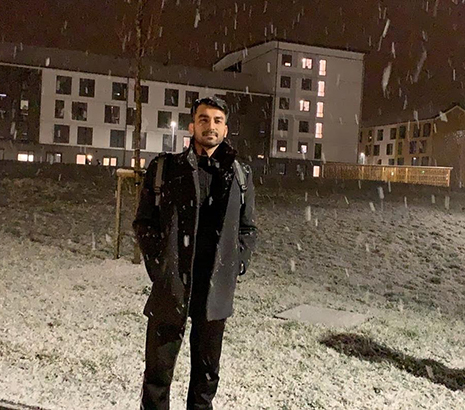 My course and university experience
Hi, my name is Syed Ali. I wanted to tell you all about my university experience and my course, so here goes!
Everyone's university experience is bound to be different. The first step towards experiencing a trailer of a practical life starts from here, a major transition from high-school to a whole new campus-based journey. To pursue law as my career I chose Hertfordshire law School specifically because I was also looking for a complete campus-based teaching experience where I could explore more opportunities and an in-depth practical experience. I've had an enjoyable time. However, like many other students, I missed home far more than I expected. It was initially difficult but eventually I learned to be a lot more independent. Despite this, I managed to overcome these issues. I got involved in different activities and societies, this enabled me to socialize more and participate actively in them, and now it has become part of a daily routine to participate in their activities and attend certain events/meetups.
Choosing a January start
It feels different starting your academic year with the start of the calendar year, frankly I have always preferred that this is how it should be. The induction process is quick and January intake is more of a fast-paced structure where you get to taste all the facilities, activities and programmes. The studies and curriculum work exactly the same way as the September intake, the opportunities are the same and the fun fact is that in January there are a lot of student union activities that happen and fairs plus, all the societies are arranging events where you get to take part and experience different cultural activities, with this you make your own January intake family and the events that happen in this time are all inclusive mostly of January intake students. Starting in January still meant I could experience campus life, especially at the beginning where it all happens in a short period of time!
After your semester B ends you end up meeting with your semester A (September intake) fellows, and it seems that both of the intakes are not that much different other than the dates of their induction and that is the best thing about this programme that you don't feel left out or different than the September intake.
The practical road
Why did I choose Herts? It was an ideal choice as I wanted to have an in-depth hands on practical law school experience with all the opportunities that could be easily accessible. And that too in a campus-based environment. The course route is really fascinating, with the choice of module selection and the practical activities that happens along the way. The Hertfordshire pro bono law clinic is one of the best initiatives that has given me opportunities to work with a solicitor helping in ongoing cases and it gives you the hands on experience of meeting with clients and handling case files and shadowing legal advisors while being a student, it is type of a pro bono internship work experience that you get alongside your studies. I am also involved as a law clinic student advisor and street law presenter the role of which was to go to various academies and law fairs and give presentation on certain laws and legal awareness.
Currently I am in my final year, so far, I have taken part in various projects and activities that now the thought of me leaving this home at Herts saddens me. But the opportunities and the achievements that I have accomplished so far could not have been possible with the support of the teachers and the whole faculty. The lifetime friends and colleagues that I have made I am grateful for it. I love to learn new things, and as a student ambassador and education liaison officer I was provided with various opportunities to portray my potential in various event and you can get paid for the hours you work.
Outside of my studies, I have also explored the nearby areas of Hatfield, it is a small university town (a term I use) as you'll see majority of Herts students living and roaming around with familiar faces. Everything is in walking distance from both college lane and de Havilland campus with 25 min train from Hatfield station to London kings cross it feels more of like a university sitting in the outskirts of London. The parks around Hatfield are really scenic, you can cycle around and enjoy the atmosphere.
So far, the experience was really good! But wait don't think that this was it, because when they say Home at Herts, they actually mean it. In this time of pandemic, the university did not leave its family alone, there are various virtual programs that are still going on and organizing virtual activities weekly so that the students would remain active and motivated. Online lectures have been really helpful with the tutors also providing one-one guidance and support sessions in place as well. In order to engage the students, the online programmes in place are working brilliantly which is inspiring.
If anyone is thinking of applying to university, here are some tips. Number one; make sure that you have a strong personal statement that reflects your true passion and honest insight about the subject you have applied for in order to set your application apart from other applicants. Secondly; there can be pressure to apply to certain universities, but you need to go for the one where you'll enjoy the most and get the most experience out of it. I believe this is one of the best decisions that I have made so far and I can see an excellent outcome in near future.