Lisa - Who am I?
January 1 2020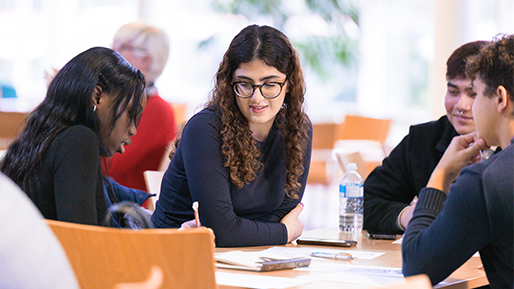 Hi guyss!
My name is Lisa and I'm about to start my second year as a BA Criminal Justice and Criminology student. I'm approaching my 21st birthday in October, so you've probably already guessed I didn't start university at 18. I stayed an extra year at sixth form and earned some money by working in a Chinese take-out during my spare time. I'm not your typical northern lass, but I was born in Yorkshire, so moving to Hertfordshire was such a big step as I am now living life as a 'southerner'. Currently I live on College Lane Campus, but in September I'll be moving into private student accommodation with five of my best friends, closer to de Havilland Campus (De Hav).
Applying to university was a lot easier than I initially expected, but the stress came on the run up to A Level results day. I made the decision to study at Herts independently, my parents visited a couple of open days and found they were also confident I'd be happy here. So some top tips for applying to university; research your course, make sure it's a field you're interested in, take advantage of open days and taster sessions, talk to your friends, family and teachers. Don't panic! I've got plenty more, but I'll save those for another post.
After graduation I plan on going to work for the London Metropolitan Police. I'm in the process of beginning my work placement at Hertfordshire Constabulary. During the assessment stage for Hertfordshire Constabulary, I was pulled aside by an officer who was exceptionally impressed with my exam results for the position of Special Constable. I was informed that I'd be a great candidate for the Accelerated Detectives Program which I plan on participating in during my final year.
Fun facts about me:
My favourite place on campus, besides subway is probably the campus green by accommodation, my friends and I have spent many summer days and evenings hanging out and making memories there. The Forum isn't too bad either 😉.
My favourite lecturer is Kofi Addo, he is so welcoming, funny and always extremely helpful.
My favourite go to meal would probably be £5 pizza deal from Pizza Hut, but a go-to homemade meal would be pasta carbonara as I can bulk cook. (Downloading Just Eat is a must!).
My favourite moment of university so far is hard to choose so I would have to say either Fresher's week, meeting everyone and making new friends, or the summer ball once all my exams were finished.
If I had to describe my first year in a few words I'd say… action-packed.
See ya next time.