Jess - Choosing my course
January 1 2020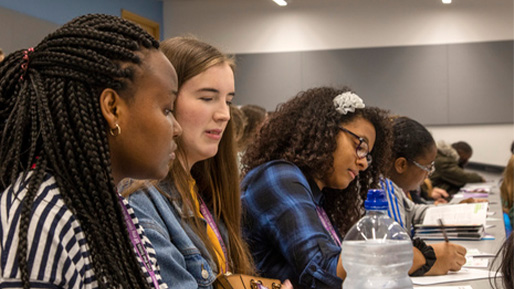 What I love most about my course
Over the past two years, What I love most about my course is the flexibility, confidence-building opportunities and the ability to investigate weaknesses in my skills and improve them as well as my and confidence in my abilities. Although the course is not taught directly from the university over the last two years, I felt highly independent.
As time when on I felt that being independent was very easy compared to when I was at college because if I were unsure about the quality of work I was producing, I would always ask questions. The course allows you to develop your skills individually and the small class sizes are great for those who may not learn well in a large lecture full of people. The smaller class size allows individuals to receive the help that you won't get in a lecture class size.
For someone who suffers badly with social anxiety this course has been ideal as I now feel much more comfortable in my surroundings and environment and find it easy to relax and learn, therefore, if you feel overwhelmed with big lecture halls that have a 200-student capacity, this course is perfect for you. We are also able to see other Higher Education (HE) colleagues on the top floor art department who are studying HE Visual Merchandising and Graphic Design. This is nice as sometimes it may feel as though we aren't at university so when we see students who are also studying HE courses, it makes us feel like we belong.
The graphic design and visual merchandising students also have a separate room upstairs- so if anyone is interested in studying one of the creative subjects, I would definitely say that Herts Regional College (HRC) cater well for it- especially as the campus itself is commonly known as the "creative enterprise campus".