Jasmine - Why I love History
January 1 2020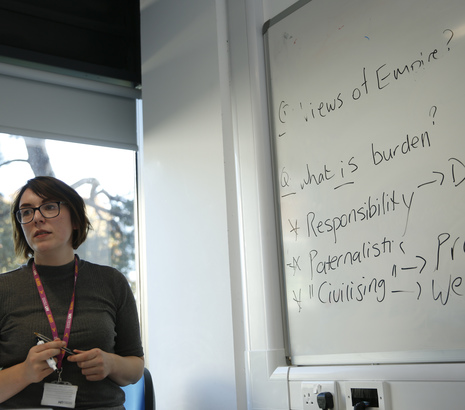 What I love most about my course
I loved that with history you could do as much or little as you wanted. Alongside completing the required tasks, lecturers indicated further reading sources if you wanted to. That meant to if there was a part of the subject that interested you, it was possible for you to explore it further. Moreover, most of my lecturers would ask at the start of the semester what we wanted to get from the course. This meant if there were specific areas that we were most fascinated with or wanted to learn, they aimed to include that into the module.
I also loved that there is a range of topics that are covered, and the ability to choose which ones you wanted. I minored in public history which meant that instead of the typical essay assignments I created a documentary for one module. Another module was work experience, so I got to volunteer. We also went on trips to the archives and Bayfordbury campus which offered alternative styles of learning and experiencing history outside the classroom. This was exciting as I got to try new things, which I would not have thought to do.
The humanities department was extremely inclusive. They have an Instagram and post regular events like rollerblading and film nights which allowed you to socialise with your lecturers and peers. The staff were all friendly and welcoming and always happy to help with any issues. I felt that they truly wanted me to succeed, and they had my back. The events helped to create a work/live balance.
Due to the independent nature of studying history, I was able to adapt to studying around my lifestyle. Because the contact time was only eight hours per week, I was able to work alongside studying. I was also able to study on the train journey or at home when I returned to visit family, meaning that I was not left behind on my workload.