Jake F - Guide to the facilities
January 1 2020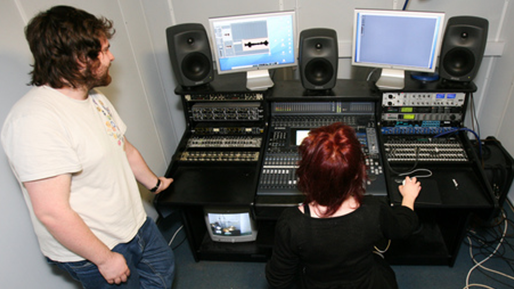 Subject Facilities
As a sound engineering student, you have access to everything you need to prepare you for working in the industry. It is a very practical subject so having the right equipment, software, and hardware, is vital for getting the hands-on experience you need. Most of my work was done in the FMM, Film Music & Media building which has computer labs with all the latest programs, surround sound 'satellite' rooms, an acoustically treated room for film sound, and many other musical spaces and practise rooms. You also have access to the Art and Design buildings where you will find fully kitted out music studios with performing and recording rooms with the latest mixing desks and computers, a Foley studio which I used a lot for films, and the loan store. The loan store allows you to borrow equipment such as microphones, musical instruments and other equipment like video cameras and accessories.
Having access to these spaces was vital as part of my learning experience as there is no substitute for hands-on learning but Herts gave me everything, I needed to ensure I am prepared to start work or go onto further education.
I also had some lectures in the Forum where I learned about live sound and acoustics. I had the privilege to work at the Forum which gave me an even more extensive knowledge of live sound setups. The facilities at the Forum are incredible and working with such a high standard of equipment was always exciting. There are two music rooms in the Forum, the main auditorium which is a large capacity club room with a full lighting rig and a custom sound setup. There is also the attic which is a smaller venue which hosts Herts Jam which is a student-run music event held three times a year. The Forum has seen some big artists and bands play there, such as Enter Shikari and even the music video for Ed Sheeran's Lego House was filmed there.
As well as the specialist spaces, you have everything you would expect as a student like lecture halls and access to the library on campus where you can borrow books and magazines and use computers and printers. You also have access to the online library to check if they have a book and if it is available.
UH (University of Hertfordshire) exceeded my expectations of professional equipment and facilities and I would highly recommend anyone looking to study music technology or sound engineering to consider Herts. Despite graduating during the Covid-19 outbreak and it being a strange time, I feel prepared for my future, whenever and wherever that may be!