Emily A - Guide to the facilities
January 1 2020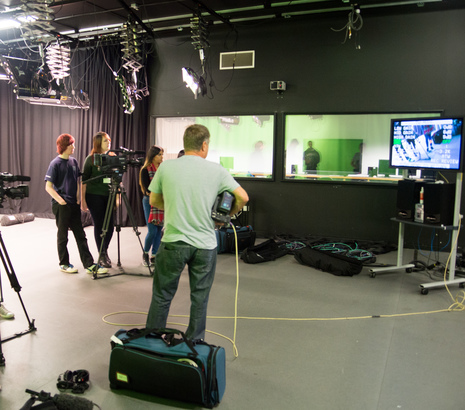 Guide to the Film and Television Production Facilities at Herts
The Film, Music and Media Building
The building that you will spend most of your time on campus in on the Film and Television production course is the Film, Music and Media Building (the FMM for short). This is where we have our editing and camera workshops. The Walter Murch editing lab on the second floor is a great resource and it becomes extremely busy in the days leading up to a deadline. It is filled with 27" iMacs each equipped with customised Avid Media Composer keyboards.
The Loan Store is a great resource to have as it allows us to not only rent out equipment for our assignment projects, but also for our own independent projects that we produce throughout the year. It is in the basement of the Art and Design building. There are also three bookable edit suites down the hall from the loan store, equipped with Dell true colour monitors, Avid colouring desks and 2.1 surround sound systems. There is also a dubbing suite that is especially useful for recording Foley and Automated Dialog Replacement (ADR) for our projects.
Learning Resource Centres (LRCs)
Both the College Lane and de Havilland campuses have their Learning Resources Centres (LRCs), which are great tools when writing our film and television histories and contexts essays. There is a shuttle bus that takes you between the campuses that runs every ten minutes so if there's a book that you need on the other campus, you don't need to worry! The University has a wide range of books and academic journals on their online library, which is a great tool for wider reading and including supporting evidence and references in our essays.