Dobromir - Week at a glance
January 1 2020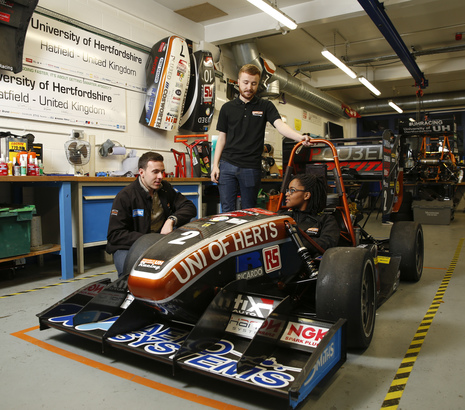 My week at a glance
Hello! This is what a typical week looks like for me as a student at the University of Hertfordshire!
At first, as a newly arrived second-year student, my week schedule was chaotic but trust me, once three or four weeks of the semester have passed you will have already got used to the pace and will have developed at least a basic schedule for your week, as I did. For me, it is all about the balance between university, part-time work, and social life.
On Mondays, as I have a part-time job, I usually go to work in the morning until lunch and then head back to university for two hours of face-to-face teaching in the early afternoon. After I finish lectures, I dedicate my late afternoon to revisiting lecture notes and working on assignments, sometimes ahead of their time, to avoid falling behind. My evening is usually spent in the gym and then resting.
Tuesdays are quite hectic for me, as I am out from 09:00 to 20:00. I spend the first half of my day at lectures and, after a short break in the afternoon, I head to work and stay there until 20:00. As you can expect, after such a long and exhausting day, all I can do when I'm back home is just to relax and get some good sleep.
My Wednesdays are flipped Mondays, since I go to lectures in the morning, refresh and then head to work, where I spend my afternoon. At evening time, I go through and catch up on lecture and tutorial notes, if I have missed something, and work on assignments. In Engineering, most projects require you to work in a group with other fellow students. The Learning Resource Centre (LRC) is where you will work on group projects as it is most convenient for gathering people. The environment is very relaxing and much of the time is spent chatting and having fun, so be ready to spend a substantial part of your time in the LRC!
My whole Thursdays are spent at university as I have lectures from 09:00 to 18:00 and I am keen on attending all of them. Don't get intimidated, there are regular breaks between lectures that give students more than enough time to refresh! As you can imagine, after my last lecture, I would rather do some exercise, so I will go to the gym and let go of excessive energy.
On Fridays, as my schedule is quite free, I take my time in the morning to meet up with fellow students and work on assignments. Getting through afternoon lectures is easy and feels like it happens instantaneously as everyone is excited about the end of the workweek and wants to go out. And, as you can expect, that is exactly what happens on a Friday afternoon. I go out for a walk with friends, if the weather is nice, and in the evening, we go to a pub and celebrate the end of the workweek.
I value my free time and for that exact reason, I spend the first half of my Saturday studying and working on assignments. I avoid distractions, as the sooner, I finish, the sooner I will be able to go out and have fun. Afternoon time is usually spent shopping, going to a café with friends or at the gym
My Sundays are almost identical to my Saturdays with the only difference that at evening I take 30 minutes, sometimes even less, to check my progress with my assignments, make sure I don't miss any deadlines and plan out a schedule for the upcoming week. Then it is time for a good recharge before the week starts.
At first, all the things you must do as a student sound like a lot to handle, but, trust me, it will all come naturally, and you will eventually learn to handle your tasks with ease!
Things you need to know before studying Engineering at Herts
When you arrive at university, you will be overwhelmed with many emotions: some students get excited about all the new people they are about to meet, others feel intimidated by the new environment. Regardless of how you feel, try not to compare university to anything you have experienced before. I have already gone through this stage and I can tell you that university life is differs a lot from anything I have experienced so far. If you feel nervous, know that you are not alone. You are on the same boat with more than 1500 other newly arrived students, so just open yourself up for this new opportunity and go out and speak to people. You won't believe how easy it is to make friends, especially during Fresher's Week and at The Forum.
Many people believe that you can only be a good Engineering student if you have taken A-Levels in Mathematics, but you will be pleased to hear that this is not true. I graduated from high school with a diploma in foreign languages and my knowledge in mathematics has always been average. Nevertheless, my performance in all mathematics and mathematics related modules in university has been excellent so far. The teaching staff is so good and there is so much support at uni, that you can rest assured you will receive the best help you can get if you struggle with studies.
As a student in engineering, you will not be required to read too many articles or books. Do not get me wrong, there will be a lot of work and you will really have to put effort into studying if you want to have good grades. For most of the time, you will be working on various software programs, you will spend a good portion of your time in laboratories and at the Learning Resource Centre (LRC) and you will also, depending on how good you are at maths, have to invest some or a lot of your time into solving exercises. Group projects are also an essential part of your experience at university.
The nature of a job as an engineer in almost any company requires you to work well in a team. University is really good at preparing you for that and therefore most of your assignments will require you to work well in a team. Some people are naturally good at that, others, like me, are not that good at it, but you will learn fairly quickly. Be prepared to spend the majority of your time working on assignments with fellow students. The environment is really relaxing and, often times, working together is so fun that you don't notice how time flies.
In engineering, you will be assessed mostly through group or individual assignments, practical lab works and exams. The ways of assessing you are very similar to how your performance at a company will be assessed: some of them test your ability to work in a group and others test your performance under pressure. Either way, every type of assessment has benefits that will prepare you for a career as an engineer.
Managing your time wisely is crucial for succeeding at university and later on in life. So, a piece of advice I could give to you would be to learn to regularly check your schedule and plan out your activities at least a week in advance. It's very helpful that you can download the lecture timetable on your mobile device and easily keep track of your engagements and work other activities around them.