Amy Barrett - Day in the life as a children's nurse
January 1 2020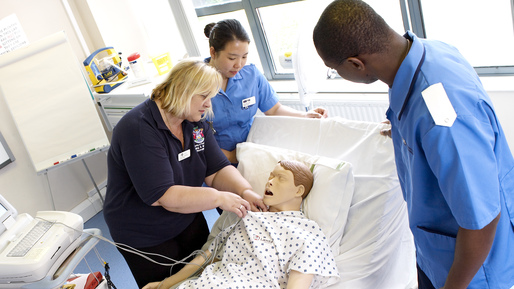 One thing to say about children's nursing is that no two days are the same!
During your three years on the course, you will do 50% theory and 50% placement. You may hear some people refer to them as theory and placement "blocks". This is because you do not have any theory when you're on placement which is good as you can make the most out of being in practice!
During theory, a typical day will start at 9am and can go on until 5/6pm, except for Wednesdays when you do not have lessons in the afternoon so you can use this time to do an extracurricular activity (perfect if you are considering joining one of the many societies the University of Hertfordshire offers!). Within lectures you will have breaks too - this is time to reflect on what you have learnt as well as eat to fuel you through the day. The majority of the time, you won't be in all day every day. For example, you may be in at 9am - 1pm one day, or off the next, then have a 1pm - 4pm the following day. My top tip is when you get your timetable, plan ahead when you will set aside time for reading, assignments etc. And don't forget some downtime for yourself to socialise and relax!
Whilst on placement, you will either be in a clinical setting such as a ward or community such as health visiting. When on clinical placement, you will do a variety of day shifts, and night shifts, which are usually around 12 hours long but some may offer some shorter shifts (known as early and late). You will have three to four shifts per week giving you time to do assignments, if you have any, on your days off. During community, you will be in five days a week doing 9am - 5pm shifts, leaving you with weekends and evenings to do your assignments. In total, you will do a minimum of 37.5 hours a week as this is equivalent to full-time work.
My top tip for studying at university is to plan ahead with theory and placement and ensure a good work-life balance. Do not overload yourself as this can have a negative impact both physically and mentally. Most importantly, enjoy yourself and your time at university!
I hope you have enjoyed reading this short overview of what a day in life as a children's nurse may include. If you have any questions regarding university life or children's nursing, I will be happy to help!