Alina - Week at a glance
January 1 2020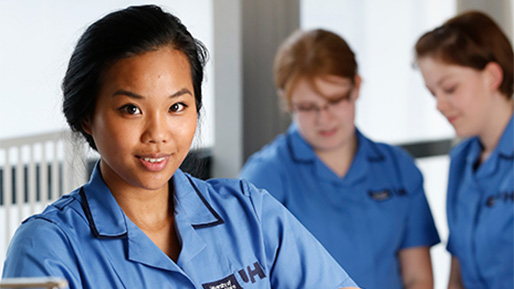 My week at a glance
Hello everyone! My name is Alina and I am in my first year of the Midwifery course. In this blog, I will tell you the few common things that I do every week when I'm at uni.
I always start my week by planning what I will be doing that specific week. I have a planner that I keep which helps me remember the things that I need to do. I write deadlines, duties that I must fulfil and other personal responsibilities.
Before lectures, I try to remind myself of the topic that will be discussed at that lecture so that I will be bringing the right things to the lecture.
Soon after each lecture, I tend to visit the Learning Resource Centre (LRC) and go over the lecture again in my own time to make sure I understand everything discussed in that lecture. I like to draw diagrams, print pictures and use many colours when taking notes. I have noticed that this is a very effective way of learning for me.
During placement weeks, I ensure I have the right things with me in the hospital, such as a note pad, a stethoscope, and a pen. Taking notes whilst on placement has aided my visual learning, as whenever I am shown something new, I find that writing it down helps to build and reinforce my understanding.
Aside from the compulsory lectures and placement, I try to do other activities within the University. I occasionally play volleyball and recently joined the Student Ambassador community. The midwifery course isn't entirely easy, and therefore it is very important to find some time for yourself to go out with friends and do what you love to do.
While university life may sound scary to many of you, if you have the right people next to you, encouraging you to keep going, you can have an amazing time studying a subject that you love. Therefore, I encourage all of you to make friends, join communities outside your course and be open to other opportunities. The University also has so much support available to all their students, so if you ever need some advice and support the student support centre and your school of study will be happy to lead you in the right direction.
I wish you all the best of luck!