Degree Apprenticeships
Welcome to the University of Hertfordshire - a leading provider of Degree Apprenticeships.
Introduced in 2015, degree apprenticeships are a means of training and developing new and existing employees in your organisation. Working in partnership with employers we deliver high quality degree apprenticeship programmes that meet the needs of your business and staff.
We have experience of delivering degree apprenticeships through a combination of teaching and learning techniques, including online, face-to-face, work-based projects, coaching and action-learning sets. Each apprenticeship programme is designed to develop practical skills and industry knowledge, alongside the professional behaviours required for the occupation standard.
Our apprenticeships have been created by employers, for employers to support workforce development and ensure success.
Take a closer look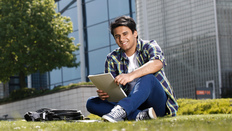 Study with us while gaining valuable on the job experience on one our new Degree Apprenticeship programmes...
Information for apprentices