Yasmin Ahmed
Meet Yasmin. After finding her passion for optometry at school, Yasmin applied to study MOptom Master of Optometry at Herts through clearing. She is now a fully qualified optometrist.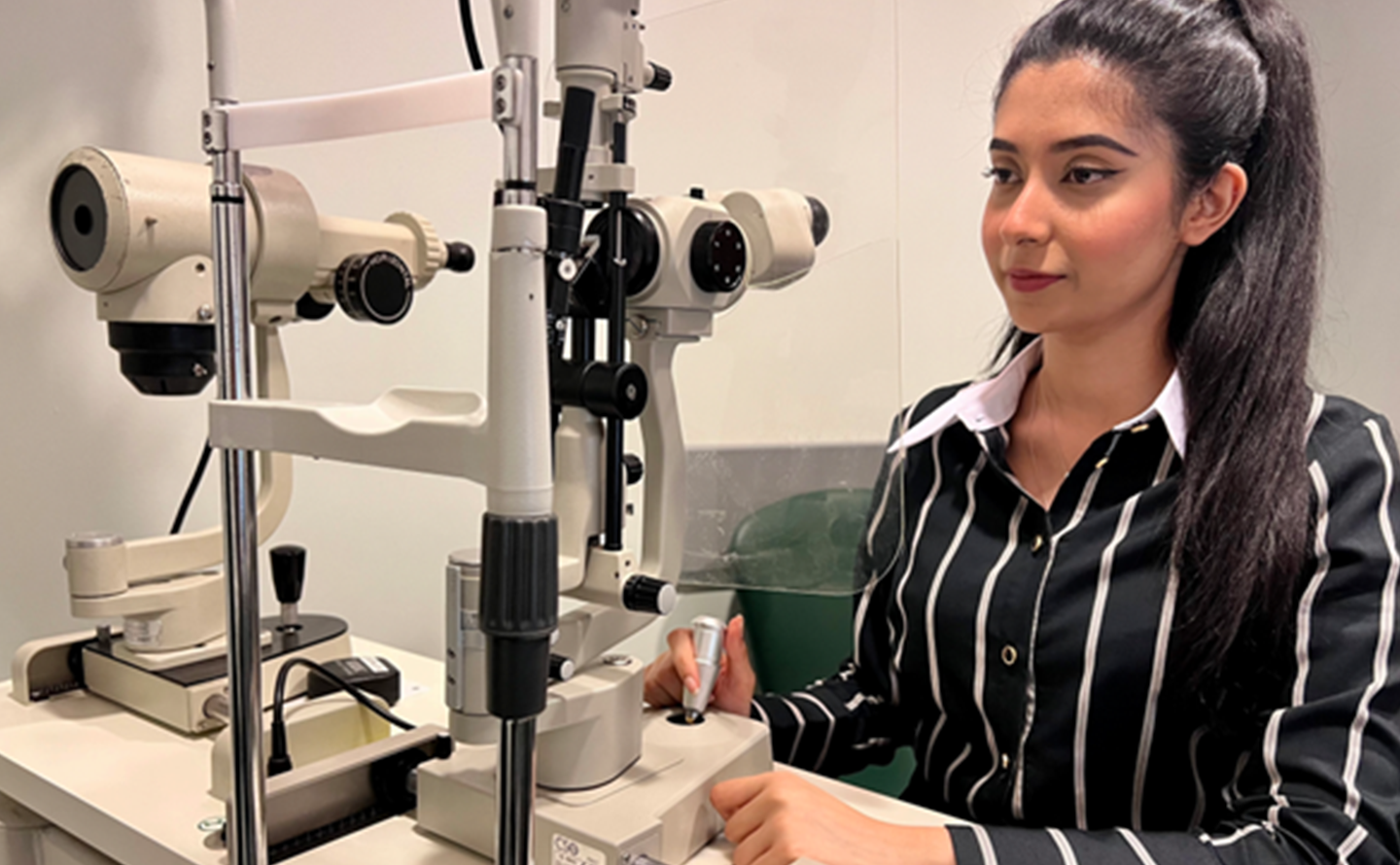 Finding Herts through clearing
Yasmin's journey to Herts began with a phone call. She says, 'I discovered my passion for optometry whilst at school, where I did work experience at a local optician and a hospital. I knew I wanted to study optometry at university, and I applied to Herts through clearing. I had a fantastic phone call with the Head of Optometry about the course and the rest is history.
'I chose Herts because it is ahead of the curve with how it structures and teaches the MOptom course. The qualification process to become an optometrist is changing but Herts has already prepared for this, and other universities are starting to imitate the way it delivers its MOptom programme. This means I was well prepared by the time I graduated.'
Yasmin graduated with first-class honours and won a University Prize for the Best Overall Student at Level 7. Yasmin says, 'From applying through clearing, to getting a first-class master's degree and being awarded a Prize for Best Overall Student by the Board of Examiners, it shows that you should not give up. Herts believed in me and helped me become the practitioner I am today.'
Putting her learning into practice
One of Yasmin's favourite experiences at Herts was the moment she was able to conduct an eye examination on a surrogate patient. She adds, 'This was a eureka moment. I was able to reflect on all my years of studying and put what I had learned into practice.
'We also had small class sizes, which was great. We felt like a close-knit community and the teaching felt more personalised.'
Becoming an optometrist
Yasmin is now an optometrist at one of the local opticians she had work experience at whilst at high school. Yasmin says, 'The course prepared me well for my current role and after qualifying, I realised how well thought out the programme at Herts was. The cubicles we did surrogate eye exams in had different layouts and equipment, mirroring the variety of environments we'd encounter in the real world. Because of this, the transition from university into the profession was seamless.'
Continuously learning
Yasmin loves learning and within the first six months of becoming a qualified optometrist, she became WOPEC (Wales Optometry Postgraduate Education Centre) Cataract and MECS (Minor Eye Conditions Service) accredited. She has also completed a Professional Certificate in Medical Retina and has started a Professional Certificate in Glaucoma. She adds, 'I have also been taking part in a course that will allow me to become a director of a practice in future and I want to complete a PhD at some point too.'
Her advice to current and future Herts students is to, 'Never stop learning. Put yourself out there and absorb as much knowledge as you can. Having multiple qualifications under your belt after your degree puts you in good stead for future changes in the field as it continues to evolve.'