Sophie Wilkins
Meet Sophie Wilkins whose desire to help people has led her into a career as a midwife
| | |
| --- | --- |
| Current job role | Community Midwife |
| Year of graduation | 2020 |
| Course of study | BSc (Hons) Midwifery |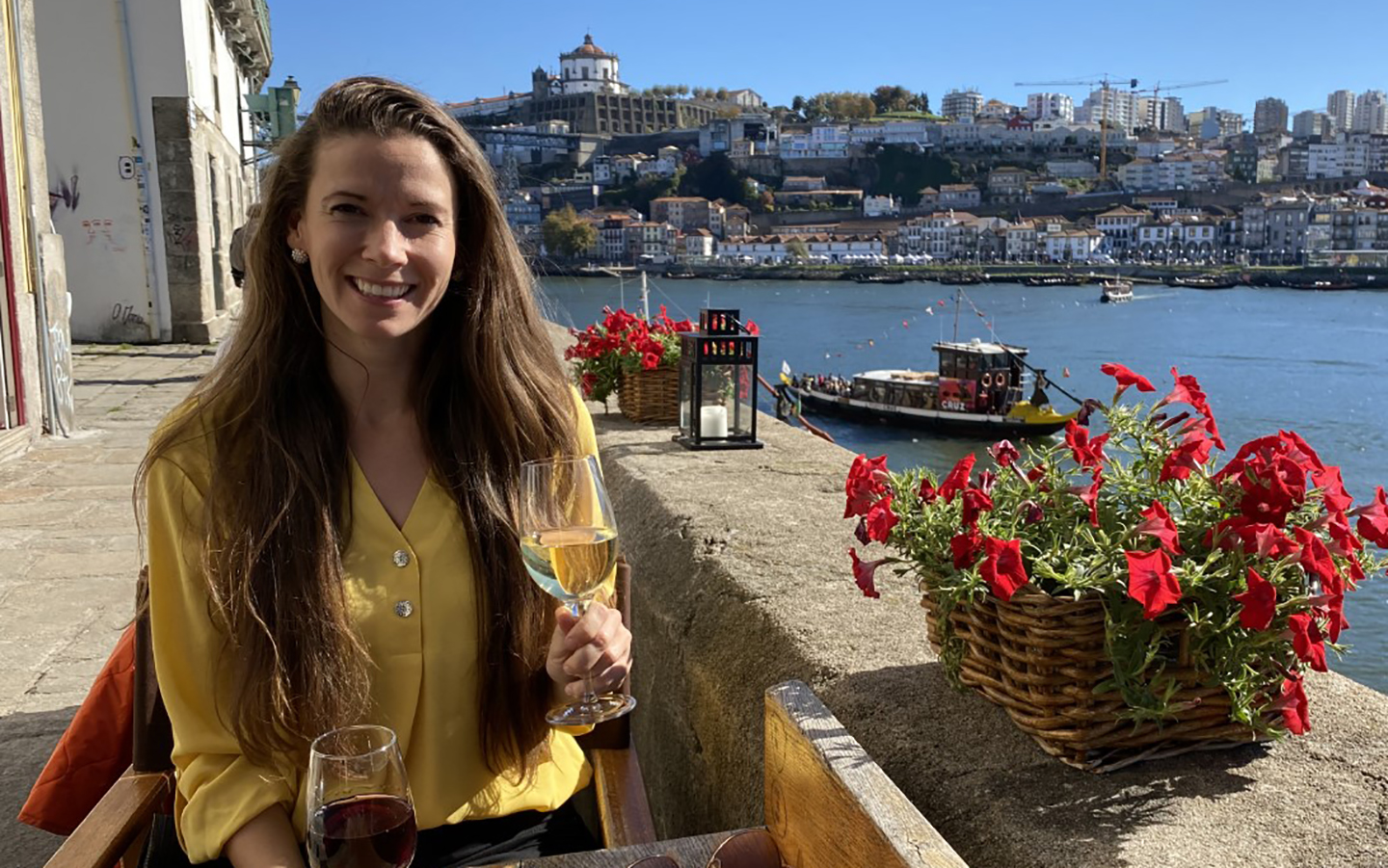 With a mother and sister both working in the NHS, Sophie was inspired by hearing their stories about how rewarding a career in healthcare can be. Coupled with a strong desire to help people she was led to midwifery and Herts.
Talking about why she chose midwifery Sophie says, 'The journey to motherhood and beyond is so inspiring, and it feels wonderful to be part of a profession involved in such a pivotal moment in peoples' lives.'
Having qualified in September 2020, during the pandemic, Sophie started work as a Band 6 Midwife at The Royal Free Hospital on their labour ward. This role entailed supporting women during labour, and facilitating births, in a range of low-risk and high-risk settings.
She has now moved into a role as a community midwife, working at Edgware Birth Centre. Sophie says, 'In this role I have a caseload of approximately 36 pregnant women of whom I provide, and co-ordinate, their antenatal care. I also see women within our community area once they've had their baby - providing feeding support and general postnatal care. It really is a fantastic role!
Study at Herts
When it comes to why she decided to study at Herts, Sophie says a variety of factors were pivotal in her decision.
'Herts is a very forward-thinking University, and one of the only providers in England to include The Newborn Infant Physical Examination qualification within their degree. Whilst I was very keen to apply, I visited for an Open Day before I did, and I absolutely loved the feel of the campus and the warm welcome I received from the midwifery team. It really did compound my decision that Herts was the place I wanted to study!'
Expert help
Looking back on her time at Herts and how the course has helped with her career Sophie says,
'The best thing about the course was the incredible knowledge of the midwifery lecturers. They all came from highly decorated clinical careers, with some even continuing to work in an acute hospital setting. It also meant the pastoral support received from them was exceptional - they all understood the pressures we faced whilst on clinical placement.
This unwavering support helped build my confidence and shape me into the midwife I am today. My personal tutor, Bernie Nipper, fuelled a passion in me to always have the woman, and her family, at the heart of what I do.'
Peer support
With an emphasis on support from both lecturers and students it's no surprise that Sophie has such strong memories of her time at Herts.
'My favourite memory of Herts is definitely the friends for life I have made on the course. The journey to becoming a midwife is like a rollercoaster, with incredible highs such as witnessing your first ever birth, to sombre lows when supporting bereaved families. It is during these three years that Herts provided the safe space to talk, process and support one another. I am so proud of all the Herts Midwifery students and I feel privileged to have graduated alongside them.'
'My fellow student and best friend was Chair of the Herts Midwifery Society - this provided us with fantastic learning opportunities. One of my favourites was a study day run by a fantastic organisation called 'Positive about Down Syndrome'.
The future
Sophie is very proud of the fact that in June of 2021 her third year literature review was published in MIDIRS, an academic midwifery publication. She is very much concentrating on the now, especially as the pandemic has such implications in healthcare and says,
'Whilst the COVID pandemic continues, my role as a community midwife is more important than ever. But most excitingly, I now have the opportunity to mentor new Herts midwifery students who are coming out on their clinical placement and give back to the University that gave me so much.'