Nikunj Thakrar
Meet Nikunj Thakrar who has built a successful career as a Pharmacist since graduating in 2009. He currently works for Tesco as a Pharmacy Manager and has returned to the University as a visiting lecturer.
| | |
| --- | --- |
| Current job role | Pharmacy Manager |
| Year of graduation | 2009 |
| Course of study | MPharm Pharmacy |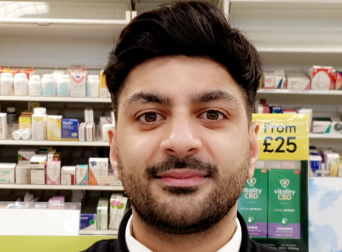 University experience
Nikunj has been working at Tesco since he was a pre-reg Pharmacist and has worked his way up to the position he is now in. He speaks highly of the University, crediting us with helping him succeed in his career. Through the University's resources, facilities and exceptional Pharmacy degree, Nikunj had the opportunity to train three pharmacists as a pre-reg tutor. This hands-on practical experience helped him when entering employment and gave him tangible skills to take into his career.
He says, 'The University had, and still has, a massive impact on how my career has progressed. The teaching, support and resources were excellent and helped me develop into the pharmacist I am today. I count my time at university as one of the main contributing factors to my success.'
Real world skills
Nikunj's experience and career demonstrates how the University gives students the skills to succeed, delivering fully skilled, work ready graduates to the professional world, equipped with unique experience and knowledge. Nikunj says, 'I feel that the preparation we were given for the real world was extremely useful in helping me settle as a pharmacist. We spent a lot of time in the mock pharmacy and dispensing suites which were the closest thing to an actual pharmacy. And although daunting, OSCE examinations were an extremely effective way of mimicking real-life scenarios a pharmacist may encounter, ultimately testing our knowledge.'
Aspirations for the future
As a visiting lecturer, the University recognised Nikunj's talent and was able to facilitate his passion for the subject. He is continually developing new skills that he can incorporate into his professional role, in addition to help nurture the pharmacists of tomorrow. He encourages prospective pharmacists to gain experience alongside their degree as it will be invaluable when qualified. He adds, 'Set yourself goals to work towards and never lose sight of them.'
Looking ahead to the future, Nikunj says, 'I am currently very happy with my roles at Tesco and the University of Hertfordshire. However, in the future, I plan on helping out with more central and operational projects within the company and to increase my time spent in academia.'
I made great friends on my degree and through the Students' Union, and I've now got friends around the world, because of the wider Alumni community.