Katie Dobson
Meet Katie Dobson who is working for the Williams Formula 1 team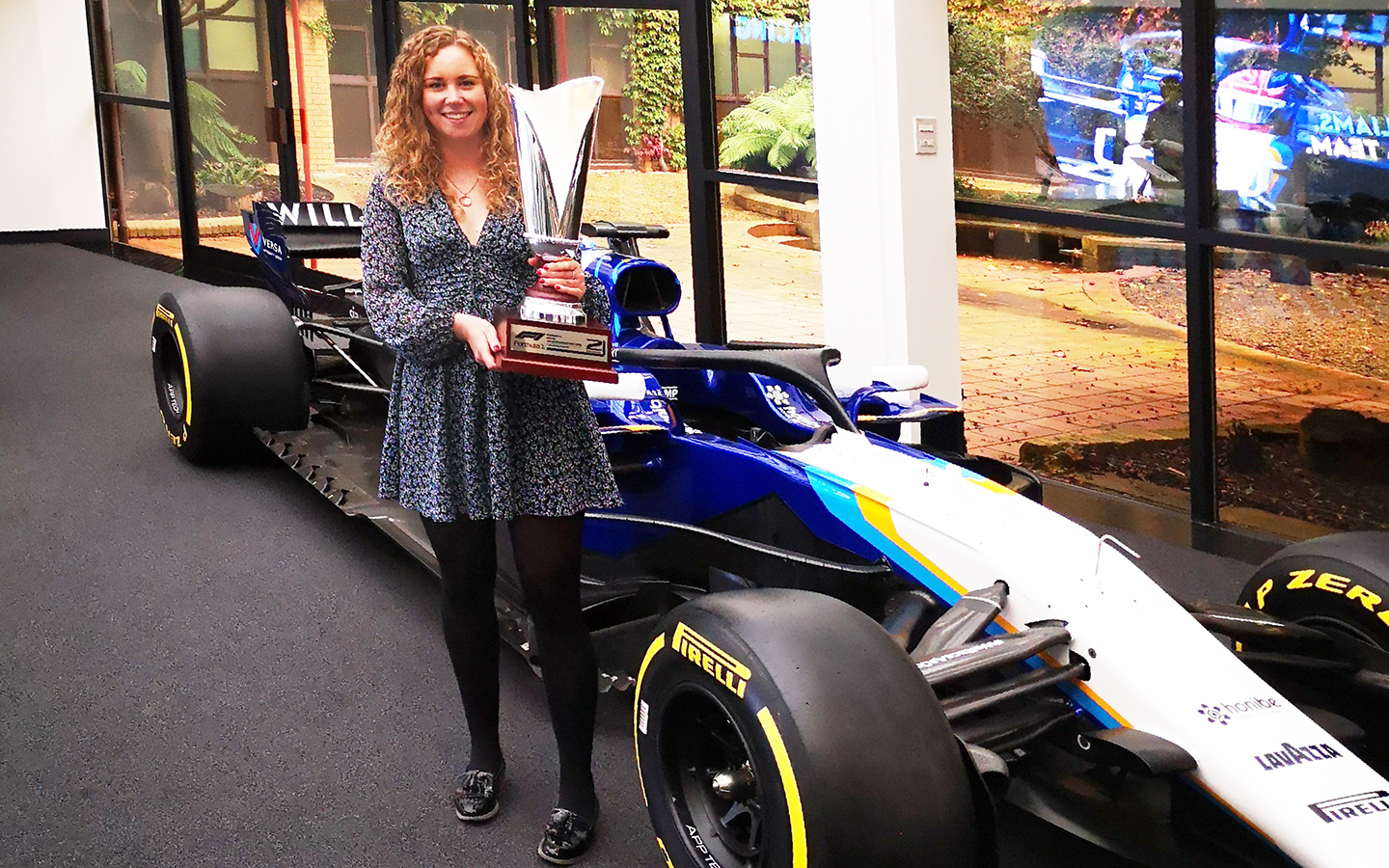 Katie knew that she wanted to pursue a career in Motor Sport and saw the course at Herts as the perfect pathway to follow her dream.
She is currently an Aerodynamic Design Engineer with the Williams Formula 1 team and explains a bit more about her role and what it entails, 'I was lucky enough to join Williams F1 as a Junior Aerodynamic Design engineer after completing my MEng in Automotive Engineering with Motorsport at Herts.
My role involves designing mechanical and aerodynamic components for the wind tunnel. I lead the research and development for the wind tunnel front wing design and work closely with the aerodynamicists to improve design concepts and make wind tunnel tests as streamlined as possible.'
Working in Formula 1
Katie really enjoys the challenge of the role and the industry which is fast-paced on all fronts.
'Working in Formula 1 is very enjoyable and very rewarding when you see results on the track. Seeing Williams back on the podium and scoring points again in 2021 were particular highlights.
I also enjoy the fast-paced environment and continual research and development required to keep up with technology and rules changes.'.
Why Herts
Katie chose to study at Herts because she was impressed with the large range of studies provided by the Engineering department and the range of facilities which provided crucial hands-on experience to work in industry. She adds, 'I was particularly impressed with the extra-curricular groups and studies provided by Herts such as the Formula Student team.'
When she talks about the best part of her course she says, 'It was being able to apply what I had learnt during my A-Levels to further my knowledge of engineering and the knowledge and enthusiasm my lecturers had to further my studies.'
Formula Student
Knowing that hands on practical experience is so important in the industry Katie became a member of the successful Formula Student team at Herts. She is certain that it helped when it came to her career and says, 'Participating in Formula Student particularly aided my ability to gain my current role in industry.
It was able to provide me with this expertise and allow me to broaden my field of study outside of the classroom or lecture hall.'
Favourite memories
Unsurprisingly Katie's best memories revolve around her experience with the Formula Student Team and the success on and off the track.
'My favourite memories at Herts were the times spent designing and manufacturing UH19 and UH20 with great friends. My favourite of them being completing at FSUK, FS Czech and FS Germany with the most successful UH FS car of all time as well as winning design at both the UK and Czech competitions.'
The future
Katie has set her sights high when it comes to the future and what it could bring. 'My future plans are to advance my career further in motorsport, and to hopefully win a Drivers and Constructors Championship in F1.'
Find out more about the Formula Student Team
If you have a great story like Katie's, please contact us!