Josephine Tsiagbe
Meet Josephine, who travelled the world during her studies and qualified as a private pilot in the United States. She is now continuing her flight training in Malta.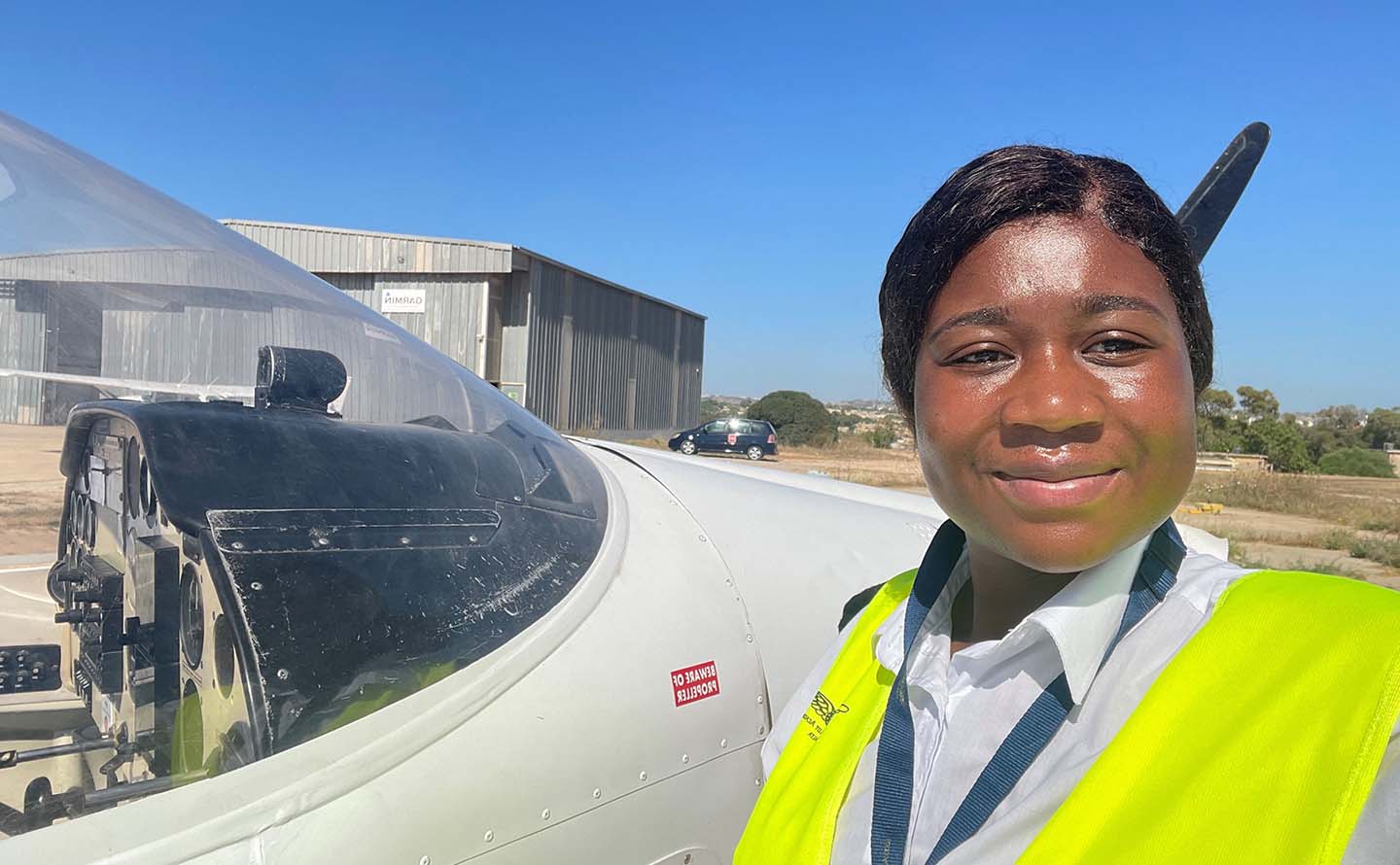 Josephine was able to travel the world during her time at Herts, from the United States' Midwest to the Mediterranean climate of Madrid, where she explored how the aerospace industry differs across continents.
Now enrolled at a pilot academy in Malta, she is continuing her flight training with the ultimate ambition of becoming a pilot.
Jet setter
Josephine credits her course with fuelling her passion for flight. 'The University has a strong history in aviation as the former home of the de Havilland Aircraft Company, which made historic planes like The Comet.
'Herts has strong relationships with industry, including Northwestern Michigan College, where I was able complete the 20 hours of flight training needed to pass my course. This experience was great, and I had the opportunity to fly different types of aircraft such as the Super Cub seaplane and Decathlon Tailwheel. I also used the University's own flight simulators when I was back on campus.'
Whilst in the United States, Josephine qualified as a private pilot and describes this moment as one of her proudest achievements. 'It was like a dream – it did not feel real! I was also delighted to graduate with a first. It was tough learning during the pandemic, but I had inspirational tutors that helped me stay on top of assignments and achieve my best.'
Rich experiences
Josephine found her study abroad year in Madrid challenging, but she made friends from around the world and became part of the University's international community. 'It was hard adjusting to a different country and language. However, after the first semester, everything started to fall into place. Studying in Madrid challenged me with learning Spanish, as well as other languages. It was great being able to experience a different culture as well.'
'One piece of advice I would give to current and future students is to have an open mind and take each day as it comes. With this approach, you can meet people from different walks of life and overcome any difficulty.'
I had inspirational tutors that helped me stay on top of assignments and achieve my best.