Gloria Sikapite
Meet Gloria. During her second year at Herts, Gloria became a Student Representative to help her peers through the worst of the COVID-19 pandemic. She is now a Research Nurse in Oncology and Urology.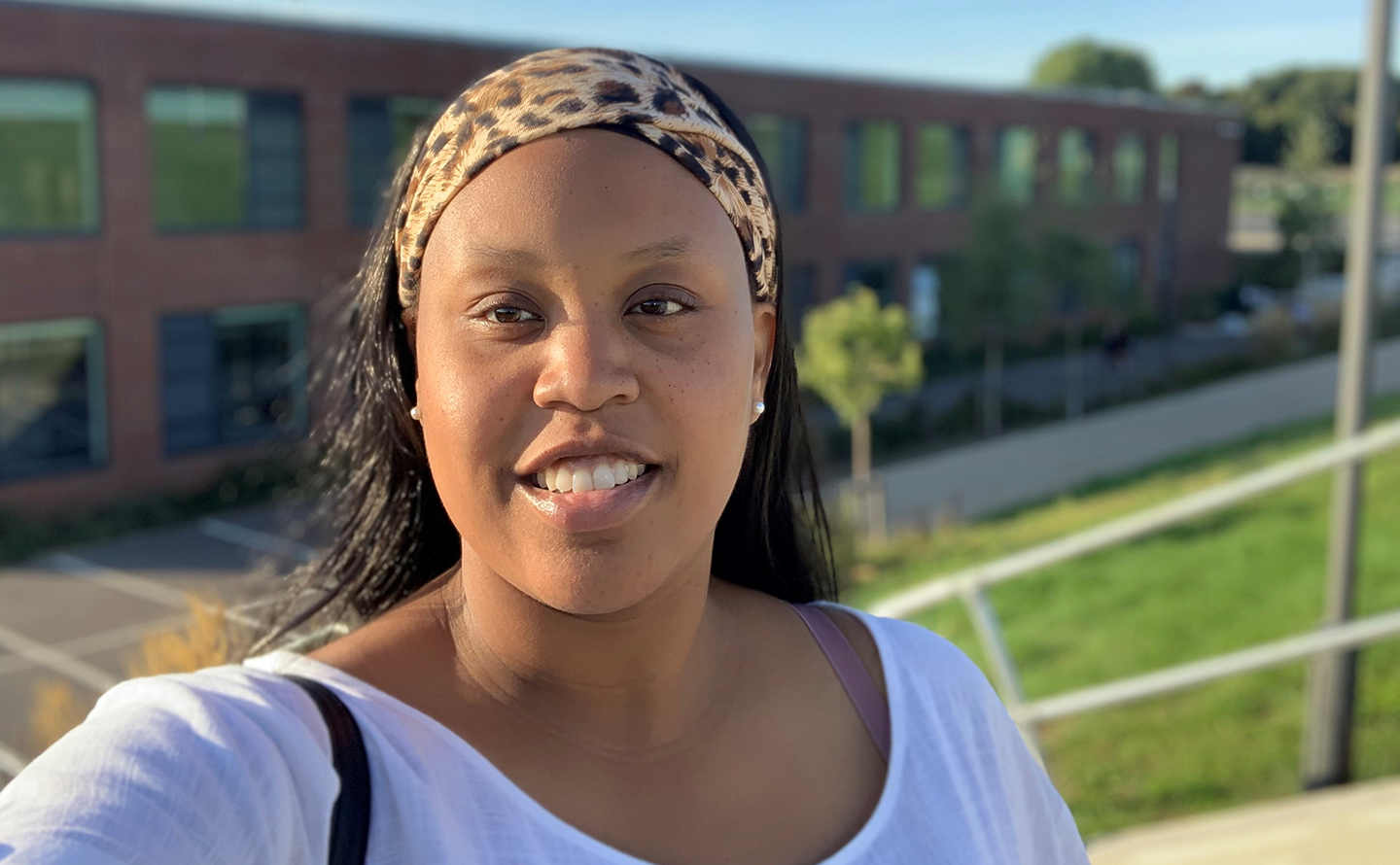 The right fit
Gloria settled on studying at Herts after attending open days at five different universities. She says, 'Herts stood out the most. On the open day, they gave me a glimpse of the support they offered students, and everyone was so friendly. I decided the University would be a good fit for me.'
Helping others through the pandemic
In her second year at Herts, the COVID-19 pandemic began, and Gloria wanted to help her peers through it by becoming a Student Representative. Student Representatives work with Hertfordshire Students' Union and the University to share feedback with Schools about any concerns or challenges students may have.
As a student representative, Gloria also helped disseminate information to students on behalf of lecturers during the peak of the pandemic and was a listening ear for other students, who often called her to chat through any problems. Gloria says, 'My role as a student representative allowed me to engage in and help with School matters, and I had invaluable support from staff.'
During her time at Herts, Gloria also developed an interest in research and explored this by taking part in many extra-curricular activities. She spoke at the Council of Deans Research Conference and took part in a student podcast, where she interviewed several Herts academics.
Learning from inspiring tutors
Gloria is now working as a Research Nurse, specialising in oncology and urology. She says she was inspired by two tutors at Herts, 'Professor Natalie Pattison and Dr Lisa Whiting facilitated tailored programmes for nursing students who wanted to experience research. This had a huge impact on my career plans.
'The learning opportunities provided at Herts allowed me to explore different areas of nursing, both clinical and academic. I was taught how to think outside the box, learn in different environments, and apply my theoretical learning with my work at the hospital during placement.'
Gloria is ambitious about her future and is keen to continue passing on her knowledge to the next generation of nurses. Recently, she spoke about the role of a research nurse at the RCNi Student and Newly Registered Nurses Careers Fair 2022.
Gloria says, 'I hope to move into a senior leadership role in nursing. I want to help my colleagues navigate this tough period for the NHS, and it is my ambition to help influence policy and governance in nursing where I can advocate for research and drive improvements in the profession.'