Gavin Beard
Meet Gavin Beard who has taken his love for sports into industry. Since graduating he has worked his way up the career ladder and is now the Head of Marketing for Norwich Football Club.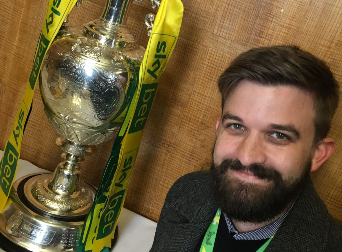 More than a degree
Gavin graduated from the University of Hertfordshire with more than a degree; his university experience helped him to gain valuable insight to several disciplines and allowed him to narrow down his career choices.
He says, 'My degree allowed me to study various disciplines, including coaching, science and business. Having exposure to these different areas helped me understand what I favoured, and it was clear that business (and in particular, marketing) was an area I felt I could forge a career in.'
After successfully completing his degree Gavin began moving up the career ladder, working at many well respected companies such as Coral, BT Sport and currently Norwich City Football Club. Gavin puts a lot of his success down to the degree he studied and the support provided by the university.
He comments, 'The variety of modules and the exposure to different disciplines within my course were extremely useful. This was crucial in helping me determine my path. After year one, I knew I liked marketing, so I worked with the ERASMUS team to find a pathway to help me study this abroad. I then studied business in Valencia for a year and it was an experience I'll never forget.'
Aspirations for the future
Gavin is still really enjoying his career in leading the Marketing team at Norwich City Football Club. He says, 'It's an incredibly varied role; one day I could be leading the campaign to promote the new kit, the next it'll be marketing the Take That gig at Carrow Road!'
Gavin is hopeful for the future and says 'Given my experience, my future roles will continue to be in marketing, hopefully I will help Norwich to become an established Premier League team. Then who knows!'